My sister, Stacey, loves to bake just as much as I do. The only difference is that I'm all for full-fat, sugary, gluten-ridden, multi-ingredient goodies, whereas Stacey prefers cake from a box, flourless anything, and recipes that omit butter. Eff that, people! You need butter in your life. Everything is better with butter. I think my new hashtag is #betterwithbutter. Per the usual, I'm getting side-tracked by butter. Story of my life.
Anywho….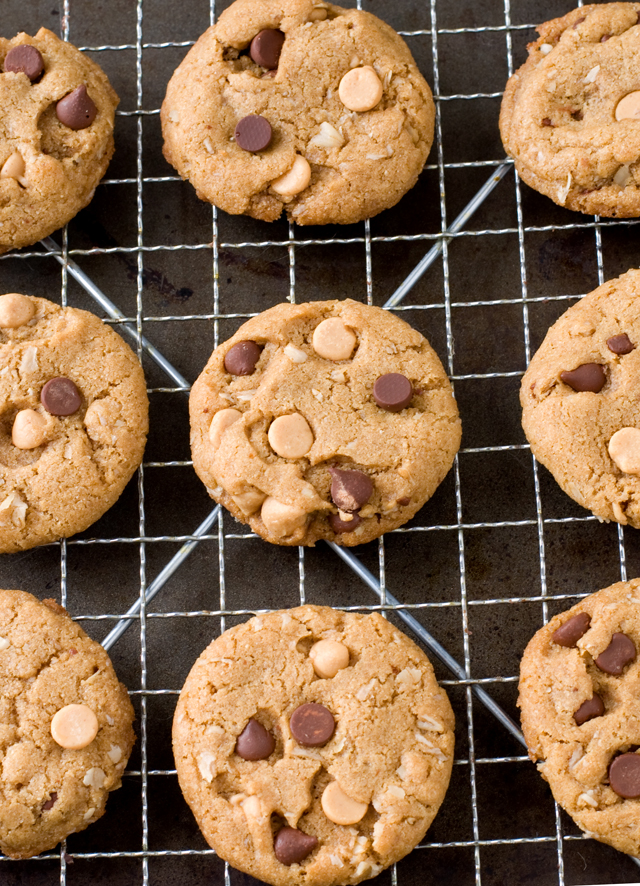 I was vising my darling sister and giving snuggles to my perfect, beautiful, smiley, (I could go on for days) nephew, when she says in a high pitched, excited voice, "I made cookies! They're really good. Wanna try one?". Of course she made cookies, and yes, of course I want to try one. At that moment, I was busy snugglin' the baby, so naturally, Stacey hand feeds me.
It's just how we roll.
I bite half, finish chewing, and she feeds me the second half. They're not bad. But then she goes on about how the recipe online didn't work like it said it would. It was way too runny, and she ended up baking them in muffin tins. Pinterest fail! Go figure. So obviously, I needed to fix this problem and make a recipe that actually worked – no runny surprises.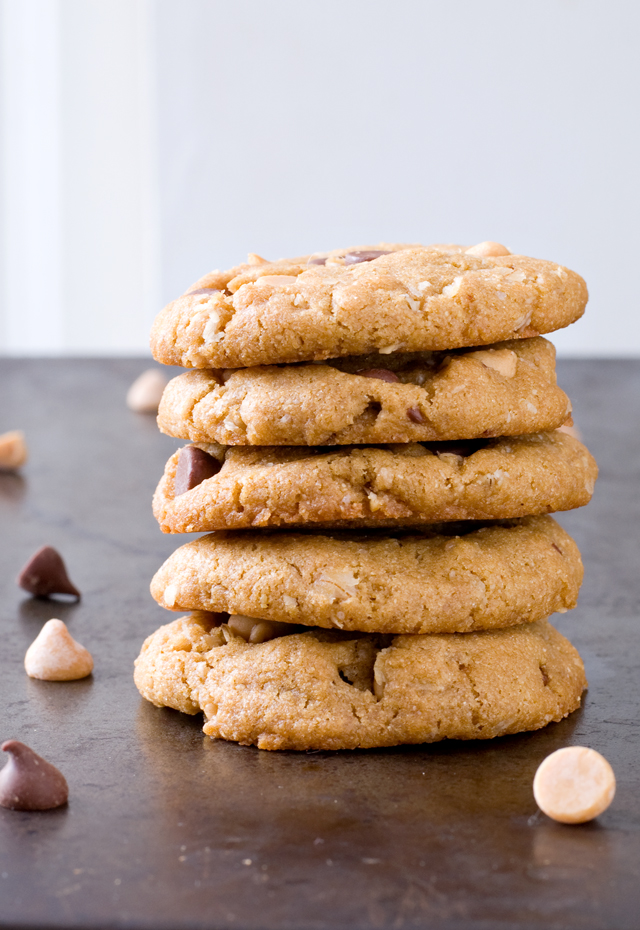 So that's how this flourless, butter-less cookie found it's way to the scrolls of my blog. All in the name of finding the perfect cookie for my sister! The "Stacey Cookie" if you will. Your welcome.
With no butter, and no flour, I needed a little extra sumpin' sumpin'. To make these "Stacey Cookies" extra wonderful, I used homemade peanut butter. Friends, it's so easy to make peanut butter at home. At first, it looks hopelessly crumbly, just keep processing those nuts! After a few minutes, it starts to transform into smooth, spreadable peanut butter. With my food processor, it took me about 5 minutes.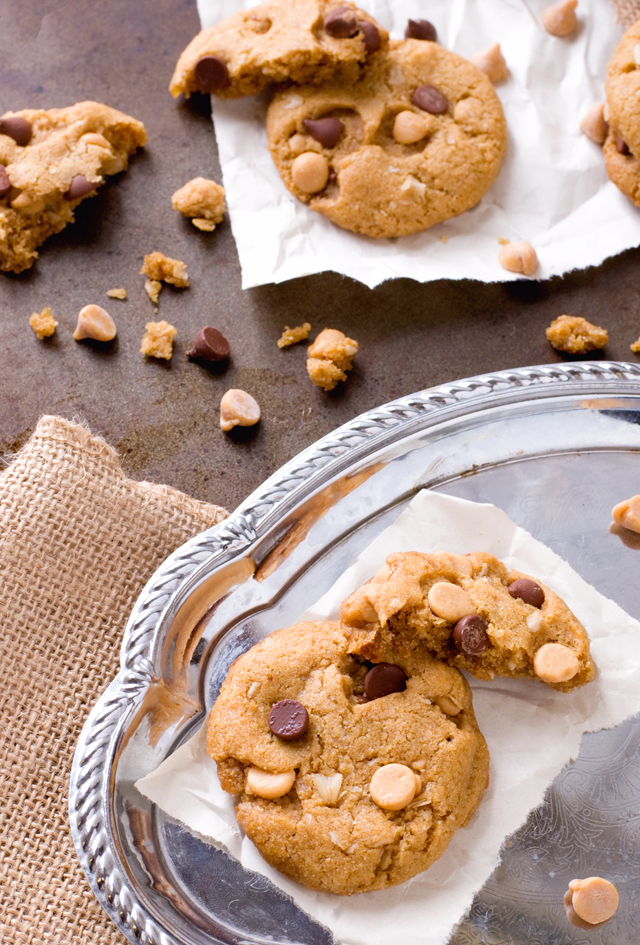 Like I said before, I'm pro-butter and pro-gluten, and I promise you this – you will not know that these cookies lack both flour and butter. And your friends and family won't know the difference either. The cookies came out the perfect chewiness, and just the right amount of peanut butter flavor. Grab yourself a big glass of milk and chow down, semi-guilt-free.
Ingredients
Homemade Peanut Butter
2

cups

unsalted

blanched peanuts

2

tsp

honey

1

tsp

salt

more to taste
Cookies
1

cup

homemade peanut butter

1/2

cup

brown sugar

1/4

cup

granulated sugar

1/4

tsp

salt

1/3

cup

rolled oats

not instant

2

egg whites

4 tbsp

1/2

cup

chocolate or peanut butter chips

or 1/4 cup each
Instructions
Preheat oven to 350 F.

In a food processor, add peanuts, honey, and salt. Process for 1 minute. Scrap down the sides and bottom often.

Continue to process until the mixture is smooth. Taste along the way and add more salt if desired.

This should yield about 1 cup of homemade peanut butter.

Transfer 1 cup of homemade peanut butter to the bowl of a stand mixer fitted with the paddle attachment.

Beat peanut butter, brown sugar, granulated sugar, and salt on medium speed until combined.

Add in the oats and egg whites and beat until well combined.

On low speed, add in the chocolate and/or peanut butter chips. The mixture might be thick, so you might need to mix by hand.

Using a 1 + 1/2 tbsp scoop, evenly scoop batter onto a parchment lined baking sheet, leaving about 2 inches between each cookie. I would recommend to squeeze each scoop of batter in your hand a few times before rolling into a perfect ball. This will help release some of the extra oil from the peanut butter. This will help the cookies keep their perfect shape, but it is totally optional.

Bake for 8-10 minutes. 8 minutes was perfect for mine.

The cookies will appear under cooked but they are totally fine!

Let cool on the baking sheet for 5 minutes. Transfer cookies to a cooling rack to cool completely.

Enjoy with a big glass of cold milk.
Nutritional calculation was provided by WP Recipe Maker and is an estimation only. For special diets or medical issues please use your preferred calculator
Notes
Culinary Cool Original Recipe
To ensure these cookies are gluten free, make sure you select oats and chocolate chips that are certified gluten free.
I did not test this recipe with store-bought peanut butter, only homemade.