Bring the taste of France to your kitchen with Asparagus Salade Lyonnaise. A warm bacon and shallot vinaigrette, crispy croutons, a perfectly poached egg, and tender, yet crisp, roasted asparagus; the perfect spin on a French classic using fresh, spring asparagus.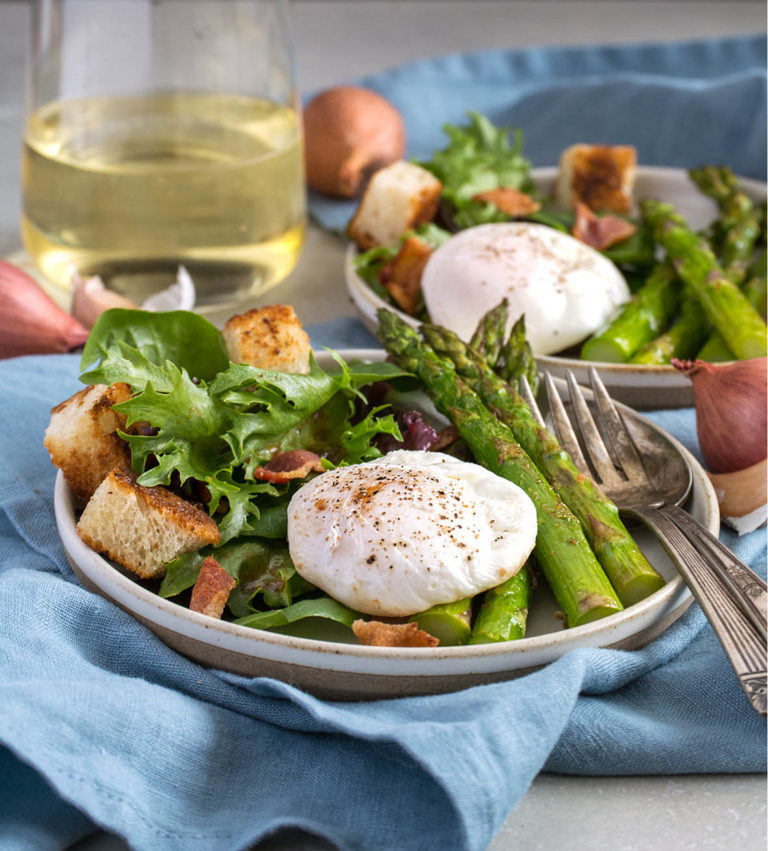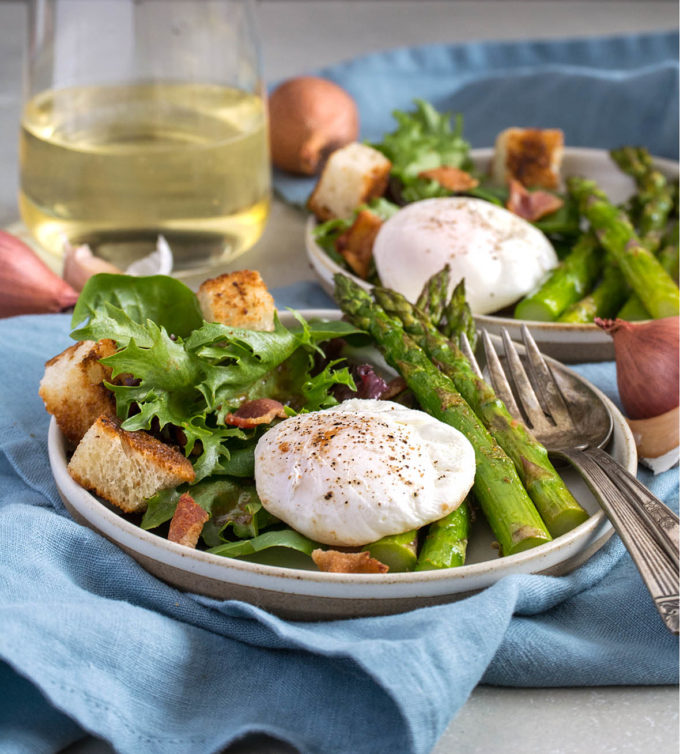 Of all the vegetables that signify the arrival of spring, asparagus is my favourite. When I walked into my grocery store last week, the gorgeous green stalks caught my eye instantly. It was so hard to believe that asparagus was back, especially since the weather was more reminiscent of winter than spring. I tossed a bunch into my cart, purely elated, and immediately began daydreaming ideas to make the most of them while they're in season.
There are countless ways to brighten up a meal using asparagus, and I knew I had to do more than just roast them to enjoy as an accompaniment to something else. I really wanted them to shine.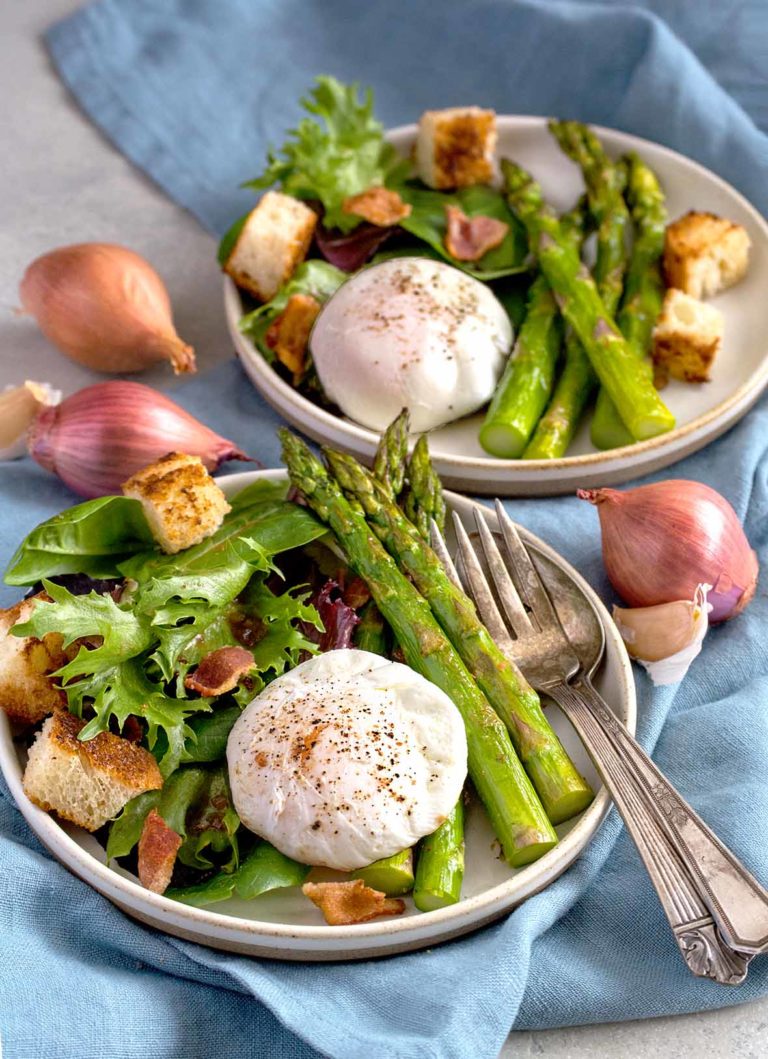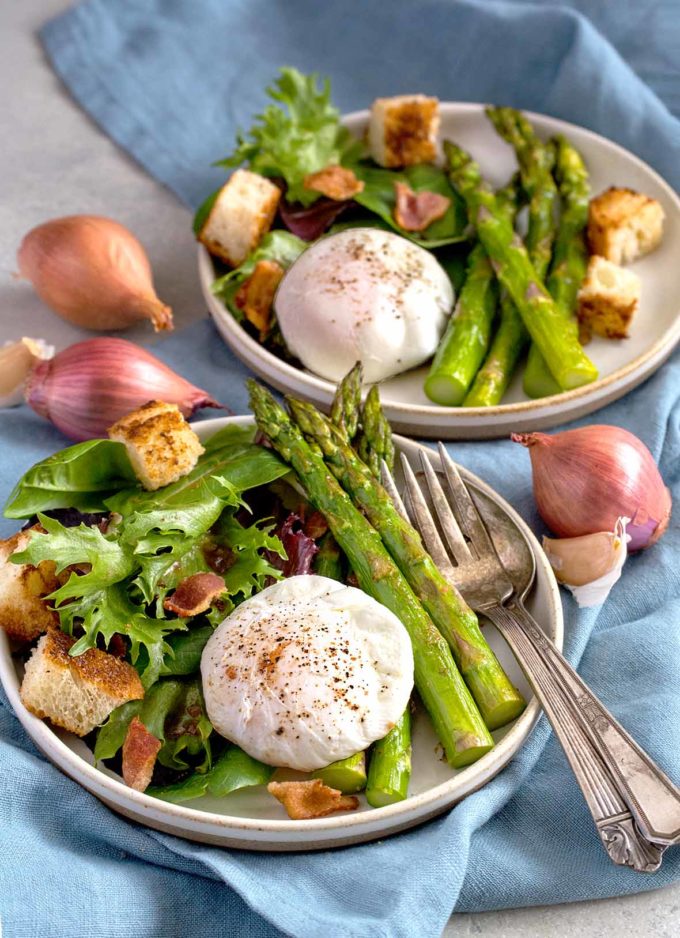 A few years ago, I was introduced to a classic French salad from Lyon, aptly named Salade Lyonnaise; a perfect combination of bitter greens (typically frisée), a warm vinaigrette dressing, poached eggs, and some bacon. I knew that it would be a superb salad to showcase the asparagus I just picked up, and a great way to use up the last of the bacon I had hiding in the freezer. I am, after all, eating a more plant based diet, but from time to time, I still eat some meat, and I did not want this bacon to get freezer burnt and go to waste. I hate food waste, especially meat, since an animal gave it's life to feed me.
I roasted the asparagus with olive oil and salt for about 5 minutes, because I wanted it to remain slightly crispy. I made the vinaigrette and the croutons in the same skillet where I cooked the bacon because I hate dishes and because bacon fat makes most everything taste wonderful. Then, I made poached eggs with the most perfect runny yolks.
I've loved poached eggs since I was a kid, and have mastered making them as an adult. We kept them pretty simple back in the day, just eating them on toast with a little pat of butter, salt and pepper. Poached eggs really reminds me of breakfast with my dad! He made the best poached egg breakfasts.
Dad had a special double boiler type contraption for making poached eggs, that didn't require actually poaching the eggs in water. The method I use to make poached eggs is more traditional, and requires the eggs to spend some time directly in simmering water, and yields perfect results every single time.
*I use a small saucepan, and fill it with about an inch or so of water with a dash of vinegar and bring it to a simmer.
*Meanwhile, I crack an egg into a small, fine mesh sieve, and allow the water bits of the egg white to slip through the mesh. It's these watery bits that go all wonky, and spider out in the water. Once the watery bits are gone, I transfer the egg into a small bowl.
*Once the water in the saucepan is at a gentle simmer, I stir it quickly with a spoon, to create a swirly vortex in the center, and gently pour the egg directly into that vortex. This helps the egg stay intact.
*I set a timer for about 1-1.5 minutes, which yields the most perfect runny yolk, but ensures the whites are fully cooked. Remove the egg with a slotted spoon, and drain on some paper towel. Boom, there you have it, a perfectly poached egg!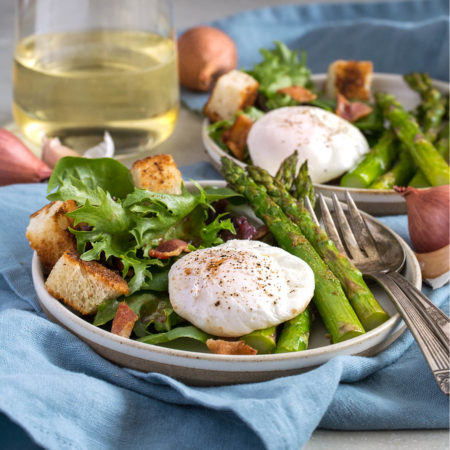 Asparagus Lyonnaise Salad
A spin on a French classic using fresh, spring asparagus.
Print
Pin
Rate
Ingredients
Dressing
2

slices

of thick-cut bacon

2

tbsp

red wine vinegar

1

medium shallot

minced

2

tsp

dijon mustard

salt and pepper to taste
Salad
2

thick slices of french bread

cut into cubes

2

handfuls of mixed spring greens

frisée, endive, arugula, or any mixed greens you enjoy*

10

asparagus spears trimmed

2

eggs

1

tbsp

vinegar

for poaching
Instructions
Dressing
Fry the bacon in a medium skillet, until crispy. Remove the bacon from the pan, drain on paper towel, and cut into large pieces. Remove 1 tbsp of the bacon fat to use later for the vinaigrette, and leave the remaining fat in the skillet.

Keep the skillet with bacon fat over medium heat. Add the cubed bread, and stir to coat in the bacon fat. Fry until crispy. Remove from the skillet.

Add the reserved 1 tbsp of bacon fat back to the skillet. Over medium heat, sauté the minced shallots for about 1 min, stirring occasionally to ensure they don't burn.

Add the vinegar, and dijon mustard, and whisk until smooth. Feel free to add a drizzle or two of olive oil if you want a more fluid vinaigrette. Set aside, but keep warm.
Salad
Preheat oven to 400 degrees F. Place the asparagus on a parchment lined baking sheet, and drizzle lightly with olive oil and toss to coat. Season with salt and pepper. Roast for about 5-8 minutes. The asparagus should be slightly soft, yet still crisp. Remove from the oven and set aside

Meanwhile, bring about 1-inch of water to a simmer in a small saucepan. Add the vinegar. Crack each egg into separate bowls.

Stir the water to create a swirling vortex in the center. Gently poor the egg into the vortex (this will help the egg whites from spidering outwards)** Cook for about 1 minute, remove from the water, and place on a paper towel to drain. Repeat with second egg.

Place two generous handfuls of greens into a medium bowl. Dress with the warm bacon and shallot vinaigrette, and then distribute to two plates.

Top each plate with 5 spears of asparagus, croutons, and the poached egg.

Serve immediately while warm.
Nutritional calculation was provided by WP Recipe Maker and is an estimation only. For special diets or medical issues please use your preferred calculator
Notes
*I usually buy a bag of mixed greens
**I also like to crack each egg into a fine mesh sieve first, to strain out the wateriest parts of the whites.