Woah! It might be cliche to say, but time sure flies when you're having fun. 3 years ago I started this little 'ole blog, and here we are today, eating No-Bake Funfetti Cheesecake to celebrate. Looking back at the last two blogiversary posts, it seems that I have unintentionally started a theme of using sprinkles to celebrate. Why stop now?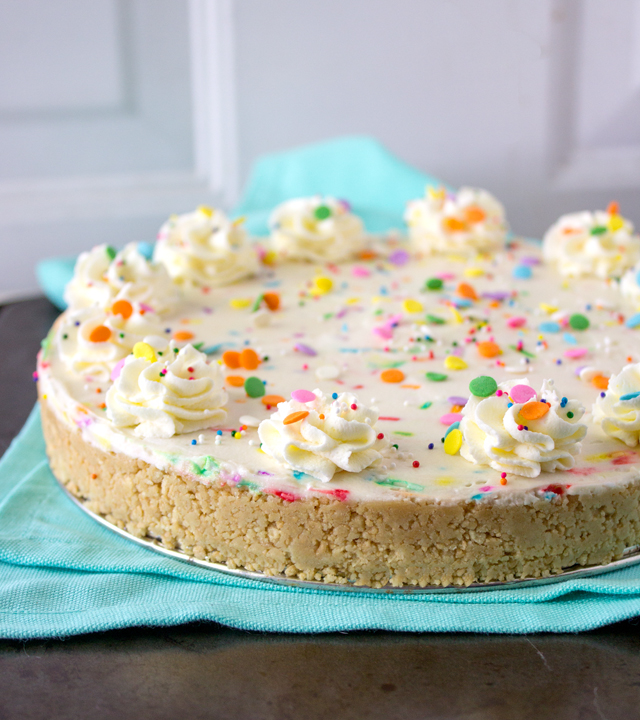 In keeping with the sprinkles theme, I made a classic no-bake cheesecake and added a ton of sprinkles. May I suggest skipping the traditional graham cracker crust? Graham cracker crusts are good and all….but I love the idea of using Golden Oreos instead. Anytime you can use Oreos, you probably should. You only live once, and you might as well eat as many Oreos as you want, and die happy.
You might as well eat as much cheesecake as you want, too. Find a reason to celebrate, and eat cheesecake, even if you're just celebrating the fact that our short-lived summer is upon us!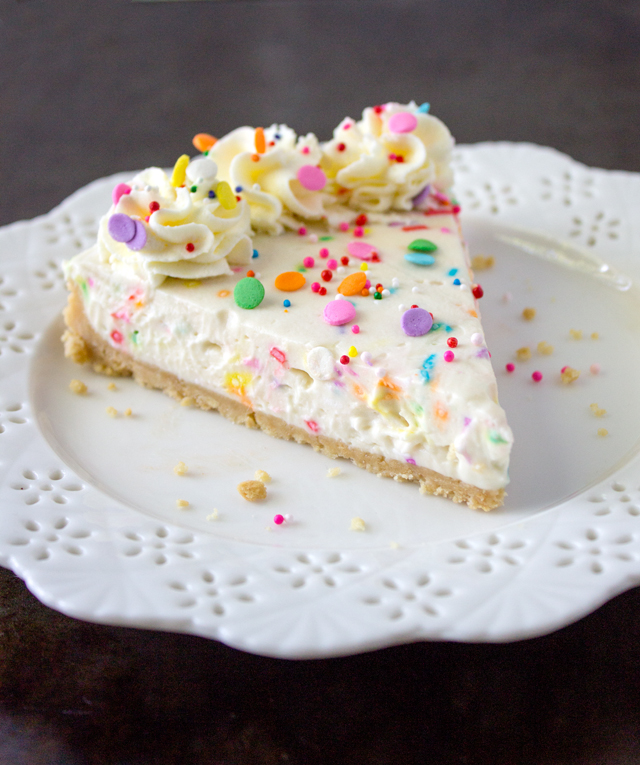 Speaking of summer, nobody wants to heat up the house by using the damn oven. You don't need the oven to enjoy a rich and creamy cheesecake, so why not make it a no-bake cheesecake. I quite enjoy this classic receipt because it's quick, easy, and versatile. The texture is smooth, fluffy, and perhaps a bit on the mousse-y side. I filled mine with sprinkles, but you can omit them, and top the finished product with fruit and whipped cream. I also like to use instant vanilla pudding in this recipe to add a little extra flavour and to help stabilize the whipped cream and keep the cheesecake from getting runny. The cheesecake will totally work without it if you don't have any handy.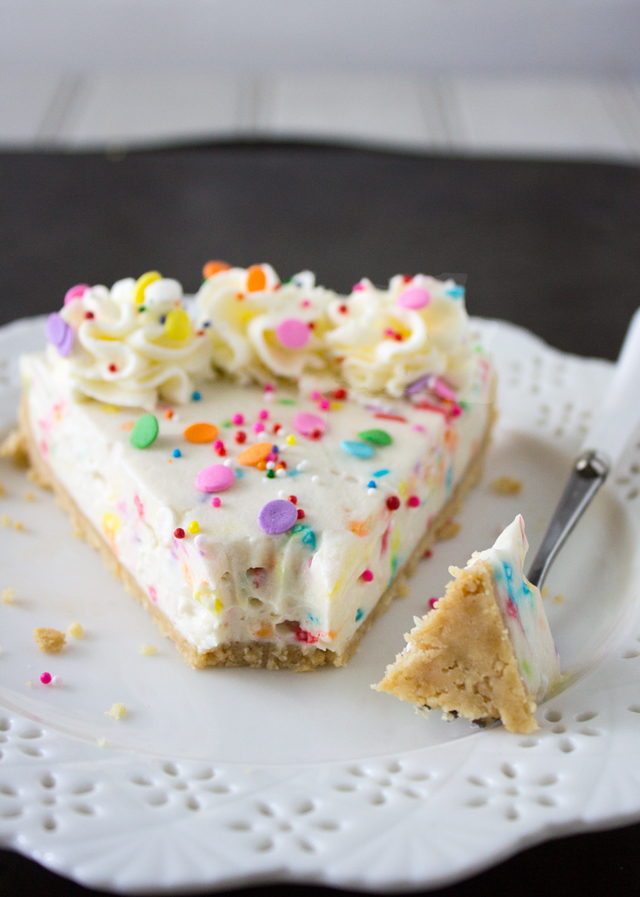 No-Bake Funfetti Cheesecake is perfect for any celebration…or Monday. Because, Monday. Amiright?! Or for breakfast, because we're all adults and can make that kind of decision.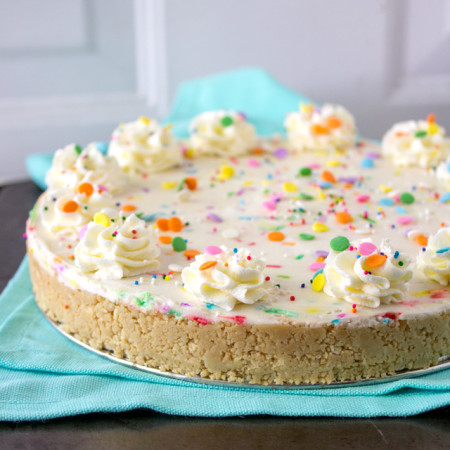 Ingredients
1 1/2

cups

about 26 crushed Golden Oreos

1/4

cup

butter

melted

1

cup

heavy cream

2

tbsp

instant vanilla pudding powder

8

oz

cream cheese

at room temperature

3/4

cup

icing sugar

1

tsp

vanilla

2

tbsp

lemon juice

1/4

cup

sprinkles + more for garnish
Instructions
Crust
In a food processor, add the Oreos and pulse until you have a fine crumb. Transfer to a medium bowl.

Add melted butter and mix until combined. Press the oreo crumbs into the bottom and up the sides of a 9-inch pie plate or springform pan. Set aside.
Filling
In the bowl of a stand mixer fitted with the whisk attachment, whip the cream until soft peaks form. Add in the vanilla pudding powder, and mix until stiff peaks form. Transfer to a small bowl.

In the bowl of the stand mixer, fitted with the paddle attachment, beat the cream cheese with icing sugar until light and smooth.

Mix in the vanilla, and lemon juice until well combined.

Switch the attachment back to the whisk and slowly whisk in the whipped cream.

Stir in the sprinkles.

Poor the mixture into the prepared crust and refrigerate for at least 2 hours, or until firm.

Garnish with more whipped cream and sprinkles.

Keeps in the fridge for about a week.
Nutritional calculation was provided by WP Recipe Maker and is an estimation only. For special diets or medical issues please use your preferred calculator
Notes
Filling adapted from All Recipes