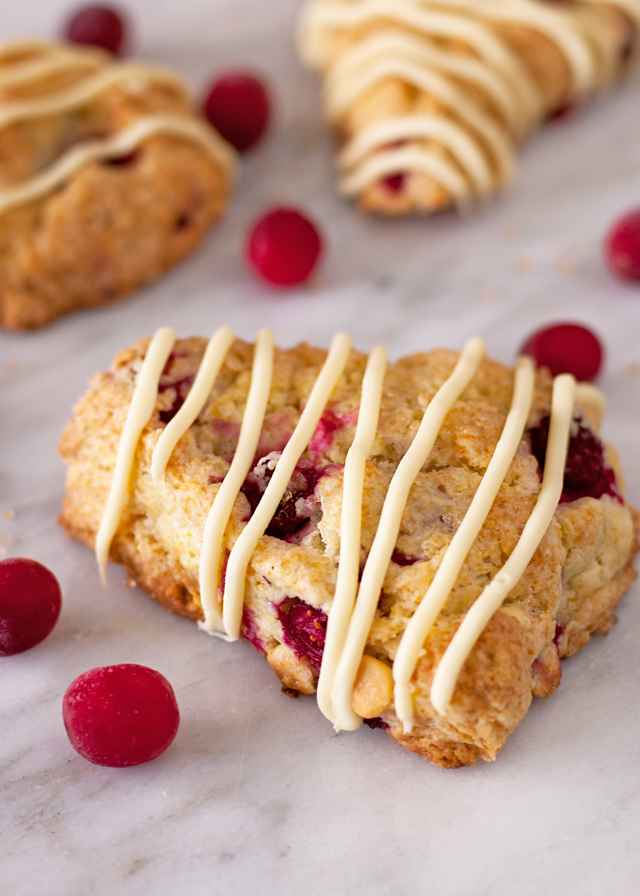 I'm SO crushin' on fresh cranberries right now. Oh yes, fresh! Not those shrivelled dried ones you find with the other dried fruit. Now don't get me wrong, there's nothing wrong with dried cranberries – but fresh is best. They're crisp, juicy and so much prettier than the dried version.
This time of year, I see so many people pairing cranberries with orange. Sure it's a good combo, but I've got something even better for you this year. Tart cranberry and sweet white chocolate baked into a perfectly tender scone. And they are perfect!
Scones are way better when you use fresh fruit, and since cranberries are in reason, you should use them with reckless abandon.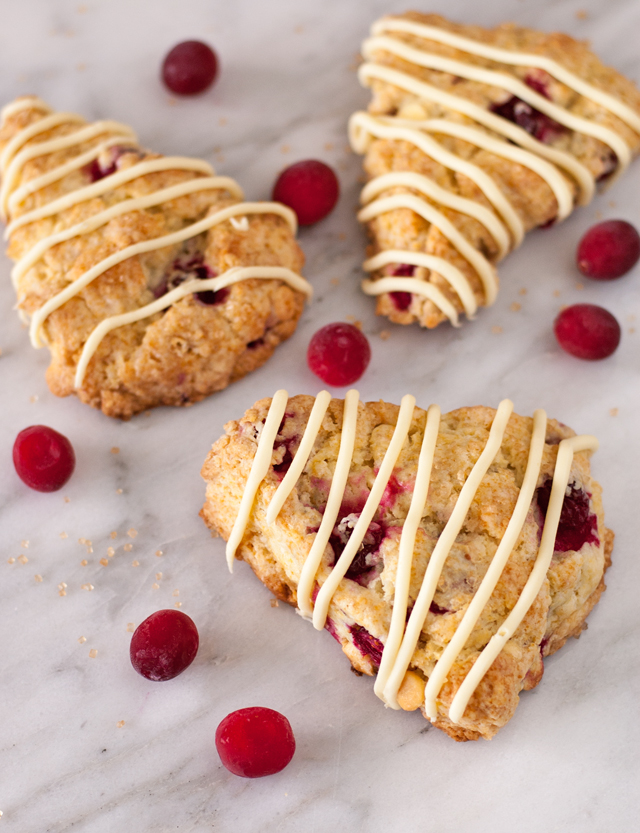 Seriously, put them in everything! Sangria, oatmeal, tarts, salsa – there are so many options. But scones are one of the best ways to use them up. These cranberry white chocolate scones are dreamy and by far, the most tender scones I've ever made. The combination of cranberries and white chocolate is heavenly. They make a great breakfast, addition to your holiday brunch, or even make a great holiday gift.
I like to freeze my butter for at least an hour before I'm ready to use it. Keeping the butter cold results in a flaky pastry, which is important because dry scones are the worst! I also like to keep the cranberries frozen, so that their colour doesn't bleed into the rest of the dough. Also, resist the urge to add more cream or butter than what the recipe calls for. Sure, the dough will be a little crumbly, but this will result in the most tender scone you've ever had.
I assure you, these scones will be your new favourite!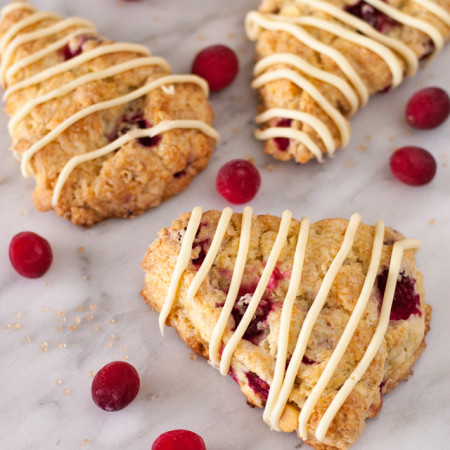 Ingredients
2

cups

all-purpose flour

1

+1/2 tsp baking powder

1/2

tsp

baking soda

3

tbsp

sugar

3/4

tsp

salt

1/2

cup

+ 1 tbsp unsalted butter

frozen

1

cup

frozen cranberries

1/2

cup

white chocolate chips

3/4

cup

cream

cream and coarse sugar for finishing

white chocolate for drizzle
Instructions
Preheat the oven to 375 degrees F.

In a medium bowl, whisk together flour, baking powder, baking soda, sugar, and salt.

Grate the frozen butter into the flour mixture.

Add the frozen cranberries and white chocolate to the flour mixture, and toss to combine.

Pour the cream into the flour and gently mix using your hands, until combined. The dough will be slightly dry and perhaps a touch crumbly, but this will result in a flaky pastry.

Turn the dough out onto a lightly floured surface. Form the dough into a disk, about 1 inch thick. At this point you can cut the scones into your desired shape. You can use a biscuit cutter and make rounds, or cut them into wedges.

Transfer the scones to a parchment lined baking sheet, and brush lightly with cream, and sprinkle with coarse sugar.

Bake for 20-25 minutes, until the scones are golden brown.

Drizzle with melted white chocolate
Nutritional calculation was provided by WP Recipe Maker and is an estimation only. For special diets or medical issues please use your preferred calculator
Notes
Recipe adapted from Duchess Bake Shop