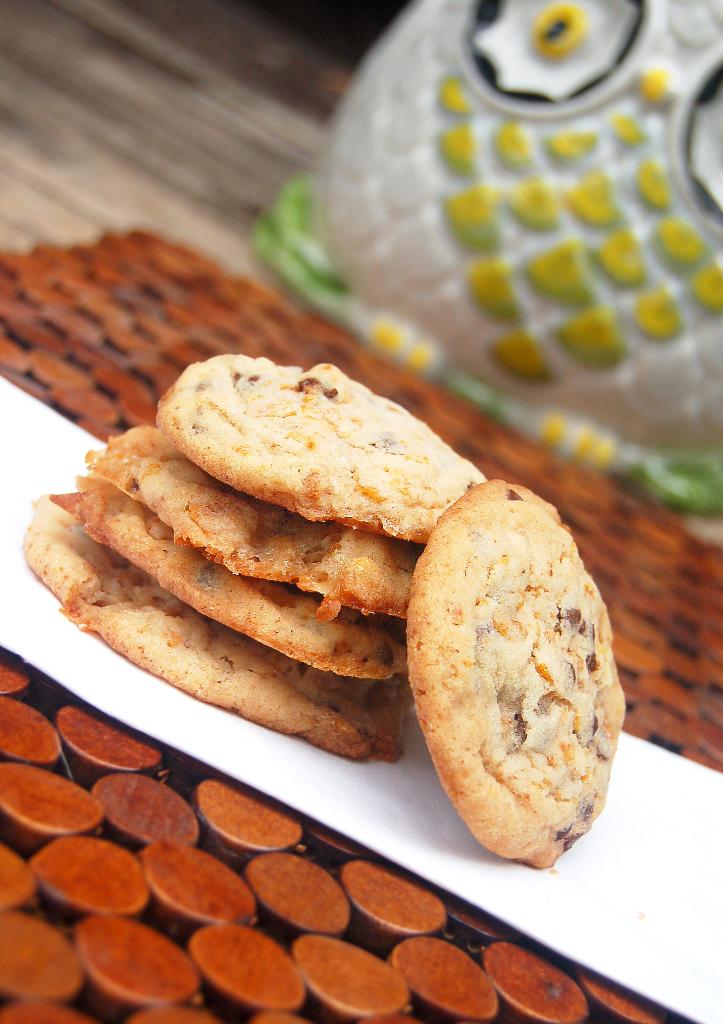 My sister Stacey and I got together this weekend to bake. Generally, it involves me doing all the baking, and Stacey does all the cleaning. This type of arrangement works perfect for us, considering I'm a control freak in the kitchen and she is totally OCD about cleaning.
We had originally decided on a different cookie, but as soon as Stacey found the Cornflake-chocolate chip-marshmallow cookie in my Momofuku Milk Bar cookbook, our minds changed immediately. Having a bowl of cereal is Stacey's favorite meal, so this cookie was a perfect fit.
The cookies in the Momofuku Milk Bar cookbook are unique in that they have an added texture component. This particular cookie has an added "crunch" component, made from cornflakes, powered milk, sugar and salt. The crunch is made in advance and cooled, before being added to the cookie dough. I personally could eat the cornflake crunch by the handful as a snack….every day.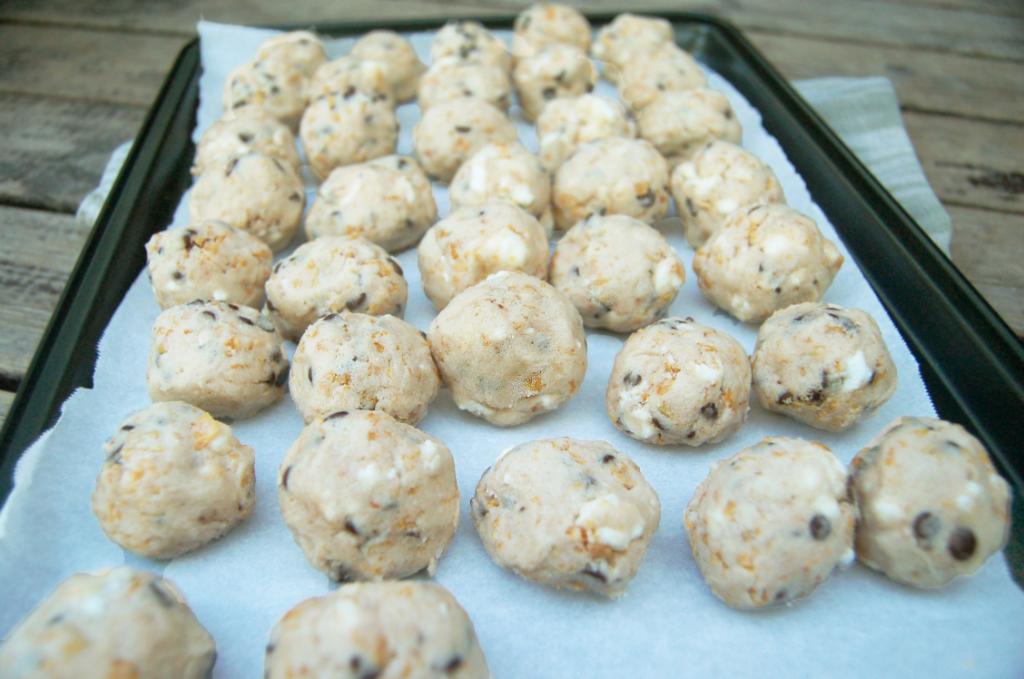 Dough rolled into balls, ready to be chilled
Round one
was a total fail, for many reasons. For
one, we rushed the process. The dough needs to be well chilled. We chilled it for about a half hour, and when baked, the cookies did not hold their shape and spread way too much. We also used a silpat (which, according to the cookbook, should have been fine) but alas, we did not have success. When I researched other bakers who have made cookies from this book, they all used parchment, and had no issues.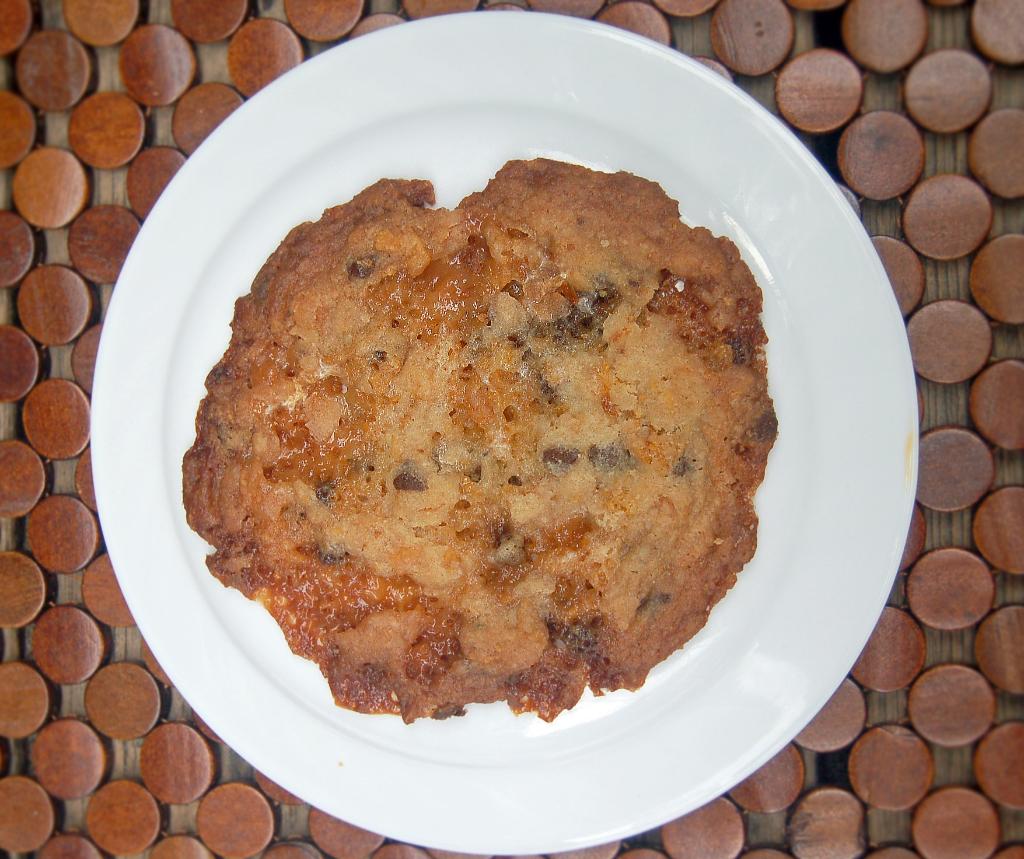 This is one of the cookies from failed round one.
Round two I had great success due to a few minor changes to the recipe. I pulled out my favorite chocolate chip cookie recipe to compare the amounts of flour in each recipe. I ended up adding an additional ½ cup of flour to this recipe so that the dough was a bit thicker. I reduced the sugar as well and used parchement paper to line my cookie sheets. I also made the cookies about half the size suggested. The recipe recommended an oven temperature of 375°F, but I found that to be too hot. I reduced the oven to 360°Fand baked the cookies for 10 minutes instead of the recommended 18 minutes. You know your oven, so adjust your temperature accordingly.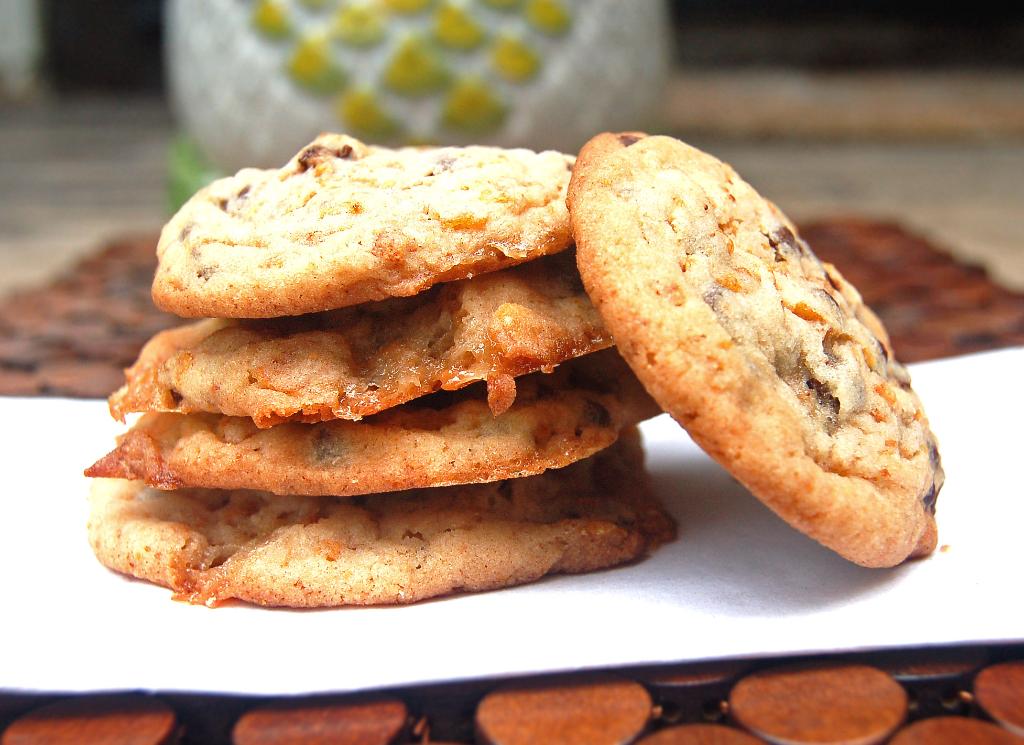 The result is a perfectly crispy-on-the-outside, fudgy-in-the-center cookie.
5 cups Cornflakes
½ cup powered milk
1 tbsp sugar
1 tsp kosher salt
Pour cornflakes into a medium bowl and crush them with your hands to one-quarter of their original size. Add milk powder, sugar and salt and toss to mix. Add the butter and toss to coat. The butter will act as glue, binding the dry ingredients to the cereal and creating small clusters.
Spread the clusters on parchment lined sheet and bake for 20 minutes, at which point they should look toasted, smell buttery and crunch gently when you chew them.
Cool the cornflake crunch completely before storing or using in a recipe. Store in an airtight container at room temperature, the crunch will keep fresh for 1 week; in the fridge or freezer, it will keep for 1 month.
Step 2: Cornflake-Chocolate-Chip-Marshmallow Cookies
2 sticks of butter
1 cup sugar (reduced from 1 1/4 cup)
½ cup brown sugar, tightly packed (reduced from 2/3 cup)
1 egg
½ tsp vanilla extract
2 cups flour (increased from 1 1/2 cup)
½ tsp baking powder
¼ tsp baking soda
1 ¼ tsp kosher salt
3 cups Cornflake Crunch
2/3 cup mini chocolate chips
1 ¼ cups mini marshmallows.
Heat oven to 360°F (recipe originally recommended 375°F, but I found it to be too hot)
Combine the butter and in the bowl of a stand mixer fitted with the paddle attachment and cream together on medium-high for 2 to 3 minutes. Scrape down the sides of the bowl, add the eggs and vanilla, and beat for 7 to 8 minutes.
Don't skip this 10 minute creaming step!
Reduce the mixer speed to low and add the flour, baking soda, and salt. Mix just until the dough comes together, no longer than 1 minute. (Do not walk away from the machine during this step, or you will risk over mixing the dough.) Scrape down the sides of the bowl with a spatula.
Still on low speed, paddle in the cornflake crunch and mini chocolate chips just until they're incorporated, no more than 30 to 45 seconds. Paddle in the mini marshmallows just until incorporated.
I used a cookie scoop from Crate and Barrel, which equals about 1 ½ tbsp. Scoop out the dough and portion it onto a parchment lined sheet. I rolled the cookies into perfect balls. Wrap the pan tightly in plastic wrap and refrigerate for at least 1 hour or up to 1 week. Do not bake your cookies from room temperature – they will not hold their shape.
Arrange the chilled dough a minimum of 4 inches apart on parchment. I fit 6 on a sheet. Bake for 18 minutes. I needed much less time. I suggest checking them at around the 10-12 minute mark. 10 minutes was perfect for me. The cookies will puff, crackle and spread. At this point, the cookies should be browned on the edges and just beginning to brown toward the center.
Cool the cookies completely on the sheet pans before transferring to a plate or to an airtight container for storage. At room temperature, the cookies will keep fresh for 5 days; in the freezer, they will keep for 1 month.