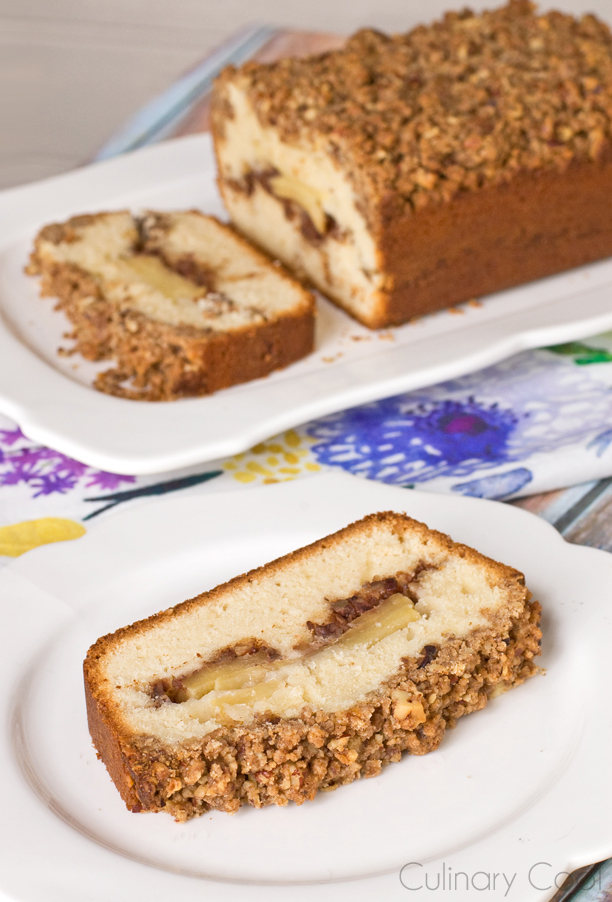 A few weeks ago, I had brunch with my two best friends. We've known each other since we were 2 years old and we consider each other sisters. We've been through everything together, from making mud pies, having sleep-overs, road trips, graduation, weddings. You name it, we've probably done it together. And we tell each other everything. So when we get together, our visits usually last hours. And since everyone is busy with work or their babies, our get-together's aren't as frequent as they used to be. So when they do happen, we talk for hours and I wish the day would never end.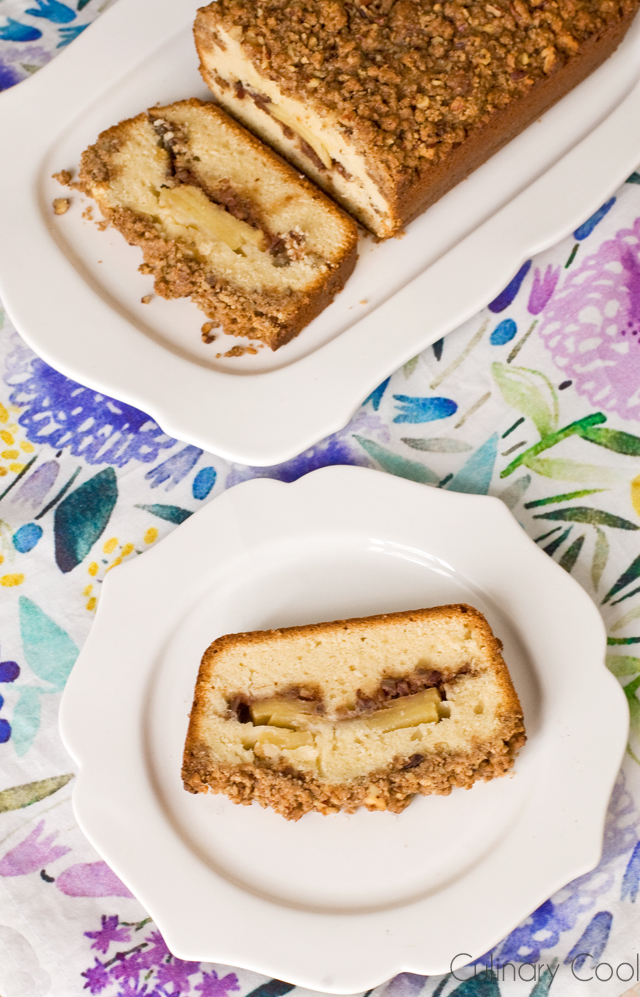 So when Laura invited us over for brunch, I was elated. She said I didn't need to bring anything, but how the hell could I, of all people, show up empty handed? Yeah, not gonna happen! I whipped up this crumb cake that I had been eyeing in my newest cookbook. It was incredibly simple to make, and everyone was quite impressed with it. The girls kept picking at the crumb topping even before we sat down to eat.
The cake has a perfect, moist crumb which is slightly on the dense side. The sweet surprise filling of apples and walnuts is a welcomed fresh and crunchy addition. Being a huge fan of crumbles, I thought the walnut topping was the best part. And to make it better, the crumble topping is also used for the filling. I've made this cake twice since our brunch date because I love it so much! It makes a great addition to your brunch selections, and goes great with tea and coffee. And because it has apples, I can justify eating it for breakfast until the whole cake is gone.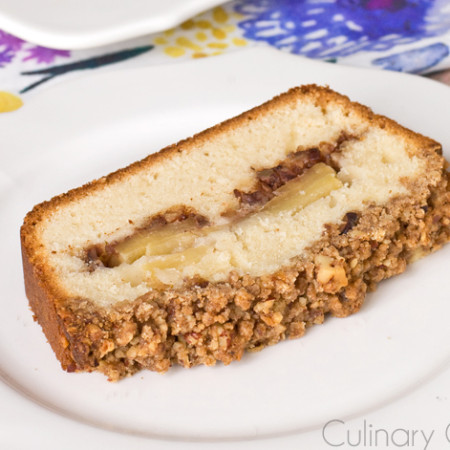 Ingredients
Crumb Topping
1/4

cup

firmly packed brown sugar

1 1/2

Tbsp

granulated sugar

3/4

cup

walnuts

1

tsp

cinnamon

1/4

cup

+ 2 tbsp cake flour

3

tbsp

melted butter

1/4

tsp

vanilla extract
Batter
1

small tart apple

2

tsp

lemon juice

1

large egg

2

large egg yolks

1/2

cup

sour cream

1

tsp

vanilla extract

1

+ 1/2 cups cake flour

3/4

cup

granulated sugar

1/4

tsp

baking powder

3/8

tsp

baking soda

1/4

tsp

salt

9

tbsp

butter

softened
Instructions
Preheat the oven to 350 degrees F 30 minutes before baking.

Spray a 9x5 loaf pan with cooking spray and line the bottom with parchment. Spray again with cooking spray.
Topping
In a food processor, pulse the sugars, nuts and cinnamon until the nuts are coarsely chopped.

Reserve 1/2 cup of this mixture to use with the filling.

Add the flour, butter and vanilla to the remainder and pulse briefly just until the butter is absorbed.

Empty it into a bowl and refrigerate for about 20 minutes to firm up, then use your fingertip to form a coarse, crumbly mixture for the topping.
Filling
Peel and core the apple. Cut it into 1/4 inch thick slices, and toss with lemon juice. Set aside.

In a medium bowl, lightly combine the egg, the yolks, and about one fourth of the sour cream, and the vanilla.

In the bowl of a stand mixer fitted with the paddle attachment, combine the flour, sugar, baking powder, baking soda, and salt. Mix on low speed for 30 seconds to combine.

Add the butter and the remaining sour cream and mix until the dry ingredients are moistened.

Increase the speed to medium and beat for 1 minute.

Scrape down the sides of the bowl.

Gradually add the egg mixture in two batches, beating for 20 seconds after each addition to incorporate the ingredients.

Fill your prepared loaf tin with 2/3 of the batter. Smooth the surface.

Sprinkle with the reserved 1/2 cup crumb mixture. and top with the apple slices, arranging them in two rows of overlapping slices.

Drop the remaining batter in large blobs over the fruit and spread it evenly, preferably with an offset spatula. The batter should be about 3/4 of an inch from the top of the tin.

Sprinkle with the crumb topping.

Bake the bread for 50-60 minutes or until a wooden toothpick inserted in the center comes out clean. Tent loosely with buttered foil after 45 minutes to prevent overbrowning.

Cool the bread in the tin on a wire rack for 10 minutes. Carefully remove the bread from the tin and allow to completely cool on a wire rack. Store in an airtight container.
Nutritional calculation was provided by WP Recipe Maker and is an estimation only. For special diets or medical issues please use your preferred calculator
Notes
Recipe from The Bread Bible by Rose Levy Beranbaum