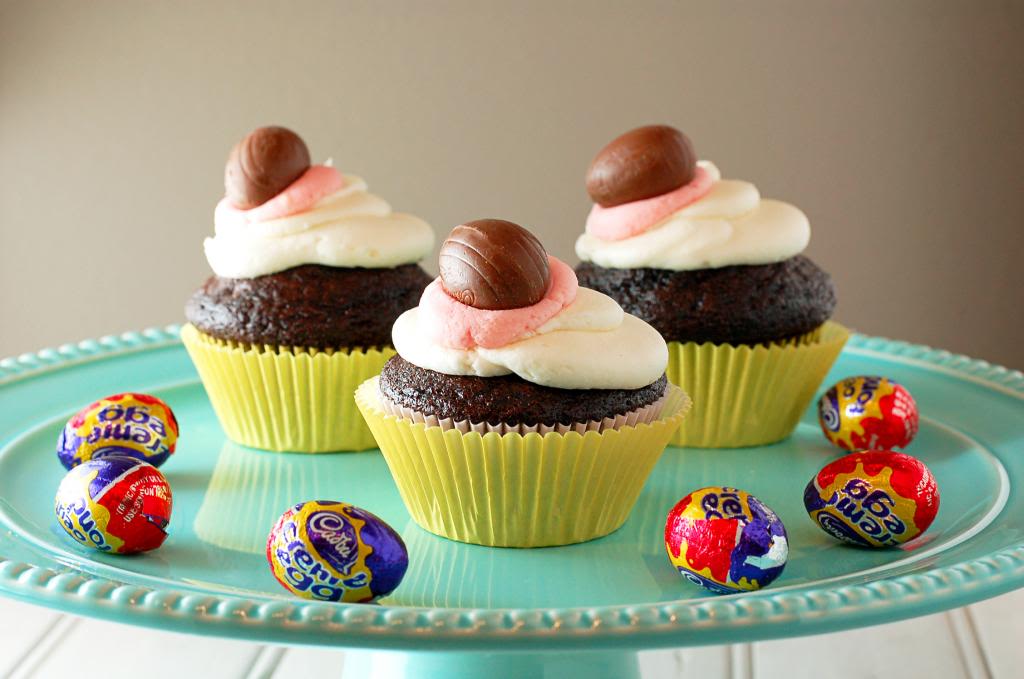 You may or may not have read that article about food blogging trends that need to go. One of the items listed was "stuffing things inside other things", or something like that. Call me crazy, but sometimes you just need to stuff cupcakes with other wonderful sugary sweets, like Cadbury Creme Eggs. I took these to work for my co-workers to devour, and these babies receive more praise and compliments than anything I've brought into the office in the last two years. I work with a fitness enthusiast/aerobics instructor who never, and I mean NEVER partakes in potlucks and never looks twice at the junk food co-workers bring in. These cupcakes were the only exception. She just couldn't resist the cute frosting and creme egg on top. And I'm sure she would have taken a second one home if there had been any left at the end of the day (which there wasn't).
Fair warning, the creme egg kind melts down into a caramel blob at the bottom of the cupcake. No one seemed to mind cause it was still outrageously delicious. I wonder what would happen if you use the regular sized creme egg? Maybe I'll give it a try next time.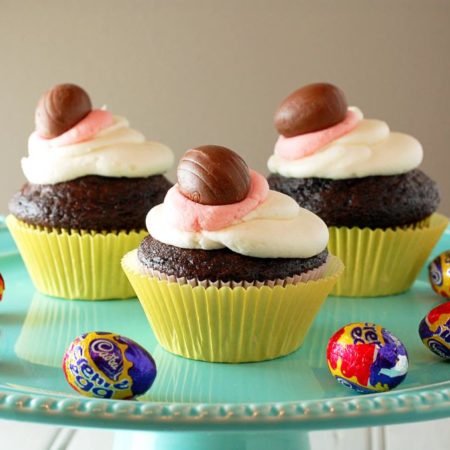 Ingredients
For the Cupcakes
1

+ 1/2 cups all-purpose flour

3/4

cup

dutch-process cocoa powder

1

+ 1/2 cups sugar

1

+ 1/2 tsp baking soda

3/4

tsp

baking powder

3/4

tsp

salt

3

eggs

at room temperature

3/4

cup

buttermilk

3

tbsp

grapeseed oil

or vegetable oil

1

tsp

vanilla

1/2

cup

water

36

mini creme eggs

such as Cadbury
For the Frosting
2

large egg whites

1/2

cup

+ 1 tbsp sugar

1

cup

unsalted butter

room temperature, cut into pieces

1

tsp

vanilla extract

2

cups

icing sugar
Instructions
For the Cupcakes
Preheat oven to 350 degrees F. Line muffin tins with paper liners.

In the bowl of a stand mixer, fitted with the paddle attachment, mix together flour, cocoa, sugar, baking soda, baking powder, and salt.

At low speed, add eggs, buttermilk, oil, vanilla and water. Beat until smooth and combined, scraping down the sides of the bowl as needed.

Fill each cup about half way. Place one mini creme egg in the center of each cup. Fill each cup until the creme egg is just barely covered.

Bake for 20 minutes and transfer to a wire rack to cool completely.
For the Frosting
Place egg whites and sugar in heat proof bowl (not metal). Set bowl over pan of gently simmering water, and whisk until the sugar has dissolved and the egg whites are hot to the touch, about 3 minutes. Test by rubbing the mixture between your fingers; it should feel completely smooth.

Transfer egg and sugar mixture to the bowl of a stand mixer fitted with the whisk attachment. Beat on high speed until mixture has cooled completely and formed stiff and glossy peaks, about 8-10 minutes.

Reduce speed to low. Add the butter, one piece at a time, and beat until incorporated after each addition. Don't worry if the buttercream appears curdled after all the butter has been added; it will become smooth again with continued beating, so be patient!!

Add vanilla extract and beat just until combined. Add in icing sugar, one cup at a time and beat until light and fluffy. Switch to the paddle attachment and beat on low to eliminate any air pockets, about 5 minutes.

**If you are using the buttercream within a few hours, cover the bowl with plastic wrap, and leave at room temperature in a cool environment.

***If not, then store in the refrigerator, up to 3 days. Before using, bring the buttercream to room temperature, and beat on the lowest speed with the paddle attachment until smooth, about 5 minutes.
To Frost the Cupcake
Use a large round tip and swirl a small amount of white frosting. Tint the remaining frosting yellow (I didn't have yellow so I used orange) and put a small dot of yellow on the top and garnish with a mini creme egg.
Nutritional calculation was provided by WP Recipe Maker and is an estimation only. For special diets or medical issues please use your preferred calculator