We all have nightmarish tales of soggy Brussels Sprouts with Cheez Whiz from our childhood. We're adults now, so stop buying those nasty frozen green nuggets and get the fresh ones instead. And then, put them in this salad, stat!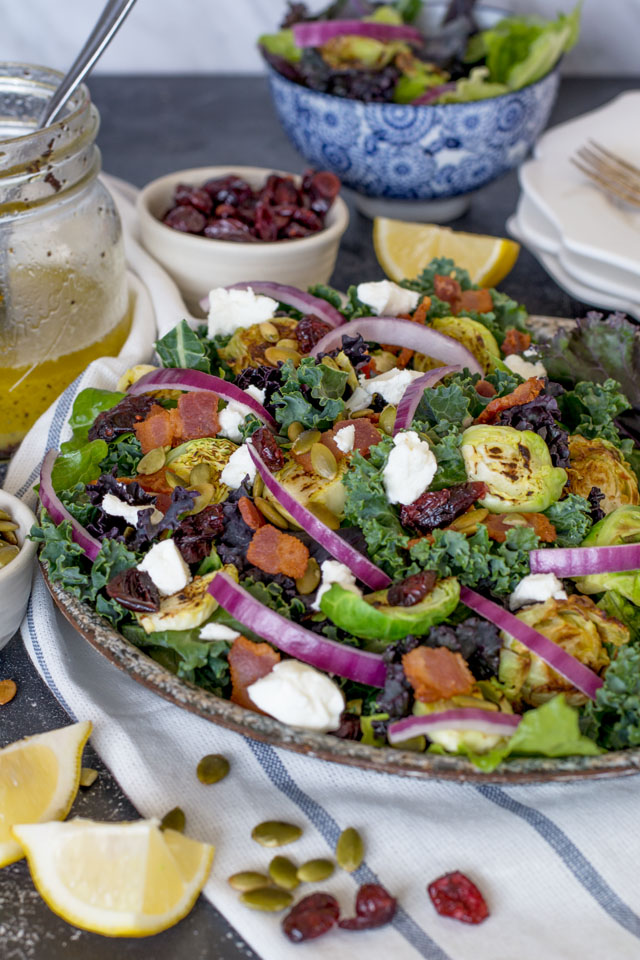 Usually salads don't do it for me. That being said, this salad is a game changer. Who knew that modest ingredients such as brussels sprouts, kale and dried cranberries could work so fabulously together. And the goat's cheese. Oh, and don't forget the bacon.
Mmmm, bacon.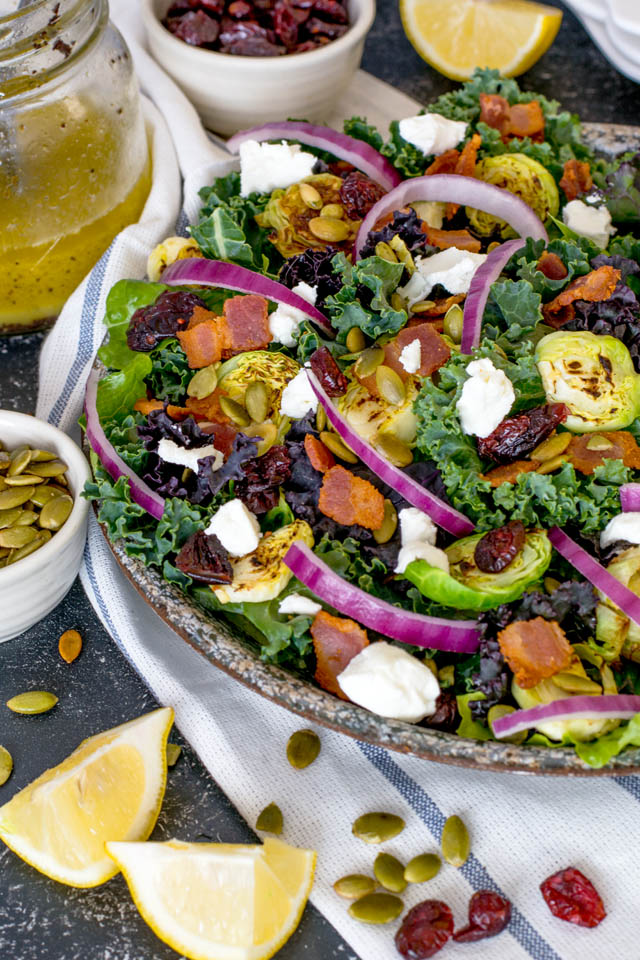 Brussels sprouts and bacon are a match made in foodie heaven. Legit, my favourite side-dish-turned-main-course ever. So why the heck not throw them into a salad together? Add some soft goat's cheese (because, why not. And also, because…cheese!), kale for good measure (and because they say the stuff is good for ya), and some texture by adding sweet, plump dried cranberries and some pepitas.
Plus, I made a killer Lemon Poppy Seed Vinaigrette that marries all the ingredients insanely well. I was coming down with a major case of being hangry while recipe testing and whipped this vinaigrette up with some basic ingredients that you probably have at home right now.
Make it now and thank me later.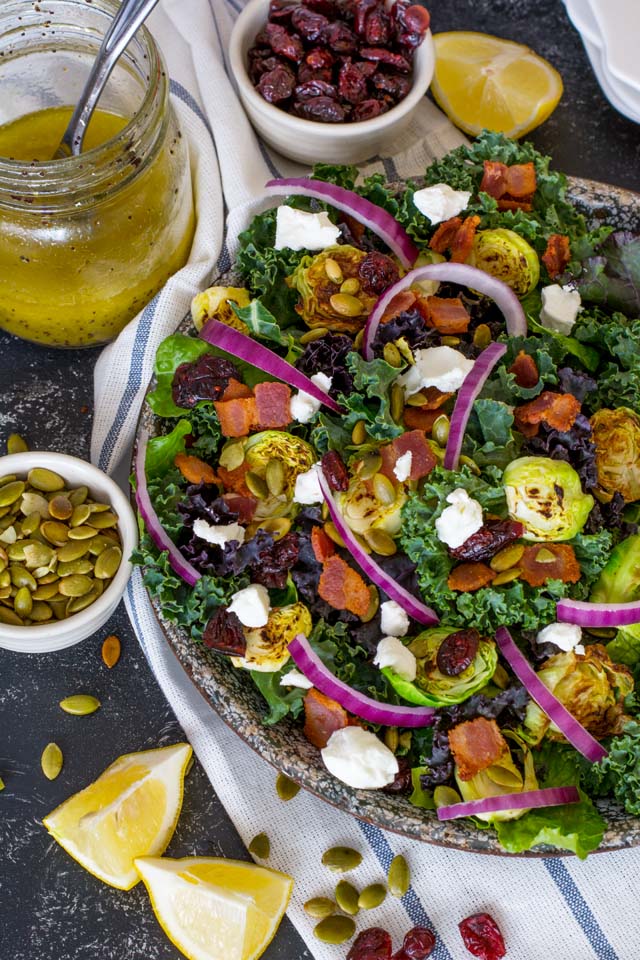 Like I said, salad is ho-hum for me. I could take it leave it. Usually, I leave it. But this Brussels Sprouts, Bacon and Kale Salad hits the spot for me. It's satisfying and filling and I've eaten it every day for the last week. And that's saying something, because I seriously hate leftovers.
Ingredients
6

slices

thick-cut bacon

1/2

lb

brussels sprouts

trimmed and sliced (about 10-12 brussels sprouts)

1

bunch of kale

center stem removed, and cut into bite size pieces (I used about half a bunch of green kale, and half a bunch of red kale)

4-5

romaine lettuce leaves

cut into bite sized pieces

1/4

red onion

thinly sliced

1/2

cup

dried cranberries

1/2

cup

pumpkin seeds

1/4

cup

crumbled goat's cheese

Lemon Poppyseed Dressing
Instructions
Cut bacon into large chunks and sauté in a medium skillet over medium heat until crispy. Set aside in a bowl lined with paper towel to drain and cool.

Remove all but 1-2 tbsp of bacon fat from the pan. Fry the brussels sprouts until bright green about 2-3 minutes. I like to let some of them get charred and crispy, too. Remove from pan and set aside to cool.

In a large bowl, toss together cooled brussels sprouts, kale, romaine, and red onion. Top with dried cranberries, pumpkin seeds, and dressing.

Add crumbled goats cheese and bacon just before serving.
Nutritional calculation was provided by WP Recipe Maker and is an estimation only. For special diets or medical issues please use your preferred calculator
Notes
**The measurements of most ingredients are pretty ambiguous. Use as much or little as you wish.