I love all sorts of cheese, especially Brie. If I see Brie on a menu, I usually lean towards that option. So when I saw a Brie and Walnut Quesadilla on the menu at a local restaurant a few years ago, I knew I was going to order it. I also knew it would be easy to make at home, so I gave it a try.
This recipe incorporates a festive seasonal favorite of mine – Cranberry.
When I first started making these quesadillas I just used craisins instead of a cranberry compote. I simply mixed them into the herbed sour cream and used it as a dip opposed to adding them right to the quesadilla filling. So in a pinch, go that route, but the compote really puts it over the top so if you have 10 extra minutes, go ahead and make the compote. (or maybe use some leftover cranberry sauce from Christmas).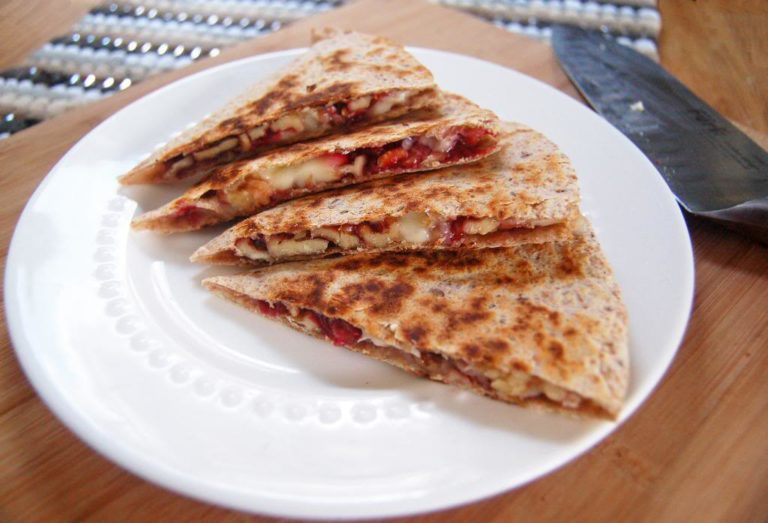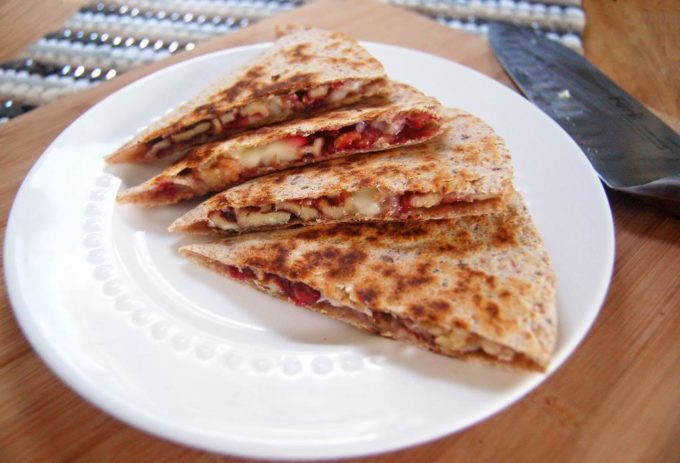 **Please note that I really don't measure when I make these for myself. All measurements, with the exception of the compote, are approximate. Use this recipe as a guideline, and tweak it to match your tastes.
Brie and Walnut Quesadilla
Quesadilla
1/2 a small round of Brie *the round I used was 125g
3-4 tbsp cranberry compote
1/8-1/4 cup chopped walnuts
1 tortilla
Cranberry Compote
6.5 ounces fresh or frozen cranberries
1 cup water
1 tbsp lemon juice
1/2 cup sugar
2 tbsp cornstarch
Herbed Sour Cream
3-4 tbsp sour cream
1 1/2 tsp Italian herb seasoning blend
Directions

To make the compote:
Combine cranberries, 1/2 cup of water, lemon juice and sugar in a saucepan over medium-high heat. Bring to a boil and cook for 5-8 minutes.
Dissolve the cornstarch in the remaining 1/2 cup water and add to the pan. Reduce the heat the medium and stir the mixture until it begins to thicken, about 1-2 minutes. Remove from pan and let it cool.
To make Herbed Sour Cream
Mix together sour cream and herbs in a small bowl and set aside.
To Assemble the Quesadilla:
Cut the brie in half. Heat in the microwave for about 30 seconds until the cheese is soft and spreadable. Spread the cheese onto half a tortilla.
Spread a thin layer of cranberry compote on top of the cheese.
Sprinkle chopped walnuts on top of the cranberry, and fold empty side of the tortilla over to cover the filling.
Place tortilla in a preheated skillet and cook until brown. Carefully flip the quesadilla and brown the other side.
Serve with herbed sour cream.