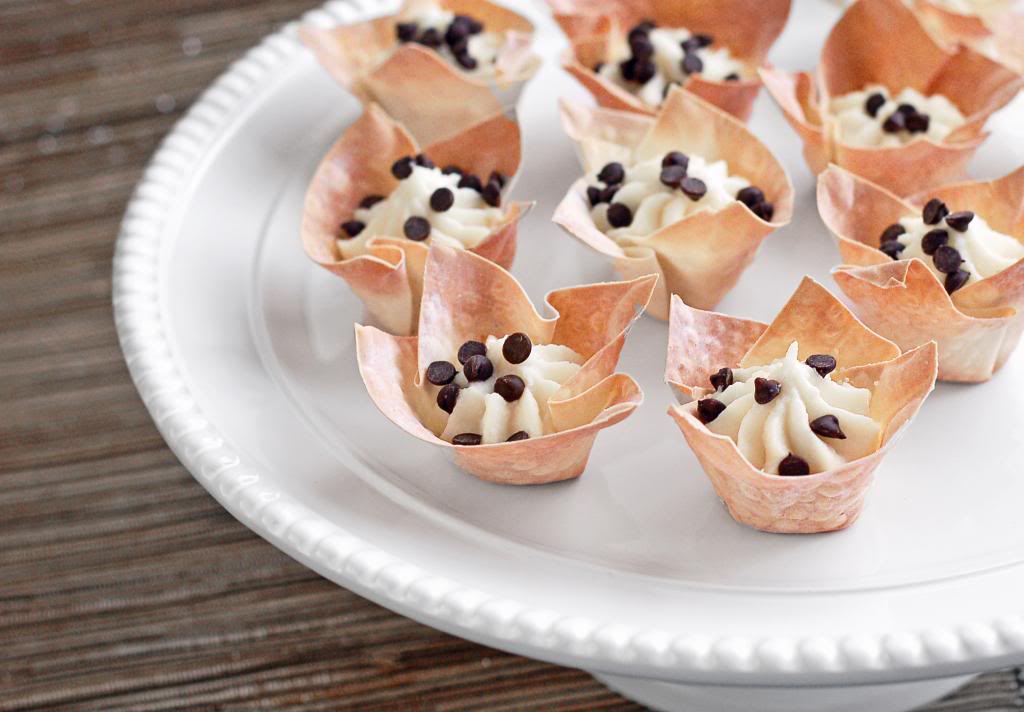 There is a delightful French Bakery called Le Macaron just a new feet from my store and they make killer pastries and breads. Seriously, it's all to die for. Whenever I stop in for a London Fog (a tea latte beverage made with Earl Grey tea) I always choose one or two macarons. But if they have cannoli's in the cooler I will always choose a cannoli over a macaron. There's something about the slightly sweet shell and almond flavored creamy filling that I simply can't resist. Being a fearless baker, I've thought about making them myself at home, but finding a cannoli form proved difficult. So, I put cannoli's on my "Food Bucket List" and left it at that.
Until this past weekend that is….
And even then I only "sorta" made cannolis. I cheated a little bit by using wonton wrappers instead of making the traditional shell, which was a perfect time saver since I only decided to make these at the last minute.
My last minute decision was also perfect because cannolis should only be filled right before serving. This is not the kind of dessert you can freeze for later. You can make the wonton cups and filling in advance, but do not fill the cups until you are ready to serve them or they will get soggy.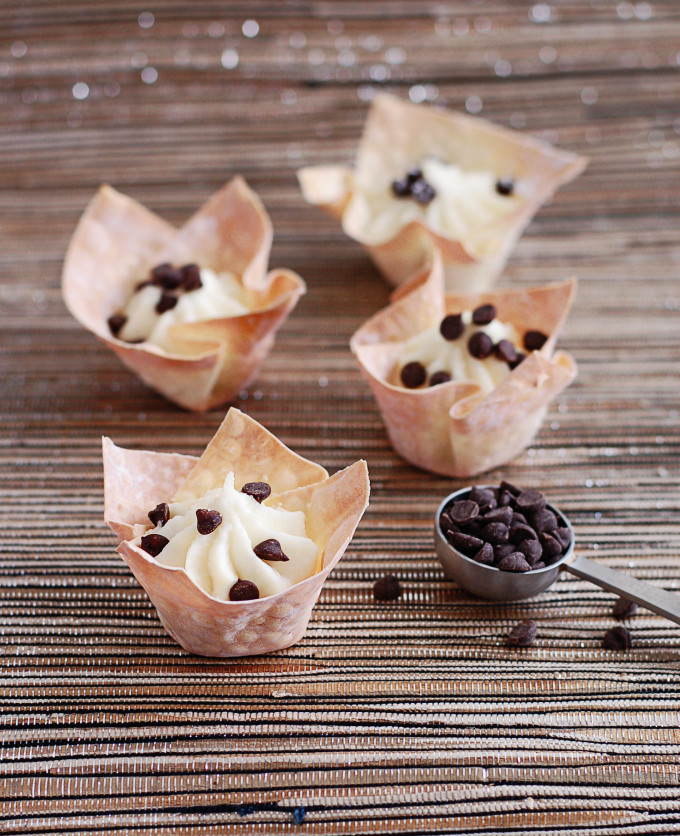 Before you get started:
-The filling requires time too cool, so if you are in a rush, try transferring the hot mixture into a shallow pan instead of a saucepan. It's winter here, so I just put my pan outside for a few minutes in the snow.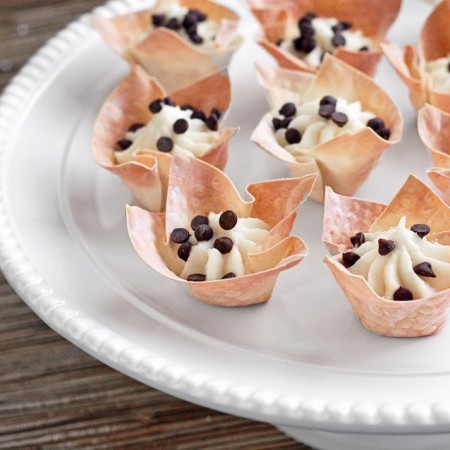 Ingredients
1

pkg

16 oz wonton wrappers

1

container

15 oz ricotta cheese

1/4

cup

cornstarch

1 1/3

cups

whole milk

I used whipping cream since that's what I had available

1/2

cup

icing sugar

1/2

tsp

almond extract

1/2

tsp

vanilla extract

1/4

tsp

cinnamon

optional

2

cups

mini semi-sweet chocolate chips
Instructions
In a bowl, slowly whisk 1 cup of the milk into the cornstarch until smooth. Let sit for about 20 minutes.

Meanwhile, preheat the oven to 325 degrees. Using a mini cupcake tin (mine happens to be silicon) press 30-35 of the wontons into the pan to form cups. *I use a little pie tart press tool to make sure the wontons are nice and flat on the bottom. This will likely need to be done in several batches.

Bake the cups for 10-15 minutes or until golden brown. Remove and let cool.

Once your milk and cornstarch mixture has been sitting for 20 minutes ( it's fine to leave it a bit longer), transfer the mixture into a saucepan and add remaining milk and sugar. Heat on medium-low heat, stirring constantly until it becomes very thick and smooth (about 7-10 minutes).

Remove from heat. Stir in almond and vanilla extracts. Place a piece of plastic wrap on the surface of the filling to prevent "skin" from forming and let cool until the mixture reaches room temperature.

After the milk has reached room temperature, whisk in the ricotta and cinnamon until smooth (you can use an electric mixture on low).

Use a pastry bag fitted with your choice of tip, pipe the mixture into the baked wonton cups. Sprinkle with chocolate chips. Serve immediately, or refrigerate. **They will get soggy after a few hours.
Nutritional calculation was provided by WP Recipe Maker and is an estimation only. For special diets or medical issues please use your preferred calculator