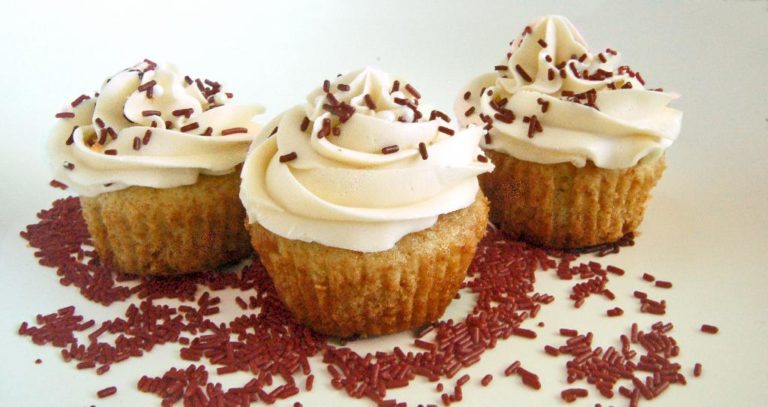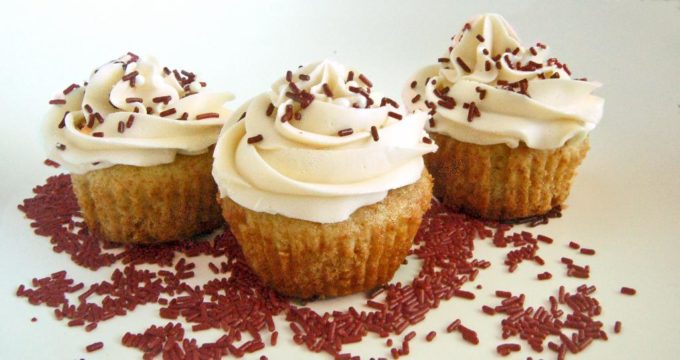 These cupcakes have become quite the fan favorite with my friends and family. They are so delicious, and people love that they are infused with liquor. They are great for girls night for sure!
This was the very first recipe I have ever used Swiss Meringue Buttercream with. I have no idea why I never tried it sooner. I always just defaulted to the quick and easy regular buttercream recipes. It's been about a year since I last made regular buttercream because I love the Swiss Meringue so much more!! It really takes the cupcake up a notch, and it's truly not that hard. I strongly suggest you give it a try.
2 1/2 cups flour
3 tsp baking powder
1/2 tsp salt
1 1/2 cups sugar
12 tbsp butter, room temperature
2 large eggs
1 tsp vanilla extract
1 cup heavy cream
1/4 cup Vodka (I used vanilla vodka)
1/4 cup + 4 tbsp Kahlua, divided
For Kahlua Swiss Meringue Buttercream
5 large egg whites
1 cup + 2 tbsp sugar
2 cups unsalted butter, room temperature, cut into pieces
2-3 tsp Kahlua, to taste
Directions
Preheat oven to 350 degrees.
In a large bowl, sift together flour, baking powder and salt. Set aside.
In bowl of a stand mixer, beat together butter and sugar, until light and fluffy. Add eggs one at a time, beating on low. Add vanilla, vodka and 1/4 cup Kahlua.
Gradually add flour mixture in 3 additions, alternating with heavy cream, ending with the flour mixture.
Fill each cupcake liner about 1/2 full. Bake for 17-20 minutes or until a toothpick inserted in the middle comes out clean.
While cupcakes are still warm, poke holes with a toothpick and brush each cake with leftover 4 tbsp Kahlua. Remove from pan and cool completely on a wire rack before frosting.
To make Kahlua Swiss Meringue Buttercream
Place egg whites and sugar in heat proof bowl (not metal). Set bowl over pan of gently simmering water, and whisk until the sugar has dissolved and the egg whites are hot to the touch, about 3 minutes. Test by rubbing the mixture between your fingers; it should feel completely smooth.
Transfer egg and sugar mixture to the bowl of a stand mixer fitted with the whisk attachment. Beat on high speed until mixture has cooled completely and formed stiff and glossy peaks, about 8-10 minutes.
Reduce speed to low. Add the butter, one piece at a time, and beat until incorporated after each addition. Don't worry if the buttercream appears curdled after all the butter has been added; it will become smooth again with continued beating, so be patient!!
Add Kahlua and beat just until combined. Switch to the paddle attachment and beat on low to eliminate any air pockets, about 5 minutes.
**If you are using the buttercream within a few hours, cover the bowl with plastic wrap, and leave at room temperature in a cool environment.
***If not, then store in the refrigerator, up to 3 days. Before using, bring the buttercream to room temperature, and beat on the lowest speed with the paddle attachment until smooth, about 5 minutes.