I hope summer has been treating you well! The weather here has been pretty lame, so I booked a vacation to Vegas so I could soak up some sun and enjoy the heat. Before I leave, I wanted to share this awesome summer berry potato salad with you!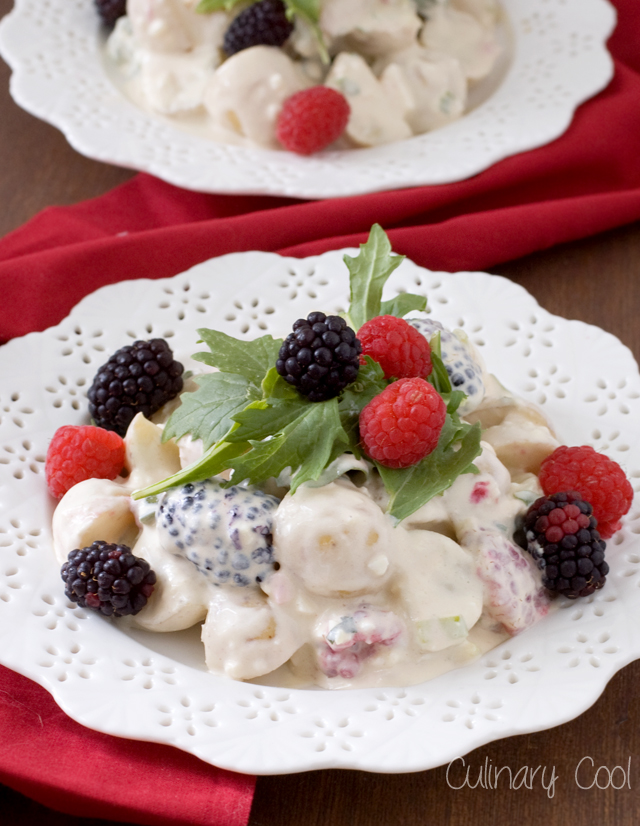 The potato salad I'm used to consists of mayo, potatoes, some rogue vegetables, and hard boiled eggs. But usually you just taste the mayo, which can be quite off-putting. The main ingredient in my baba's potato salad is mayo. My baba has a love for mayo that I will never understand. I swear she puts that sh** on everything. She even tried to add mayo to a Caesar salad once. We stopped her right before the mayo left the wooden spoon. I still gag when I think about it.
This salad however, does not taste like mayo, which was so refreshing. The dressing is the most amazing combination of mint, fresh lemon juice, and real cream. And the berries, oh man the berries! Best idea ever!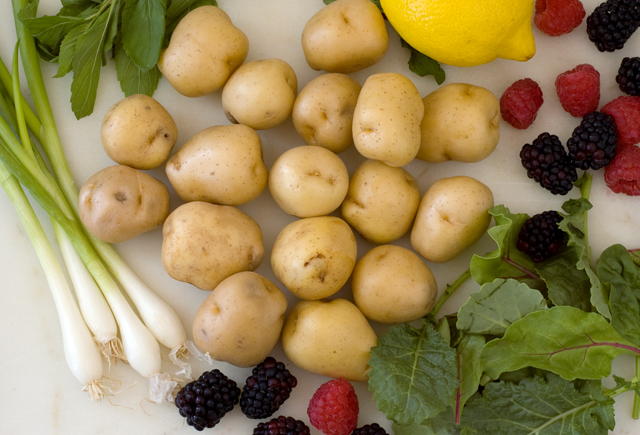 You might be scratching your head thinking, "berries in a potato salad?" When I was approached by Dairy Farmers of Canada to test out this recipe created by Chef Michael Allemeier, I thought the same thing too. But let me tell ya….I've made this salad a few times now and there's no going back. The berries are a sweet and unexpected addition to the potato salad. They are lightly coated in balsamic vinegar before being added, which enhances their sweetness and flavor. I used raspberries and blackberries, and can't wait to try other berry combos such as Saskatoons, blueberries and strawberries.
Potato salad desperately needed a makeover and Chef Allemeier is to the rescue by jazzing it up with summer flavors such as fresh berries, lemon and arugula. This Berry Delicious Potato salad will make a great addition to your summer BBQ or potluck and is sure to be a hit. My boyfriend has always hated potato salad, and this salad was a game changer for him. The dressing is flavorful, the berries are sweet, and it doesn't taste like just potatoes and mayo. If you have potato-salad-haters in your family, this might just be the recipe to convert them!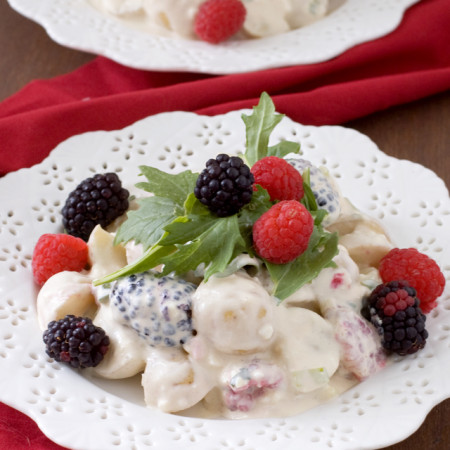 Ingredients
2

lbs

medium yellow-fleshed potatoes

2

hard cooked eggs

peeled

1/2

cup

mayonnaise

1/3

cup

35% whipping cream

1/4

cup

sour cream

2

tbsp

Dijon mustard

1

tbsp

fresh lemon juice

4

green onions

green parts only, thinly sliced

1/4

cup

fresh mint

, loosely packed and thinly sliced

Salt

2

cups

mixed berries

(such as, blueberries, strawberries, blackberries, raspberries)

1

cup

firmly packed baby arugula leaves

stems removed

1

tbsp

balsamic vinegar
Instructions
Scrub potatoes and dice into ¾-inch (2 cm) pieces. Cook in large pot of salted water until tender. Drain well; let cool slightly.

Meanwhile, in a large bowl, mash eggs with a fork. Whisk in mayonnaise, whipping cream, sour cream, mustard, lemon juice, onions, and mint, until creamy. Add warm potatoes to dressing; season to taste with salt. Cover and refrigerate until serving.

To serve, in a medium bowl toss berries, arugula and balsamic vinegar; reserve some of the berries and arugula. Fold berry mixture into potato salad. Serve in a bowl or on a platter; garnish with reserved berries and arugula.
Nutritional calculation was provided by WP Recipe Maker and is an estimation only. For special diets or medical issues please use your preferred calculator
Notes
Recipe from Chef Michael Allemeier
Disclosure: This post was sponsored by Dairy Farmers of Canada. The ingredients to make this recipe were provided to me at no cost so I could test the recipe. Thank-you to CJ Katz for packaging the ingredients for me. All opinions are my own.