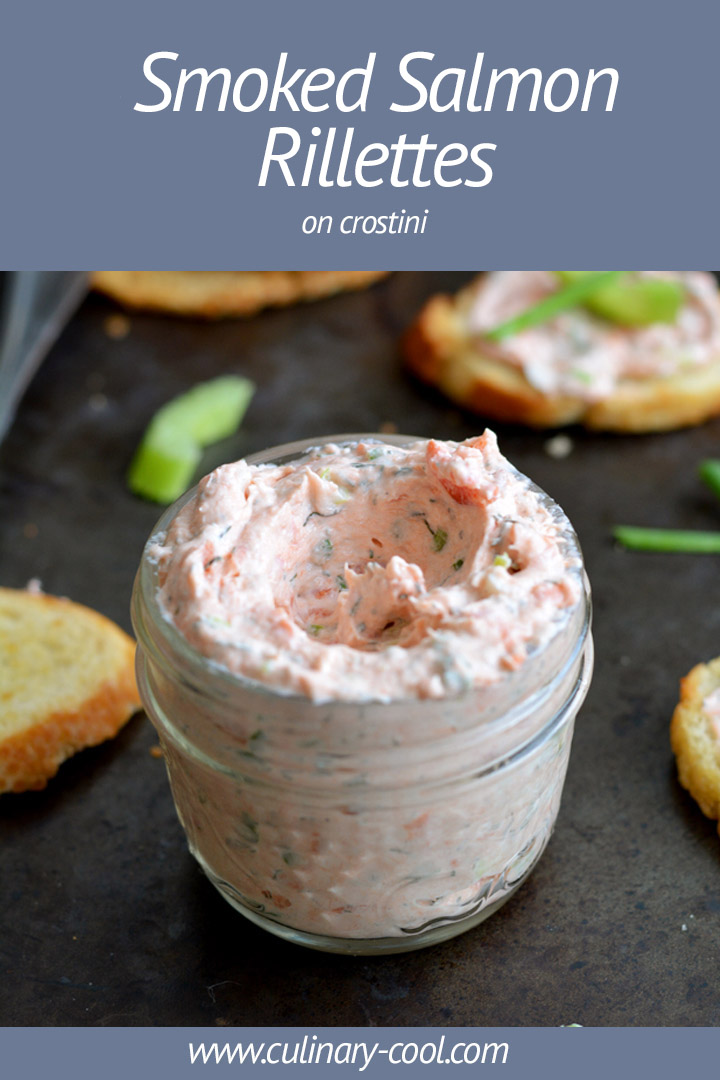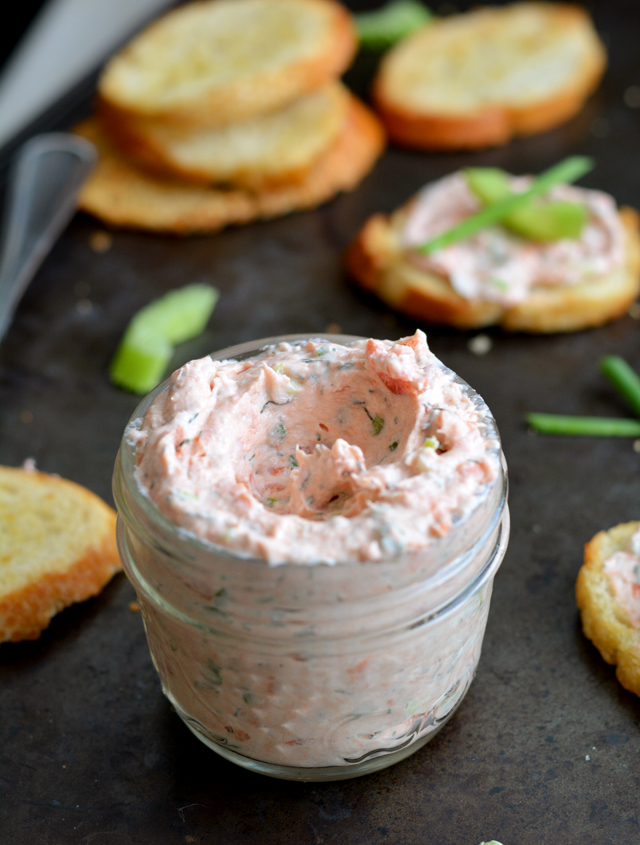 Growing up, salmon came from a can, and was always mixed with mayo and celery, and slathered on white bread. The salmon sandwich was a regular occurrence and I loved it! Who am I kidding, I still love it. It's far from classy, but it's easy and delicious and it's one of the only ways I'll eat salmon. Another way I enjoy salmon is by mixing it with cream cheese and spreading it thick on a toasted baguette. Behold, smoked salmon rillettes.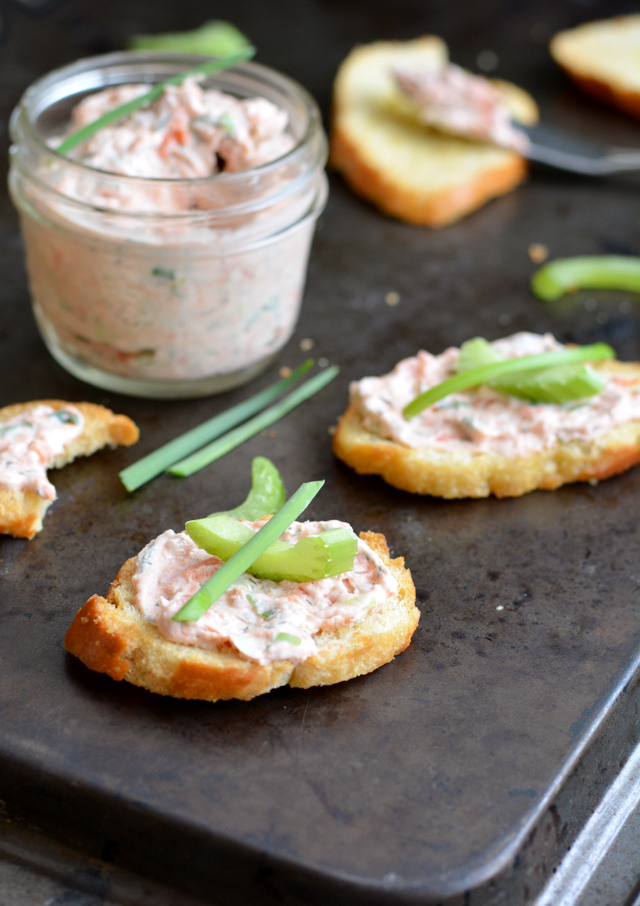 I teach a recipe similar to this in one of my cooking classes and it always makes my students nervous. A lot of the time, people say they don't like salmon, and are reluctant to try the rillettes. With a look of fear in their eyes, my students take their first bite, and the reaction is always the same, "These are sooooo good, and I don't even like salmon. Totally not what I was expecting!" Well guess what friend, you like salmon now! These smoked salmon rillettes are like a gateway drug, but instead of getting you hooked on drugs, they get you hooked on smoked salmon. The addition of cream cheese certainly doesn't hurt either.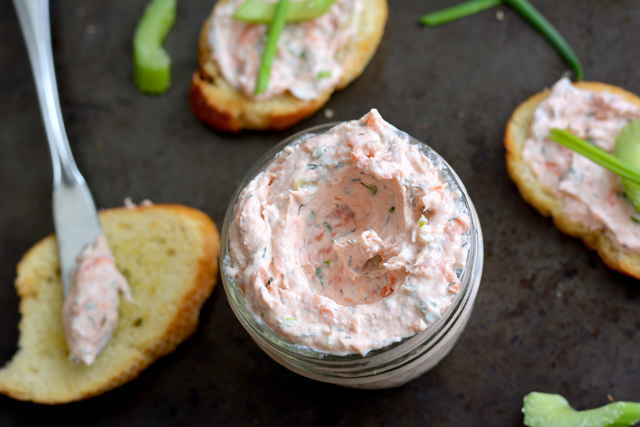 Time to put my "teaching hat" on for a second. What is a rillette, you ask? Well, it's similar to pâté and traditionally made from meat, such as pork. This fun spin uses smoked salmon instead of meat. They are served as a starter, spread on bread or crackers and are French in origin. Rillettes are normally served at room temperature, but I prefer these smoked salmon rilletes served chilled.
"Teaching hat" sufficiently removed.
Smoked Salmon Rillettes are a great, no-fuss, classy appetizer that is sure to impress. The ingredients are simple and familiar, yet complex, and will surprise everyone, including your salmon-hating friends. If there's ever one thing from my class that gets eaten up first, it's always the rillettes. They are incredibly addicting, so I suggest you invite your friends over, pour some wine and share!
Or just pour yourself a glass or two, and don't share. Choice is yours. Either way, I won't judge.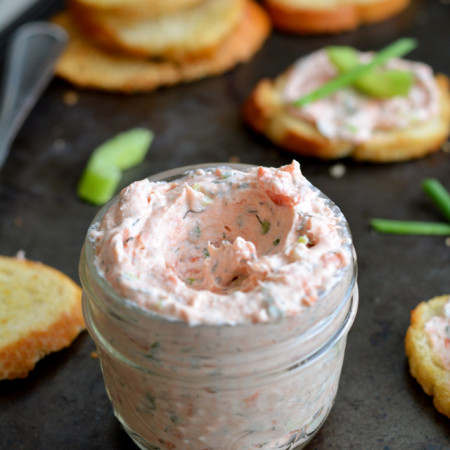 Ingredients
1

cup

cream cheese

softened

2

green onions

finely chopped

2

tbsp

lemon juice or to taste

1-2

tbsp

dill

1/4

tsp

smoked paprika

1

cup

smoked salmon

chopped into small pieces

salt and pepper to taste
Instructions
In a medium bowl, add the cream cheese, green onion, lemon juice, dill, and paprika, and stir to combine.

Add the the salmon and stir until smooth. If you want larger pieces of salmon, stir gently until just combined. I prefer mine to be on the smoother side, so I mix a bit longer.

Season with salt and pepper. Add more lemon juice, dill or paprika if desired.

Serve cold on toasted baguette, or crackers. Garnish with celery and chives.

Makes a great addition to any charcuterie or cheese board.
Nutritional calculation was provided by WP Recipe Maker and is an estimation only. For special diets or medical issues please use your preferred calculator