A tender, fluffy, no-nonsense drop biscuit is something everyone needs in their back pocket. But if you're interested in a little nonsense, this recipe is for you!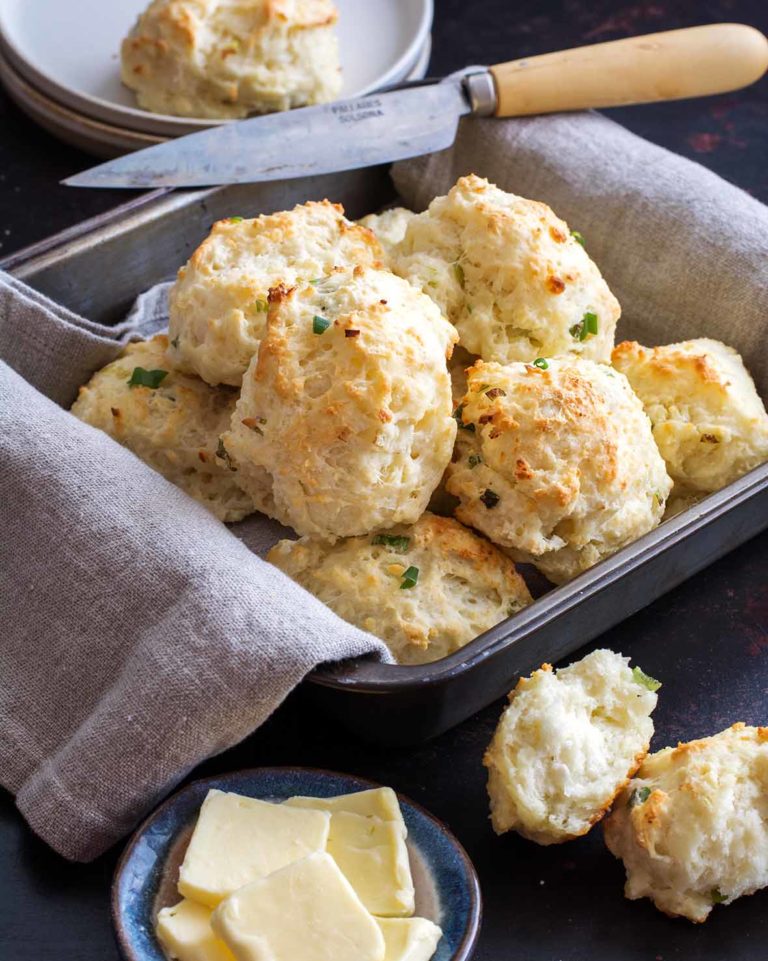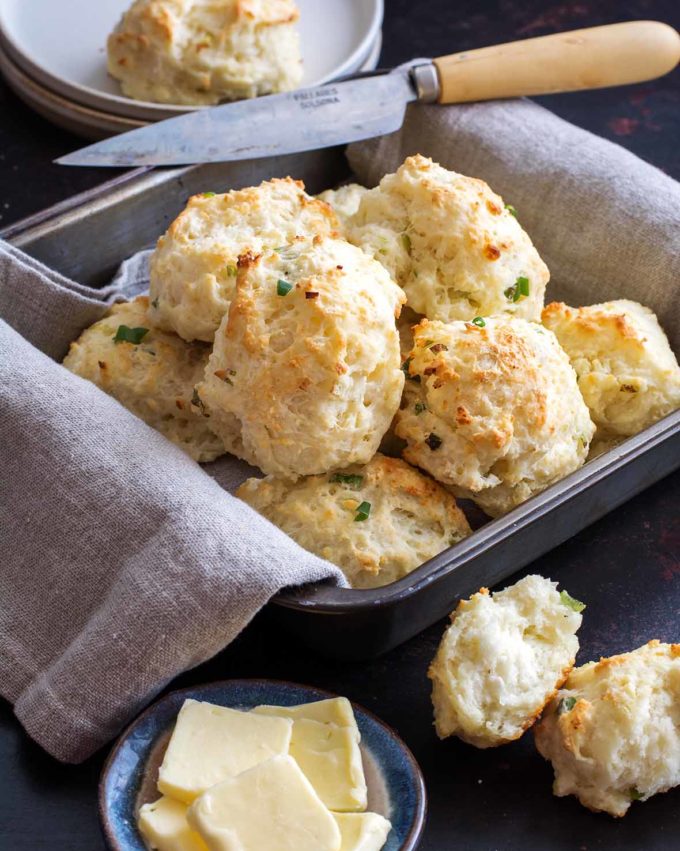 This recipe happened completely by accident.
It all started innocently enough, with a major hankerin' for buttermilk biscuits to go alongside my favourite vegetarian chili. I darted out to pick up buttermilk (real buttermilk, not just milk and vinegar), assuming I had all the other fixin's required.
I get home, pop the buttermilk into the fridge, and try to locate my butter. There must have been a glitch in the matrix, because I somehow only had about a 1/4 cup of butter left. THAT DOES NOT HAPPEN TO ME! I'm the kind of person with a few bricks in the freezer lying in wait. I must have used it up with all my Holiday baking and neglected to make note of what was left.
*Sigh*
Time to improvise, because y'all, I needed my biscuits, and I just ran out in -30 degree weather to get buttermilk, so you better believe I was going to make them one way or another.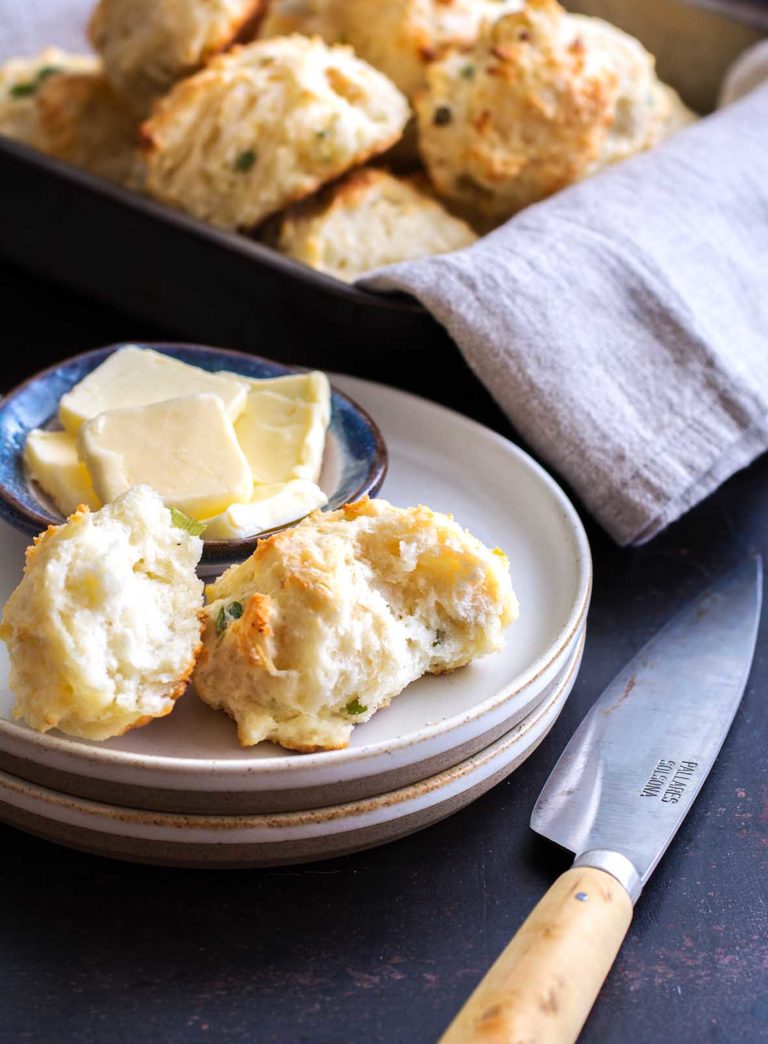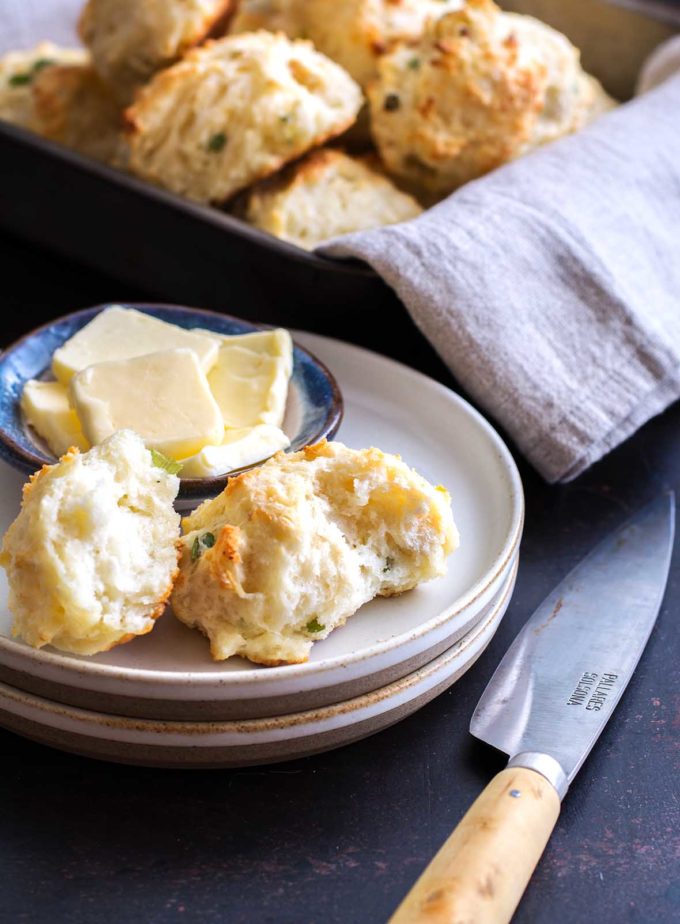 The recipe I usually follow for buttermilk biscuits calls for 1/2 cup of butter, so I needed to sub something fatty for half of it, or make a half batch of biscuits. But lets be real for a moment – I needed a full batch and would settle for nothing less. I set my sights on my blessed cheese drawer, hoping I had a little cream cheese tucked away in there. And, while there was cream cheese, something else caught my eye – an unopened package of soft, tangy, Okanagan Falls goats cheese. Yep, that'll work!
And, boy, did it ever. The biscuits had a great texture, and a wonderful, slightly tangy flavour from the goats cheese. Using real buttermilk gives the biscuits (or any baking, really) lift, lightness and phenomenal tenderness, and it was totally worth trekking outside in -30 weather to get it. Plus, this recipe comes together in a snap, and there's no fuss with rolling and cutting – just scoop and drop. Easy peasy!
If goats cheese isn't your thing (I know my friend, Judy will have something to say about this recipe, and it will most likely include the green face emoji), just use 1/2 cup butter, and no goats cheese at all. But if you want to be a little unconventional, and a whole lot adventurous, use the cheese!
Goat Cheese and Scallion Drop Biscuits
These tender and flaky buttermilk biscuits feature an unlikely ingredient; goats cheese!
Print
Pin
Rate
Ingredients
2

cups

all-purpose flour

1

tbsp

baking powder

1

tsp

salt

1/4

cup

goat cheese

crumbled

1/4

cup

butter

frozen

1/4

cup

chopped scallions

1

cup

cold buttermilk
Instructions
Preheat oven to 425 degrees F.

Line a baking sheet with parchment and set aside.

In a large bowl, whisk together flour, baking powder and salt. Stir in the crumbled goat cheese.

Using a box grater, grate the frozen butter into the flour mixer. Alternatively, you can use a pastry blender to cut the butter into the flour until you have pea sized pieces.

Stir in the scallions.

Add the cold buttermilk to the flour mixture and stir until just combined. If the mixture is still too dry, add a drizzle of buttermilk until everything comes together.

Spoon the batter onto the prepared baking sheet. I like to use an ice cream scoop.

Bake for 10-15 minutes, or until the biscuits are golden. If desired, brush the freshly baked biscuits with melted butter.

Best served warm. Biscuits keep well in an air-tight container for about 3-4 days.
Nutritional calculation was provided by WP Recipe Maker and is an estimation only. For special diets or medical issues please use your preferred calculator