These beauties go by many names; Peanut Butter Confetti Squares, Butterscotch Confetti Squares, Peanut Butter Marshmallow Squares, Peanut Butter Butterscotch Marshmallow Squares, and pretty much every other variation of the like. Regardless of what name you associate with this dessert, we can all agree that they're full of nostalgia and superbly delicious.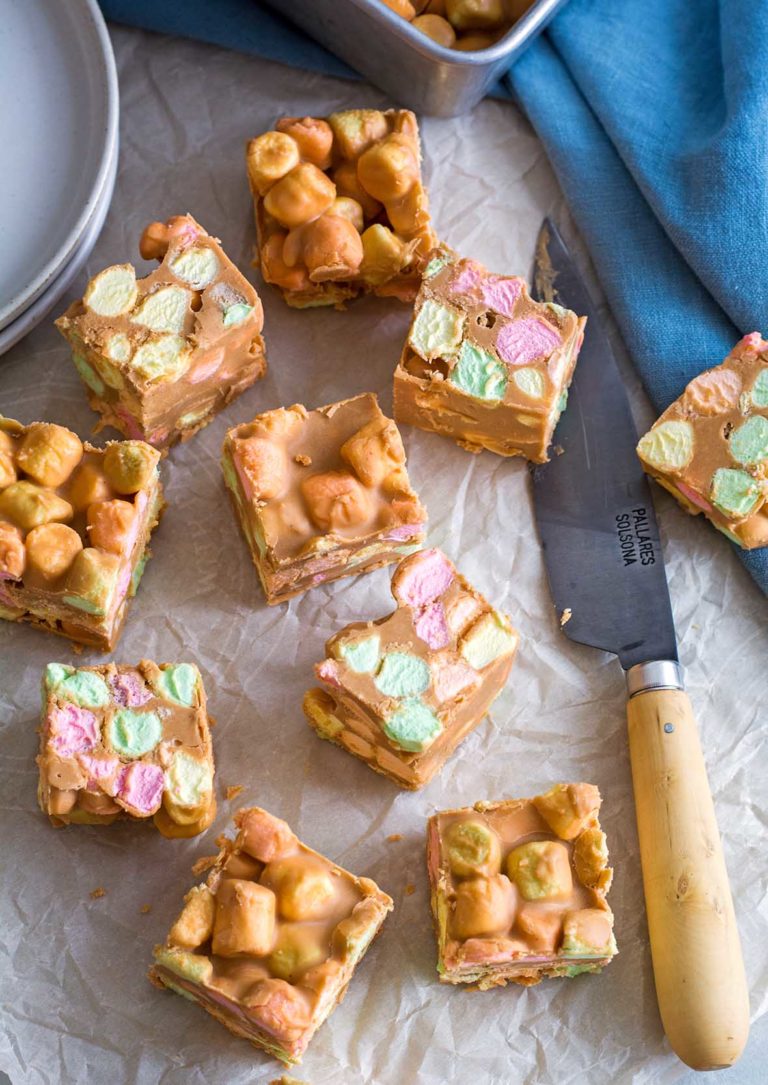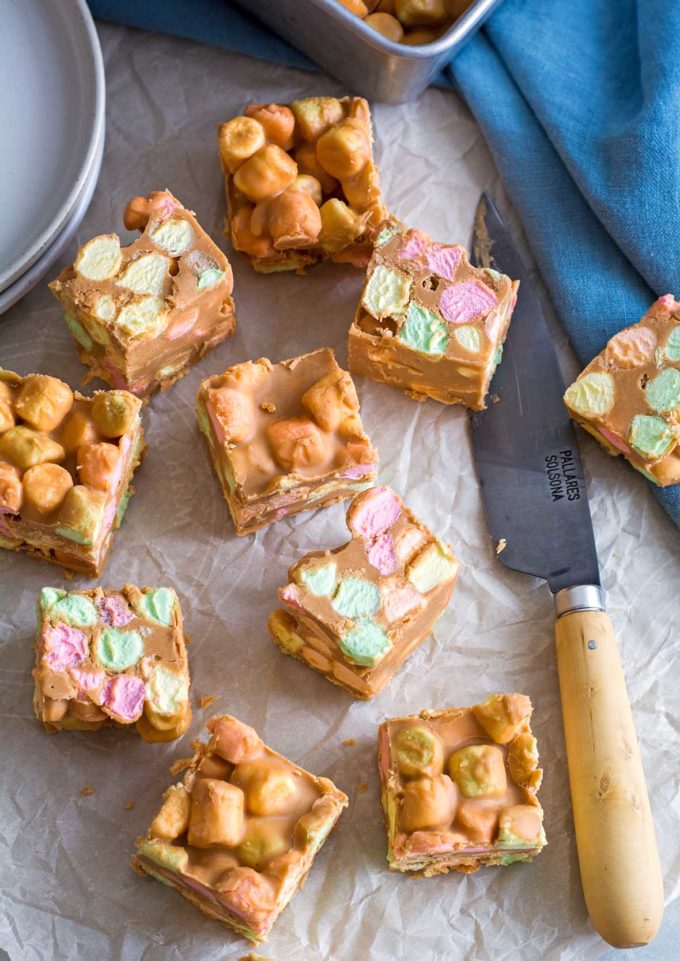 Of all the retro desserts (that I can think of right now as I'm typing this post), these are my favourite. If I'm in a pinch and need a snack to take along somewhere, these are the squares I like to make. My sister makes these with my nephews every so often, because the kids can get hands-on with the process. Plus they're full of two of their favourite things – peanut butter and marshmallows.
Primarily, the marshmallows. Lord, do those munchkins love marshmallows!
When my nephew, Owen, was about 2, he was obsessed with marshmallows. My sister brought home a bag of cotton balls once, and he thought they were his fave 'mallows, and would get upset when he wasn't allowed to eat them. Poor, confused little kiddo.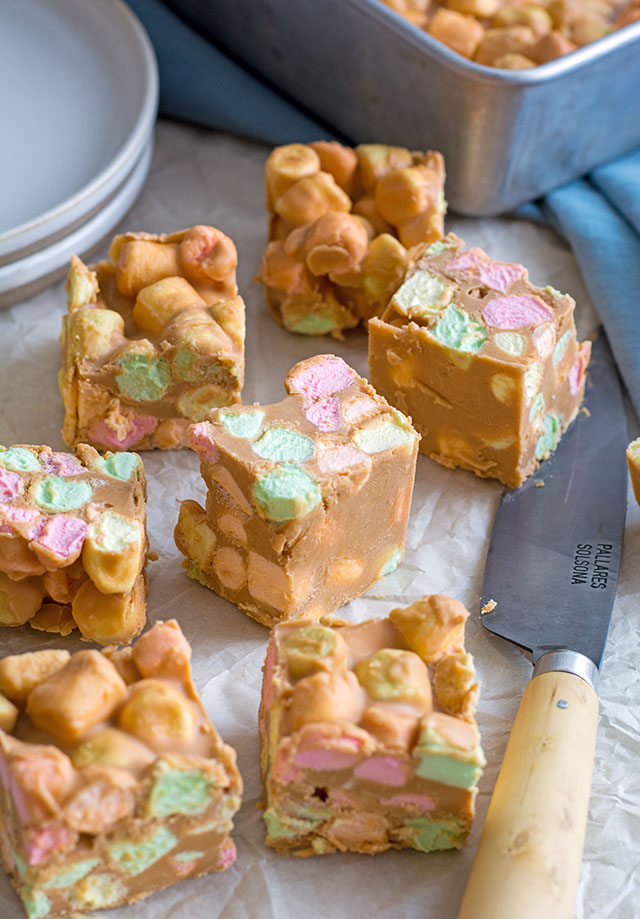 While the kids love Peanut Butter Marshmallow Squares because of the PB and M, I love it because it's a no-bake dessert, which to me, means (almost) instant gratification (they do require a little bit of time to chill). It's a guaranteed crowd pleaser, I almost always have all the ingredients on hand, and it takes less than 10 minutes to whip together. You can't go wrong with quick, easy, and classic!
Sometimes it's also fun to go rogue with retro desserts, too! A few years back, I couldn't decide between brownies or peanut butter marshmallow squares, so I made both, one on top of the other. Check out that recipe here.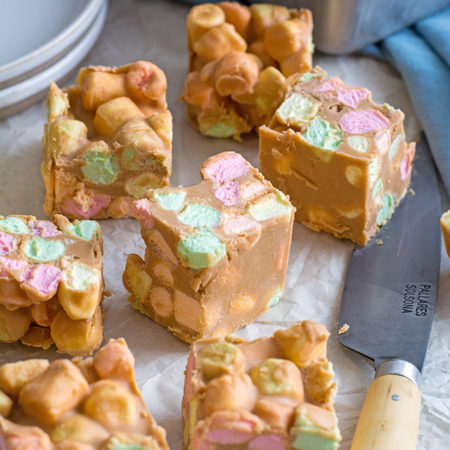 Peanut Butter Marshmallow Squares
A classic, retro no-bake dessert made with peanut butter, butterscotch chips and marshmallows.
Print
Pin
Rate
Ingredients
1/4

cup

butter

1/2

cup

peanut butter

1

270 g bag

butterscotch chips

1

250 g bag

mini marshmallows

coloured/flavoured mini marshmallows
Instructions
Grease an 8x8 baking pan with butter and set aside.

In a medium saucepan set over low heat*, melt the butter and peanut butter together. You do not want this mixture to get hot, just warm enough to melt the two ingredients together. Remove from the heat.

Add in the butterscotch chips, and mix until all the chips have melted. Sometimes I will put the pot back on the element (heat still turned off) and just use the residual heat to help the process. Mix in the marshmallows and work quickly to coat them completely. Transfer the mixture into the prepared 8x8 pan and gently press it into the pan so it's evenly distributed.

Cover with plastic and chill in the fridge until firm.

Cut into squares and enjoy.
Nutritional calculation was provided by WP Recipe Maker and is an estimation only. For special diets or medical issues please use your preferred calculator
Notes
If your bag of marshmallows is closer to 400 grams, double the butter and peanut butter recommended in this recipe.  Mini marshmallows come in different size bags. The kind I use are on the small side (250 grams).
You can use a microwave if you like, just watch it carefully so it's not too hot.