The ideal french fry is crispy on the outside, and is soft and tender on the inside. If you're under the impression that you need to deep fry potatoes to get them crispy, think again. All you need is your oven, and these 4 tips!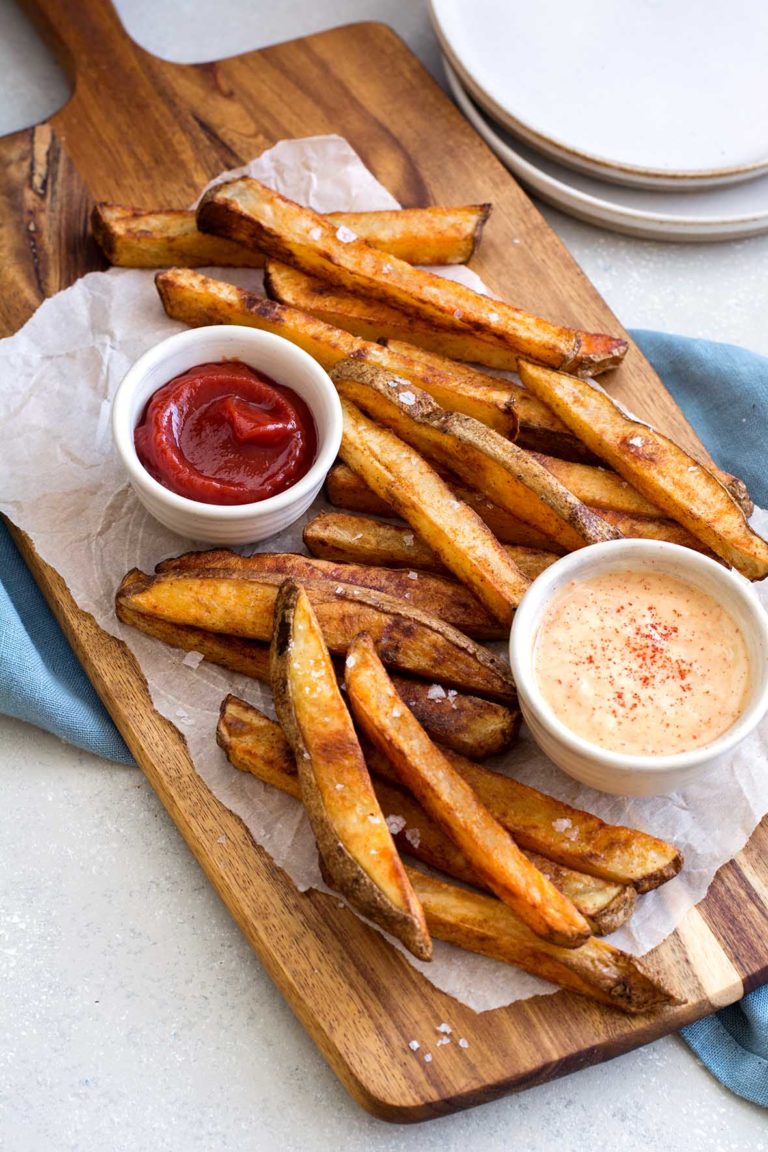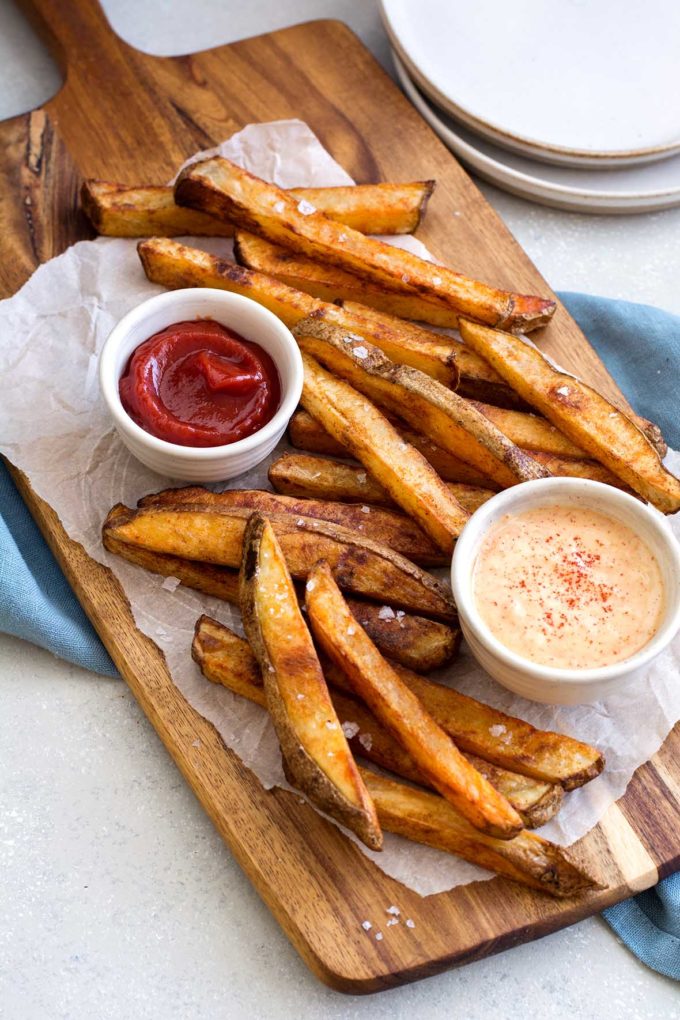 I would walk across glass for potatoes. They're one of my all-time favourite foods. Roasted, boiled, in soup, potato salad, stuffed inside perogies, or even scalloped potatoes from a box; gimme those spuds any time, any way! Above all else, the humble french fry tops the list. It's one of the only potato dishes I make at home because my boyfriend is not keen on spuds. Chips and fries are about the only way I can get him to eat them, so when I'm craving potatoes, I make fries.
But, I never deep fry them. Ever. I hate deep frying food at home because it's messy, makes the house stink, and it's the furthest thing from healthy. So instead, I bake them in the oven and they're still crispy and delicious. Wanna know my secret?
1. Size Matters
First, think about the size you want your fries. The skinnier you cut them, the crispier they will be. I like mine to be about 1/2 inch thick or so, because I still like a good ratio of crispy outside and tender inside. Going down to about 1/4 inch works great, too.
2. Soak Those Spuds
Once you've cut the potatoes, soak them in cold water for about an hour. This will draw out extra starch, which will help you achieve maximum crispiness. Starch will prevent water from escaping from the potatoes as they cook, and water prevents the fries from getting crispy. Once they have been sufficiently soaked, drain the water, and dry the potatoes with a clean tea towel or paper towels as best you can.
3. Parchment Paper
Line your baking sheet with parchment paper. Potatoes will stick to foil, even if you use plenty of oil, so don't even bother! And make sure you give the fries lots of room; you do not want them touching while they bake. Fun fact: I hate using those silicon baking sheets, such as Silpats. I have a fire fighter in the family and he talks about how toxic plastic is once heated, so I refuse to use plastics for cooking!
4. Double Bake
Bake your fries at two temperatures. Start out at 400 degrees F for about 20 minutes, tossing halfway through. Then, turn the oven up to 425 degrees F, and bake for another 10 minutes, or until desired crispiness is achieved.
Potatoes are a blank slate, and you can season them however you like; taco spices, seasoning salt, or your favourite spice blend. I'm impartial to smoked paprika and a little bit of sea salt. I like to keep the fries fairly basic, and then make a roasted garlic and smoked paprika aioli for dipping. It satisfies the craving every time!
4 Tips for the Best Baked Fries
Baked fries are healthier, and just as tasty as fried ones.
Print
Pin
Rate
Ingredients
3

lbs

Russet potatoes

canola or extra virgin olive oil

smoked paprika

salt
Instructions
Wash the potatoes, or peel the skin.

Cut the potatoes into lengthwise, into thirds or quarters, depending on the size of the potato.. Then, cut them into matchsticks about 1/4 to 1/2 inch thick.

Fill a large bowl with cold water, and soak the raw potatoes for about an hour. Drain the water from the bowl, and dry the potatoes with a clean tea towel or paper towels.

Preheat oven to 400 degrees F.

Line a baking sheet with parchment paper.

Transfer dried potatoes to the baking sheet.

Drizzle oil over the potatoes and toss with your hands until they are well coated. Sprinkle with salt and smoked paprika, and toss to coat. Make sure the potatoes are spread out evenly, and not overlapping each other.

Bake for 20 minutes, tossing halfway through.

Turn the temperature up to 425 degrees F, and bake for another 10 minutes, or until desired crispiness is achieved.

Serve immediately.
Nutritional calculation was provided by WP Recipe Maker and is an estimation only. For special diets or medical issues please use your preferred calculator