I encountered quite the dilemma the other night when I got home from the gym (yes, the gym). Should I make brownies, or my fave peanut butter and butterscotch marshmallow bars? Seriously guys, it was a tough decision and I really didn't feel like compromising. But, I also didn't want to have two different types of dessert kickin' around the house for me to eat. Then, it struck me, why settle for just one? Why not make brownies, and instead of topping it with some kind of icing, I could use my marshmallow bars. It could work right?
For the record, it works. Like, really, really works! Fudgy brownies are a classic treat, but peanut butter, butterscotch and marshmallows really give it some flair. The awesome thing about this dessert, is that it can be made with staple items in your pantry and you can whip them up in no time. Perfect for a summer BBQ or block party!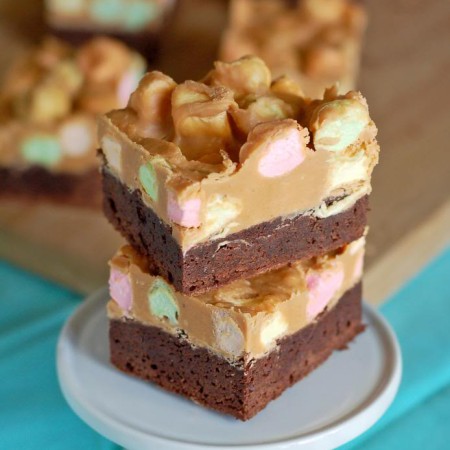 Ingredients
For the Brownies
3

eggs

1

cup

white sugar

1/2

cup

brown sugar

1

tsp

vanilla

1/2

cup

flour

1/2

cup

dutch process cocoa powder

1

tsp

espresso powder

1/4

tsp

salt

1/2

cup

butter

7

oz

dark or semi-sweet chocolate
For the Peanut Butter Marshmallows
1/2

cup

butter

1

11 ounce package butterscotch chips

1

cup

peanut butter

3

and 1/2 cups miniature marshmallows
Instructions
For the Brownies:
Preheat oven to 350 degrees F.

In the bowl of a stand mixer fitted with the paddle attachment, beat the eggs, white sugar, brown sugar and vanilla on high for at least ten minutes. You need a meringue type consistency in order to create a crust on top of the brownies.

In a separate bowl, add the flour, cocoa powder, espresso powder and salt. Stir to combine.

In a microwave safe bowl, add the butter and chocolate. Microwave on high for 30 seconds, stir and repeat until chocolate has completely melted and is smooth.

While the stand mixer is on medium speed, slowly add the chocolate until mostly combined. Add the flour mixture and stir until just combined.

Grease and flour a 9x13 inch baking dish. Pour batter into dish and smooth out the top. Bake for 25 minutes or until the top is matte and a bit cracked. Don't over bake. The brownies will set as they cool. Allow the brownies to cool for 10-15 minutes before you top them with the marshmallows.
For the Peanut Butter Marshmallows
In the top of a double boiler, heat butter, butterscotch chips and peanut butter until melted. Remove from heat. Stir in marshmallows.

Pour mixture on top of brownies and carefully spread evenly. Allow the brownies and marshmallows to come to room temperature. Wrap the pan in plastic wrap and refrigerate until firm.

Cut into squares and serve!
Nutritional calculation was provided by WP Recipe Maker and is an estimation only. For special diets or medical issues please use your preferred calculator