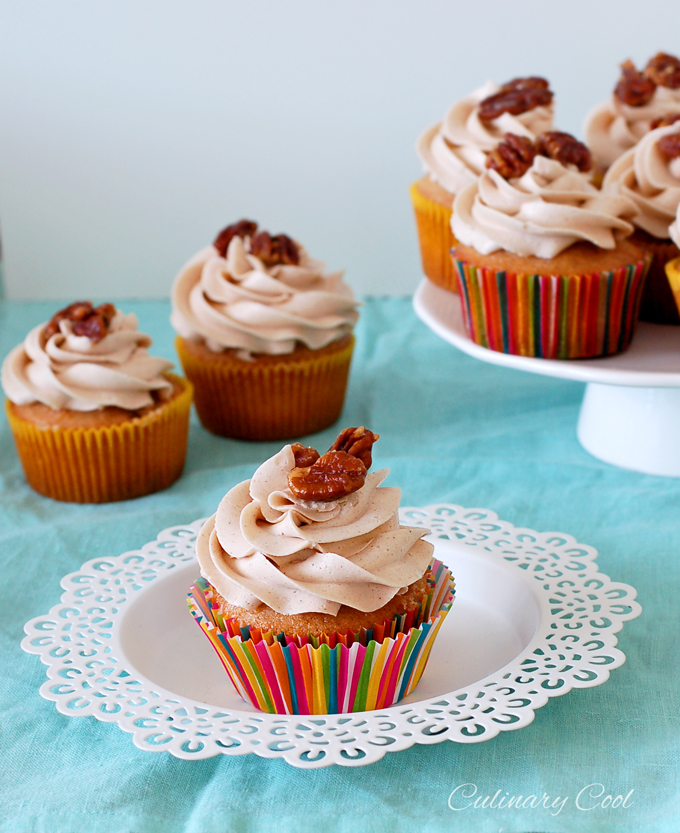 February 24th is National Cupcake Day for the SPCA.
National Cupcake Day™ is a first-ever, coordinated Canadian event to support local shelters, SPCA's, and Humane Societies. In 2013 animal lovers across Canada raised over $400,000 to support their favourite societies.
For National Cupcake Day you bake cupcakes for your friends and family and host a National Cupcake Day Party. Your guests donate to your participating animal welfare charity of choice in exchange for a cupcake, and raise critically-needed funds for animals that are abused, abandoned, neglected or no longer wanted.
I can't think of a better reason to bake up a batch of cupcakes.
These cupcakes are a dessert version of french toast. They're a soft, vanilla base laced with cinnamon and maple and topped with a silky cinnamon-maple buttercream and candied pecans. The only thing missing is bacon….and honestly, you could easily top these with candied bacon instead of pecans! Why didn't I think of that before I made these? Dammit – maybe next time!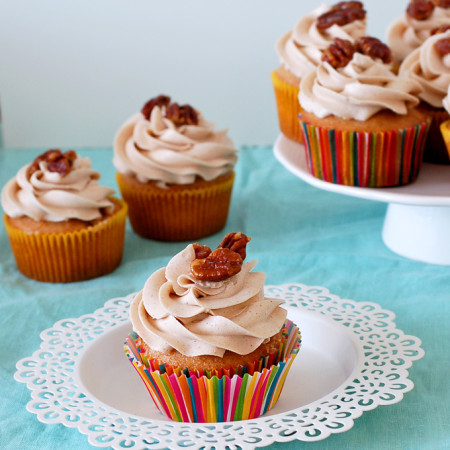 Ingredients
Cinnamon Cake
3/4

cup

unsalted butter

4

large eggs

1

cup

milk

1

tsp

vanilla extract

1

tsp

kosher salt

2

cups

all-purpose flour

1

+ 3/4 cups sugar

2

tsp

baking powder

1

+1/2 tsp cinnamon
Maple Soak
1/4

cup

milk

2

tbsp

heavy cream

2

tbsp

grade A maple syrup
Maple-Glazed Pecans
2

tbsp

unsalted butter

100

g

pecans

roughly chopped

1/4

cup

grade A maple syrup

1

tsp

kosher salt
Maple Cinnamon Buttercream
4

large egg whites

1

+ 1/2 cup sugar

2

cups

unsalted butter

room temperature, cut into pieces

1/4

cup

grade A maple syrup

1

tsp

vanilla extract
Instructions
Cinnamon Cake
Preheat the oven to 350 degrees F. Line cupcake plans with 24 baking cups.

In a stand mixer with the paddle attachment, beat the eggs on medium-low speed for 2 minutes until light yellow and lightly foamy.

Melt the butter in a microwave for 1-1/2 to 2 minutes. Keep the butter hot - do not allow it to sit and cool off.

Increase the mixer speed to medium-high. Pour the hot butter into the eggs slowly, so that the mixture tempers and the eggs do not scramble. Once the butter is added, reduce the speed to medium-low.

Withe the mixer running, add the milk, vanilla and salt. Mix for 1 minute until well combined.

Sift together the flour, sugar, baking powder and cinnamon and add to the batter. Mix on medium until just combined, about 10-20 seconds. Scrape down the sides of the bowl to ensure that everything is well mixed.

Scoop the batter into the prepared baking cups filling them two thirds of the way.

Bake for 20-25 minutes, rotating the pan halfway through.

While the cupcakes are baking, prepare the maple soak.

Remove the cupcakes from the oven and allow to cool for 5 minutes. Using a fork, dock the tops of each cupcake 3 times.
Maple Soak
Combine the milk, cream and syrup in a microwave safe dish.

Microwave for 30 seconds on high.

Using a teaspoon of the maple soak, pour it over each cupcake, a small amount at a time, letting it absorb a bit before adding more. Let cool completely.
Maple-Glazed Pecans
Melt the butter in a saute pan over medium heat.

Add the pecans and stir continuously until you can begin to smell them, about 3 minutes.

Add the maple syrup and salt, reduce the heat to low and continue to cook until all the pecans are uniformly coated. Place the nuts on a parchment lined sheet to cool completely.
Maple Cinnamon Buttercream
Place egg whites and sugar in heat proof bowl (not metal).

Set bowl over pan of gently simmering water, and whisk until the sugar has dissolved and the egg whites are hot to the touch, about 5 minutes. Test by rubbing the mixture between your fingers; it should feel completely smooth.

Transfer egg and sugar mixture to the bowl of a stand mixer fitted with the whisk attachment.

Beat on high speed until mixture has cooled completely and formed stiff and glossy peaks, about 8-10 minutes.

Reduce speed to low. Add the butter, one piece at a time, and beat until incorporated after each addition. Don't worry if the buttercream appears curdled after all the butter has been added; it will become smooth again with continued beating, so be patient!!

Add maple syrup, vanilla and cinnamon and beat just until combined.

Switch to the paddle attachment and beat on low to eliminate any air pockets, about 5 minutes.

**If you are using the buttercream within a few hours, cover the bowl with plastic wrap, and leave at room temperature in a cool environment.

***If not, then store in the refrigerator, up to 3 days. Before using, bring the buttercream to room temperature, and beat on the lowest speed with the paddle attachment until smooth, about 5 minutes.
Assembly
Soak each cupcake with the maple soak

Fill a pastry bag fitted with a fluted tip with the maple cinnamon buttercream and pipe onto each cupcake.

Top each cupcake with a generous portion of the maple-glazed nuts.
Nutritional calculation was provided by WP Recipe Maker and is an estimation only. For special diets or medical issues please use your preferred calculator
Recipe adapted from Robicelli's: A Love Story with Cupcakes