Growing up, Dad used to make a killer meatloaf. I found his recipe, if you can call it that, several years ago. The paper it's noted on has yellowed over time, and there are a few mustard and ketchup smatterings here and there. The text is Dad's own script – chunky printing in all caps – which is extra special because there aren't many documents left with his handwritten word on them. Just this, and a few birthday cards.
Oh, and there aren't any measurements, just ingredients listed.
Typical.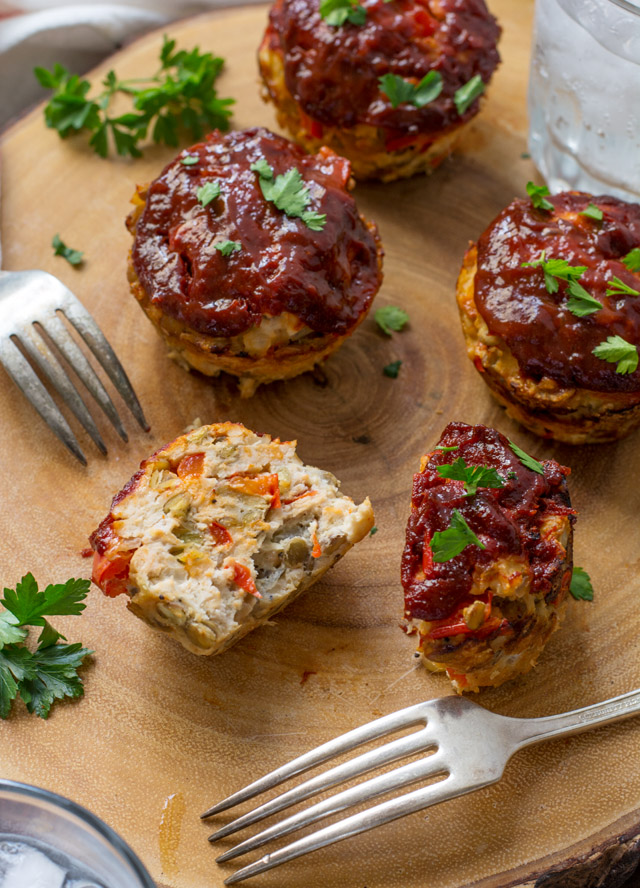 The weather was shit last week and I had a serious hankerin' for spicy comfort food. And while I love Dad's traditional meatloaf with a side of mashed potatoes and creamed corn, I was in the mood for something, dare I say, healthier?
Off I go to the grocery store with a vague list in my head of what I need to replicate a recipe from one of my classes at Schoolhaus. It's a turkey meatloaf topped off with chiles en adobo. Of course, when I get to the Mexican aisle, the microscopic spot on the top shelf where the chiles usually are, is completely bare.
Damn it!
While cursing the grocery store under my breath, my mind wandered to Dad's recipe tucked away in a cookbook at home. For a fleeting moment, I contemplated getting ground beef instead of turkey and making his meatloaf instead. After all, I have everything for it at home.
Or just get McDonald's. Yeah, let's just do the drive-thru.
Then I thought to myself "girl, snap out of it! You already have the turkey in the damn basket. Don't let your 'hanger' get the best of you. Who cares if they don't have that one ingredient. Just figure it out when you get home."
And so, I left with ground turkey, whole wheat vegetable crackers to make breadcrumbs (and to eat with cheese and pickles at a later date), and pain au chocolat because, balance – amiright?
The thing about meatloaf, is that you can load it up with all sorts of veggies to stretch it further, and to make it more filling. Not only that, but adding veggies with help create a tender and juicy meatloaf, instead of heavy, dry brick of meat. That fateful rainy evening, I chocked my turkey meatloaf to the brim with red bell pepper and green lentils.
In lieu of chiles en adobo, I slathered the top with a zesty tomato based chili sauce, smoky paprika and cumin. I don't think I'll ever go back to basic ketchup on meatloaf again. And neither should you! Spicy is the only way to go.
And I'll tell you what, it's the best damn meatloaf outside my Dad's recipe that I've ever had. Yes, maybe I'm tootin' my own horn, but I'm allowed to do that from time to time. After all, this is my blog.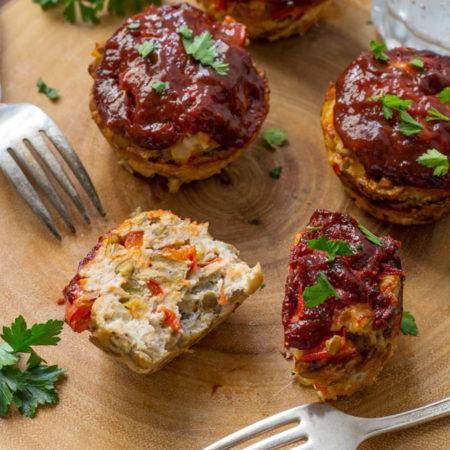 Ingredients
1/2

cup

dry green lentils

3

cups

water

1

lb

ground turkey

1

tbsp

canola oil

1/2

medium yellow onion

about 1 cup diced

2

cloves

garlic

minced

1/4

tsp

salt

1/2

red bell pepper

diced

1/2

cup

breadcrumbs

1

egg

beaten

1/2

cup

tomato based chilli sauce

I used Heinz chilli sauce

1

tbsp

smoked paprika

1/2

tsp

cumin
Instructions
Preheat oven to 350 degrees F.

In a small saucepan, add water and lentils. Bring to a boil over high heat, reduce heat to medium and simmer for about 8-10 minutes, or until tender but not mushy. Drain and set aside.

Meanwhile, in a medium skillet over medium heat, add oil. Sauté onions until soft and translucent, about 3-5 minutes. Add in red pepper and cook until slightly softened, about 2-3 minutes. Add garlic and salt and cook until fragrant. Remove from the heat and cool slightly.

In a large bowl, mix together the ground turkey, cooked lentils, sautéed onions, peppers, and garlic.

Mix in breadcrumbs and egg.

Lightly oil a muffin tin.** Evenly divide the turkey mixture into 6-8 of the cups. Set aside.

In a medium bowl, mix together chilli sauce, paprika and cumin. Adjust seasonings to taste.

Evenly slather each mini meatloaf with chilli sauce.

Bake for 25-30 minutes or until internal temperature reads 160-165 degrees F.
Nutritional calculation was provided by WP Recipe Maker and is an estimation only. For special diets or medical issues please use your preferred calculator
Notes
**Instead of using a muffin tin, you can use a loaf pan. Cooking time will need to be adjusted to 30-40 minutes. Check temperature with meat thermometer to ensure you don't over cook it - it will get dry.