If you recall from one of my previous posts, we cut out meat for the entire month of January, which, truth be told, wasn't very difficult. Actually, it was quite easy. We used plenty of pulse crops, such as chickpeas and lentils, in place of meat in most of our favourite recipes. It cut our grocery bill down more than we expected and it made us feel good knowing we were cooking healthier.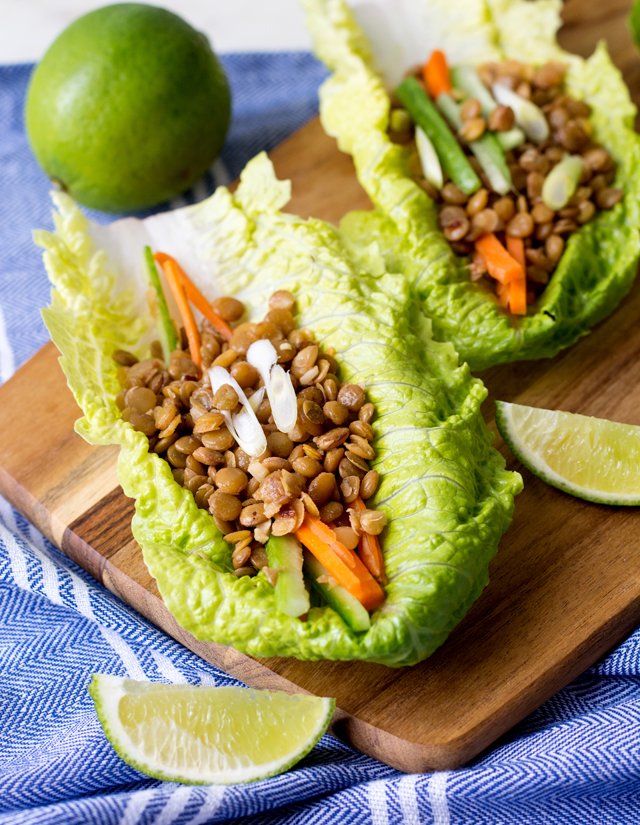 Larb Moo may sound a little weird, right? The bright, punchy flavours of lime, ginger and jalapeño are anything but! Larb Moo is a Thai minced pork salad that I was first introduced to at Schoolhaus Culinary Arts. We have a very popular Thai class that includes a variation of this salad and I've been hooked since my first bite over 2 years ago.
I like to describe Larb Moo lettuce wraps as a "Thai Taco". You basically add seasoning to meat, or in this case, lentils, and sauté until the liquid has absorbed. The main difference between the two, is the way we season the dish. When we think of tacos, we think of warm spices such as cumin and cayenne. Larb Moo is characterized by bright flavours, such as lime and ginger, and has a salty kick to it as well.
Instead of using minced pork, I use green lentils. I've also been known to use pork and lentils. No matter what you choose, you can't go wrong with this recipe. Instead of eating the Larb Moo as a salad, I find it far more appealing to make into lettuce wraps. Be sure to choose a good, sturdy lettuce, such as romaine. Butter and iceberg varieties also work like a charm. If you're looking to turn this into an appetizer, I suggest endive instead; their perfect half-torpedo shape is an impressive vessel to serve them in.
I've also created my first video! I've entered into the Canadian Lentils "Start of the Show" contest. Be sure to check it out here and share the video on Facebook if you like. Fingers crossed for a call back.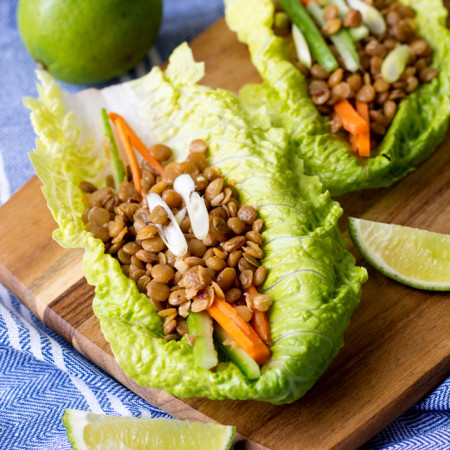 Ingredients
1

cup

uncooked green lentils

3

cups

water

1

lime

zested and juiced, adjusting to taste

2-4

tbsp

fish sauce

adjusting to taste

1

tbsp

brown sugar

1

tbsp

canola oil

2

cloves

garlic

finely minced

1

tbsp

finely grated fresh ginger

1/2

jalapeño

deseeded and finely chopped

1

tsp

red pepper flakes

optional

romaine

iceberg or butter lettuce leaves

julienned carrots

julienned cucumber

2

scallions

sliced (green parts only)

any other vegetables you love

lime wedges for serving
Instructions
Rinse the lentils under cold water.  Place in medium saucepan with 3 cups of water and bring to a boil.  Reduce heat to low and simmer for about 15 minutes, or until tender. Drain any excess water.

In a small bowl, mix together lime zest and juice, fish sauce, and brown sugar.  Set aside.

In a large sauté pan over medium heat, add canola oil.  Add garlic, ginger, jalapeño and red pepper flakes (if using).  Cook for about 30 seconds, until aromatic. Add cooked lentils to the pan, and mix to combine.

Add in the lime/fish sauce mixture and stir until the sauce has been absorbed.  Adjust flavours to suit your taste by adding more lime or fish sauce. You want to have a balance between the lime and salty fish sauce.

Serve lentil larb moo on lettuce leaves with carrots, cucumbers, scallions, or any of your favourite vegetables.  Serve with lime wedges on the side to squeeze on the lettuce wraps.
Nutritional calculation was provided by WP Recipe Maker and is an estimation only. For special diets or medical issues please use your preferred calculator