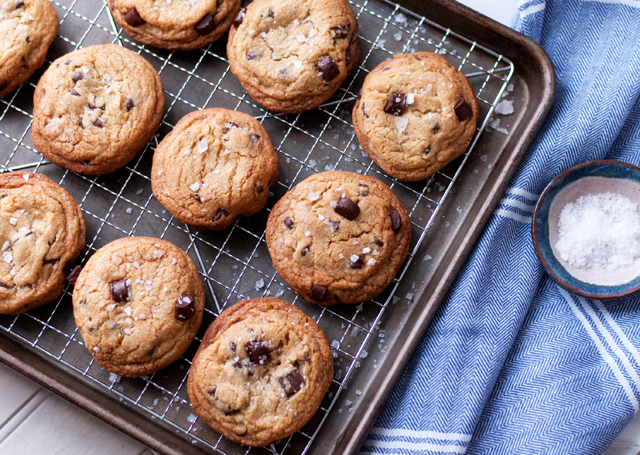 I always tell people that baking is my therapy. I find it the ideal way to tune out the world and release some stress. The only thing I focus on is the recipe. I tweak the ingredients. I play with the ratios. It's always interesting to see the differences in texture and taste.
One such night of tinkering has led me to my new favourite chocolate chip cookie. Thomas Keller's recipe made an appearance on Facebook not too long ago and I figured I would give it a try. I mean, you can't go wrong with a recipe from Bouchon Bakery. The first batch was great; thick and chewy. But by the second day, they were a little less chewy and had dried out a touch. Still great with milk, though. I played with a few measurements, and after two more batches, I nailed it.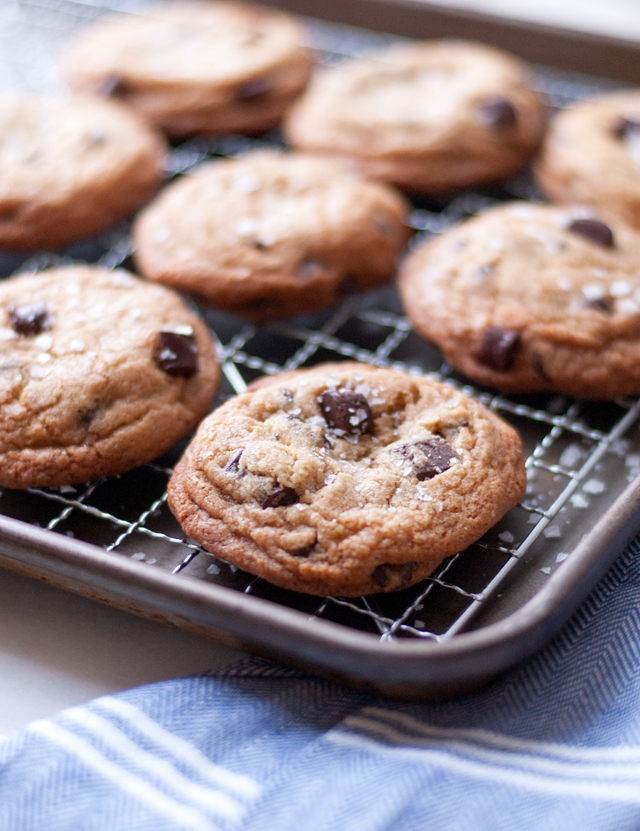 My new favourite chocolate chip cookie is thick, chewy, and the outside is crispy; the trifecta of cookie awesomeness. The use of both chocolate chips and chunks makes for a pleasant texture, too. The chocolate chips hold their shape, while the chocolate chunks sort of melt into the cookie. Each bite is a little different – in a good way! The addition of molasses delivers a deeper flavour and helps keep them soft and tender. Don't forget the salt for the top! I love to scatter flaky salt, such as Maldon, onto of my cookies when they are fresh out of the oven. It adds a nice crunch to the cookie.
I've made these cookies three times in the last week. I only shared one batch. I've come to the conclusion that they are better than a therapist, which means I might be making them on a regular basis. Don't judge.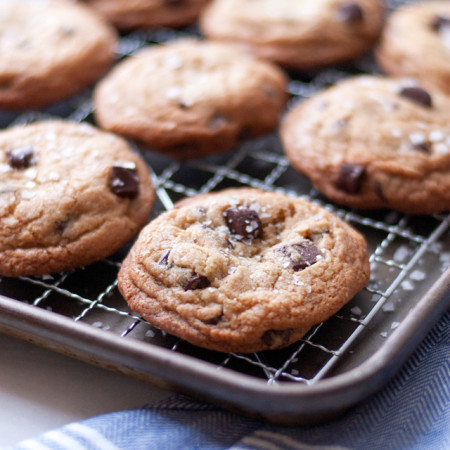 Ingredients
3/4

cup

unsalted butter

at room temperature

1/2

cup

+ 2 tbsp brown sugar

1/2

cup

granulated sugar

1

tbsp

fancy molasses

1

egg

1

tsp

vanilla extract

1 3/4

cup

all-purpose flour

1/2

tsp

baking soda

1

tbsp

cornstarch

1

tsp

salt

1/2

cup

chocolate chips

2/3

cup

chocolate chunks

flaky salt

such as Maldon
Instructions
In the bowl of a stand mixer fitted with the paddle attachment, beat the butter until soft and creamy.

Add in the brown sugar, granulated sugar and molasses. Beat until light and fluffy, at least 5 minutes.

Beat in the egg and vanilla until just combined.

In a separate bowl, whisk together flour, baking soda, cornstarch, and salt.

Add the dry ingredients into the wet and mix until combined.

Stir in the chocolate chips and chunks.

Chill the dough for at least one hour before baking.

Preheat the oven to 325 degrees F. Use convection bake if you have it**

Using a 3 tbsp cookie scoop, measure out the dough and roll into balls. Only bake 5 or 6 per sheet, because the cookies spread out while they bake.

In convection oven, bake for 14-16 minutes; in conventional oven, bake for 16-18 minutes, or until edges are golden brown.

Sprinkle the hot cookies with flaky salt.

Allow to cool for 5 minutes on the cookie sheet before moving to a cooling rack.

The cookies keep well in an airtight container for up to a week.
Nutritional calculation was provided by WP Recipe Maker and is an estimation only. For special diets or medical issues please use your preferred calculator
Notes
**By using convection bake, the cookies will spread less and be puffier.
Recipe adapted from Bouchon Bakery