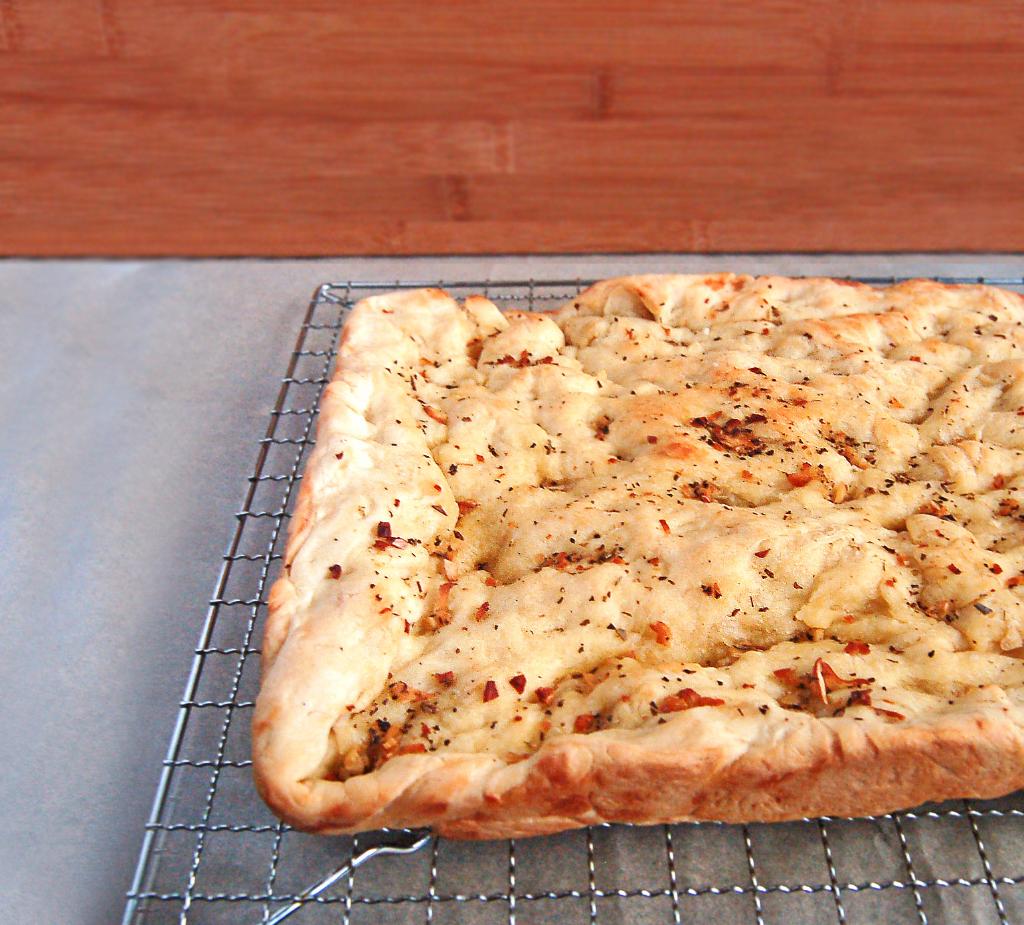 So, I've got two bucket lists on the go. One for everyday living, and one for cooking. I've got this list typed up on my iPad and I've been meaning to post it up on my blog since the beginning. Clearly it hasn't happened yet. But one day….
Maybe…
I just gotta find the ambition to type it out again.
Clearly, I'm lazy.
But then again, maybe I'm not all that lazy. I managed to find the time to tackle this beauty and cross it off the 'ole list. Man, am I ever glad I found this recipe. It's authentic, with a little added flare on my part. If you've never made bread (in any form) before, it takes time. It has to rest, and rise and rest and rise some more. I was so impatient for this one to be ready. All I wanted to do was dip it in oil and balsamic vinegar while it was still warm. But I had to wait…and wait….and wait.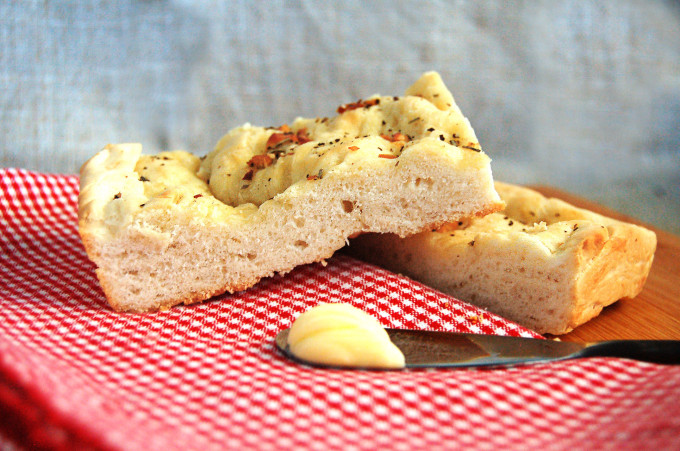 The wait was more than worth it.
The original authentic focaccia recipe just called to top it with sea salt and olive oil, but I just had to make it my own. I made a nice herbed oil with garlic and Italian herbs and made sure every last inch and dimple in the bread had a healthy coating of it.
1 tbsp dry active yeast
1 cup warm water
1 tsp honey
2 3/4 cup all purpose flour
2 tbsp extra-virgin olive oil
2 tsp salt
*measurements are approximate, as I did not measure this part out
3/4 cup extra-virgin olive oil
3 cloves garlic, minced
1 tbsp Italian Seasoning
Salt and Pepper
Herbed Oil: mix all ingredients in a small bowl, and set aside.
In a bowl of a stand mixer, dissolve the yeast with the water.
Add flour, honey, oil and salt.
Using the dough hook, knead the dough until it looks smooth and elastic.
Shape into a ball and let rest for 20 minutes in the bowl, covering with a tea towel.
Stretch the dough with your hands to form a rectangle. **The original recipe had you fold the two edges of dough towards the middle. This is to give the bread strength and texture, but I skipped this step completely.
Place the dough in an oiled oven tray (I used an 8×13 baking dish), cover with a tea towel and let it rise for 90 minutes or until it has doubled in size.
Once the dough has risen, stretch it out to cover the dish and sprinkle the surface with sea salt. Let it rise for another 30 minutes. Then, using your fingertips, press the dough down onto the dish to create lots of little dimples.
Spoon the herbed oil onto the top of the dough, making sure you even spread (to the best of your ability) the herbs and garlic. Let it rest for another 20 minutes.
Preheat oven to 390 degrees. Bake until it looks golden, about 20-30 minutes. Remove from pan immediately once its out of the oven, and let it cool on a rack.