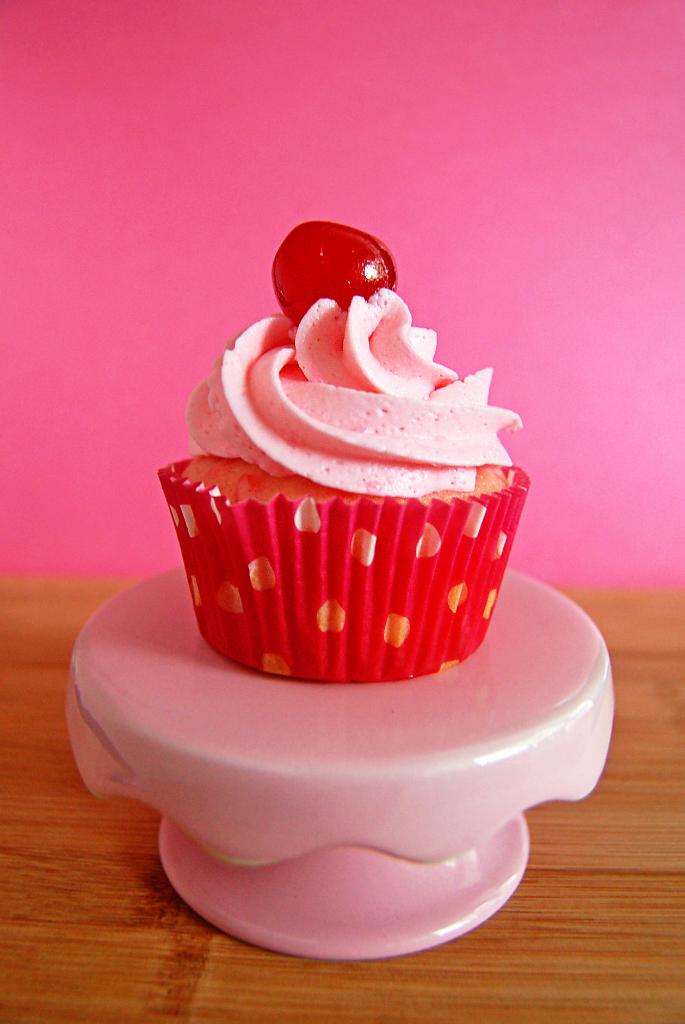 I've recently had this ridiculous desire for cherry chip cupcakes. This is about the only type of cake I'm willing to buy the mix for, simply because I never thought it possible to make from scratch. And also maybe because the boxed stuff is actually pretty fabulous! But since I'm a grown up, and I like a little challenge and adventure, I set out to find that perfect recipe. There are a few out there, but none seemed to really peak my interest. Mostly because they use some form of "cherry chip" in a bag, sort of like chocolate chips, and I simply cannot find those where I live. Plus, that's kind of like cheating, don't you think?
So one day, I was poking around and found a recipe I was willing to try. And honestly, I think my search is done. The cake base of this recipe is something I fully plan on committing to memory. The reason, you ask? Well let me tell you. I've made many different types of vanilla cake in my day, most recently, the super trendy Funfetti. Many of these recipes promise to have the same light, fluffy texture as the boxed varieties. And I must say, they simply fail to meet that expectation. Or maybe my standards are too high. But this recipe had, in my opinion, that perfect boxed cake texture. And it's because of that light texture, that this cake has made it to the top of my list of go-to recipes.
For the icing, I halved my recipe for swiss meringue buttercream and realized it was not going to be enough. So in my sleepy state (as I usually bake late at night), I just added icing sugar, which solved my problem instantly. So I guess technically, it's not a traditional swiss meringue buttercream, but it's still delicious.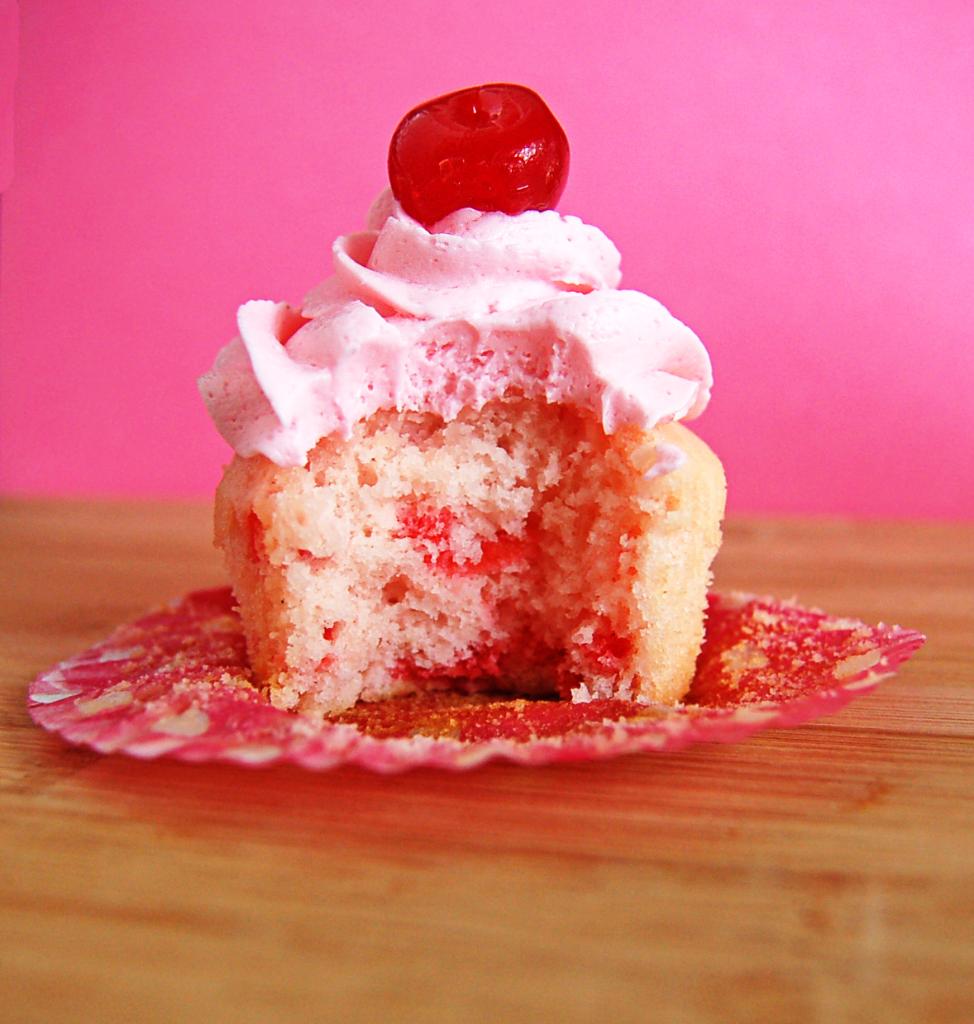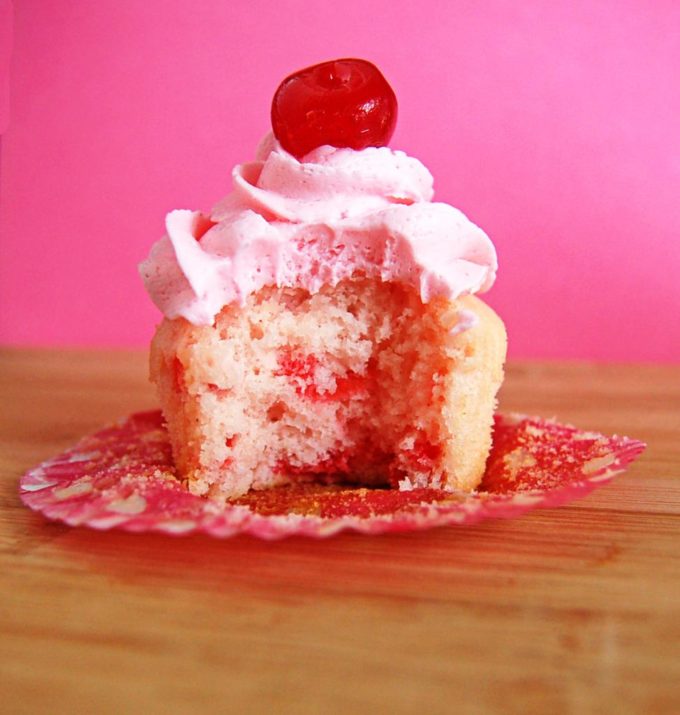 I took these cupcakes to work for a co-workers birthday, and they were a huge hit. I'm so glad I saved a few for myself at home! I didn't even have the chance to have one at work because they disappeared so fast.
*Yields 3 round 8 inch cake layers, or 3 dozen cupcakes
3 1/3 cups sifted cake flour
1 1/2 tbsp baking powder
3/4 tsp salt
1 3/4 cups whole milk, at room temperature
6 egg whites, at room temperature
3 tbsp maraschino cherry juice
1/4 tsp almond extract
1-2 drops cherry flavor – optional (I used a few generous splashes of Amaretto in place of the cherry flavor)
2 1/4 cups granulated sugar
1 cup (2 sticks) unsalted butter, at room temperature
3/4 cup finely chopped maraschino cherries
Swiss Meringue Buttercream (sort of)
2 large egg whites
1/2 cup + 1 tbsp sugar
1 cup unsalted butter, room temperature, cut into pieces
2-3 tsp Amaretto, to taste
1 tsp almond extract
2 cups icing sugar
Preheat the oven to 350 degrees. Grease cake pans and line bottom with parchment paper, or line muffin tins with paper liners.
Sift the flour, baking powder and salt into a medium-sized bowl.
In a separate medium-sized bowl, whisk together the milk, egg whites, cherry juice, almond extract and cherry flavor/Amaretto (if using).
In the bowl of a stand mixer fitted with paddle attachment, cream the butter and sugar on medium speed until very pale and creamy, about 5 minutes.
With the mixer still on medium speed, alternate additions of the flour and milk mixtures, beginning and ending with flour mixture (3 dry additions, and 2 wet additions), beating after each addition until incorporated. Continue mixing on medium speed for 2 minutes. Fold in finely chopped cherries.
Divide batter evenly among muffins tins or 3 cake pans (smoothing surface with offset spatula, and use kitchen scale for accurancy in your divisions – 560 grams per pan + one 60 gram cupcake tester).
Bake until a skewer comes out with a few crumbs only, about 15 minutes for the cupcakes and 30 minutes for the cakes. Cakes should be well-risen and springy to the touch.
Transfer the cakes to cooling racks for 5 minutes, then loosen the edges by running a knife around the sides. Gently turn out the cakes, peel the parchment paper bottom, then cool right side up.
For the Swiss Meringue Buttercream
Place egg whites and sugar in heat proof bowl (not metal). Set bowl over pan of gently simmering water, and whisk until the sugar has dissolved and the egg whites are hot to the touch, about 3 minutes. Test by rubbing the mixture between your fingers; it should feel completely smooth.
Transfer egg and sugar mixture to the bowl of a stand mixer fitted with the whisk attachment. Beat on high speed until mixture has cooled completely and formed stiff and glossy peaks, about 8-10 minutes.
Reduce speed to low. Add the butter, one piece at a time, and beat until incorporated after each addition. Don't worry if the buttercream appears curdled after all the butter has been added; it will become smooth again with continued beating, so be patient!!
Add Amaretto and almond extract and beat just until combined. Add in icing sugar one cup at a time and beat until light and fluffy. Switch to the paddle attachment and beat on low to eliminate any air pockets, about 5 minutes.
**If you are using the buttercream within a few hours, cover the bowl with plastic wrap, and leave at room temperature in a cool environment.
***If not, then store in the refrigerator, up to 3 days. Before using, bring the buttercream to room temperature, and beat on the lowest speed with the paddle attachment until smooth, about 5 minutes.