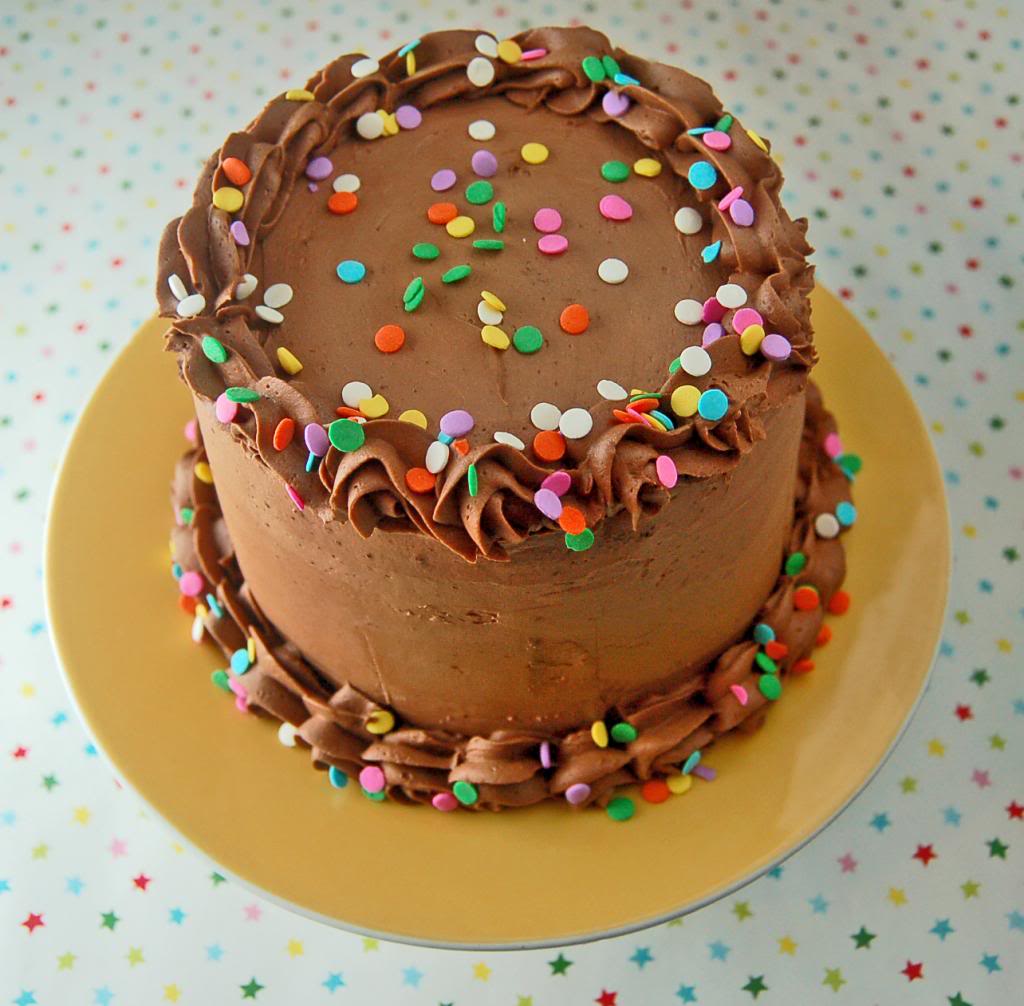 Monday was my mom's birthday.
Happy Birthday Momma Bear!!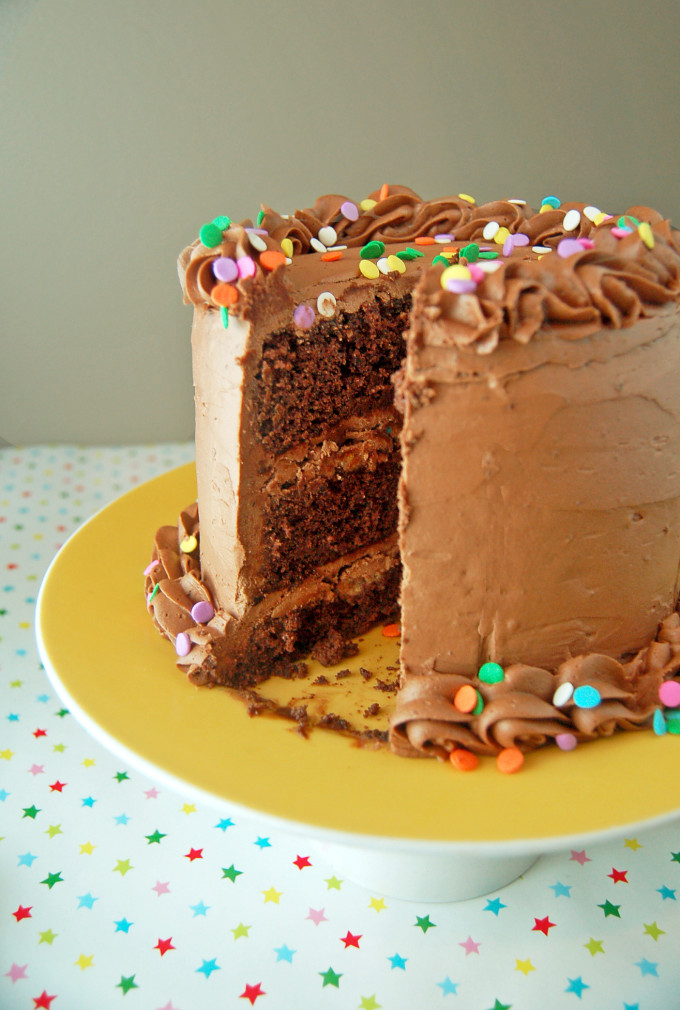 She requested a chocolate cake and I immediately knew I wanted to incorporate fudge. I'm not talking, your average store bought syrupy chocolate sauce. I'm talking, thick, warm, gooey homemade fudge sauce; the kind you drizzle over decadent vanilla ice cream in the summertime. I was just going to modify the Momofuku Birthday Cake when I came across their Chocolate Cake recipe…and then I came across their fudge recipe and I knew, "this is it". I didn't want an un-iced, unfinished look that is traditional of Momofuku Milk Bar (such as the cake I made here) I wanted a classic birthday cake look, so I decided ice the whole darn thing.
The cake, filling and icing all incorporate fudge. The cake is delectably moist, fudgy and rich. The icing is fluffy and smooth like the stuff they use on store bought cakes but it tastes a million times better. And in true Momofuku fashion, you've got to add a special crunch factor. In this case it's the "cake crumb" from the
Birthday Cake
recipe. The crumb adds an unexpected crunch between the layers and this added step is worth it.
Do not leave this out!
It was so nice to get together with the family and go for supper to our favorite "hole-in-the-wall" restaurant for the best pizza and lasagna in town. The service was lacking, but the food was on-point. We all came back to my house for cake. My mom was pretty darn impressed with this beauty; she even took a few pictures to show off to her friends at work. She even helped me by holding my light reflector so I could photograph the cake before we ate (yes, I made the family wait while I took pictures).
The consensus: The cake is decadent and incredibly rich and you really only need a small sliver to satisfy your chocolate cake needs. We were all chocolate-wasted, which is the best kind of wasted to be.
Happy Birthday Momma. You're the best!! Love ya 🙂
Chocolate Fudge Cake with Fudge Frosting
1 ounce dark chocolate, chopped
2 tbsp Dutch-process cocoa
1/4 tsp kosher salt
1/4 cup glucose
2 tbsp sugar
1/4 cup heavy cream
Combined the chocolate, cocoa powder and salt in a medium bowl
Combined glucose, sugar and heavy cream in a heavy-bottomed saucepan and stir intermittently while bringing to a boil over high heat.. The moment it boils, pour it into the bowl holding the chocolate. Let sit for 1 full minute.
Slowly, begin to whisk the mixture. Then continue, increasing the vigor of your whisking until the mixture is glossy and silky-smooth. This will take 2-4 minutes, depending on your speed and strength. You can use this sauce at this point or store it in an airtight container in the fridge for up to 2 weeks; do not freeze.
*Keep the sauce at room temperature as you will use it all to make this cake*
1/2 cup butter, at room temperature
1/1/2 cups sugar
3 eggs
1/2 cup buttermilk
1/4 cup grapeseed oil
1 tsp vanilla extract
1 tsp instant espresso powder
3 tbsp Fudge Sauce (see above)
1 1/4 cups cake flour
1/2 cup Dutch-process cocoa
1 1/2 tsp baking powder
1 1/2 tsp kosher salt
Preheat oven to 350 degrees.
Combine butter and sugar in the bowl of a stand mixer fitted with paddle attachment and cream together on medium-high for 2-3 minutes. Scrape down the sides of the bowl. Add eggs and mix for another 2-3 minutes until mixture is light, fluffy and pale in color.
On low speed, stream in the buttermilk, oil and vanilla. Increase the mixer speed to medium-high for 3-5 minutes until the mixture is practically white. Add in the espresso (espresso will heighten the chocolate flavor).
Add the fudge sauce and mix on low speed until fully incorporated. Scrape down the sides of the bowl.
With a spatula, stir the flour, cocoa powder, baking powder and salt together in medium bowl. Add the dry ingredients to the wet ingredients on low speed for 45-60 seconds or until the batter come together. Scrape down the sides of the bowl and mix on low speed for another 45 seconds to ensure that any little lumps of cocoa powder and cake flour are incorporated.
Line a quarter sheet pan with parchment (I used a 9×13 baking pan lined with parchment). Using a spatula, spread the cake batter in an even layer in the pan.
Bake for 30-35 minutes. The cake will rise and puff, doubling in size, but will remain slightly butter and dense.
Take the cake out of the oven and cool on a wire rack. The cooled cake can be wrapped in plastic and stored for up to 5 days.
* I used about 6-8 tbsp of butter, melted instead of oil because I find it flavorless without butter.
1/2 cup granulated sugar
1 1/2 tbsp light brown sugar, tightly packed
3/4 cup cake flour
1/2 tsp baking powder
1/2 tsp salt
2 tbsp rainbow sprinkles
1/4 cup grapeseed oil – or canola or vegetable oil
1 tbsp vanilla extract
Preheat the oven to 300 degrees and line a baking sheet with a piece of parchment.
In the bowl of a stand mixer fitted with the paddle attachment, combine the sugars, flour, baking powder, salt, and sprinkles. Mix on low speed until combined.
Stream in the oil and the imitation vanilla on low speed and continue beating the mixture until the ingredients clump and form small clusters.
Carefully spread the clusters in a thin layer on the prepared baking sheet and bake them for about 20 minutes, breaking up occasionally. They will be slightly moist but will harden as they cool. Let them cool completely before using.
6 oz dark chocolate, chopped, melted and cooled
4 1/2 cups icing sugar
1 1/2 cups butter, at room temperature
6 tbsp whipping cream
1 tbsp vanilla
Combined butter and icing sugar in the bowl of a stand mixer fitted with paddle attachment. Mix until combined and fluffy. Add all remaining ingredients and beat on medium-high for about 2 minutes, until fluffy.
1/4 cup milk
1 tsp vanilla
Invert the birthday cake onto a sheet of parchment paper or silpat, and peel off the parchment paper backing. Using a 6-inch cake ring, stamp out two circles from the cake. These will be the top and middle layers. The remaining cake "scrap' will come together to make the bottom layer of the cake.
I lined a 6 inch round cake pan with plastic wrap and I gathered the scraps and pushed them into the bottom of the cake pan. I packed them in there pretty good so that they created a bottom layer of the cake. I placed it in the freezer to firm up. Once it had been in there for about 30-45 minutes I brought it out and took it out of the pan. It was a little crumby, but once you get it iced, you can't even tell.
Brush the bottom layer of the cake with 1/3 of the cake soak. Spread 1/3 of the remaining fudge sauce to cover the entire top of the cake layer, followed by a handful of the birthday cake crumb and topped with a small layer of the fudge icing.
Stack second layer ontop of the bottom layer and repeat the process until all three layers are done.
I followed this tutorial for icing the outside of the cake.
Decorate cake with rainbow sprinkles.