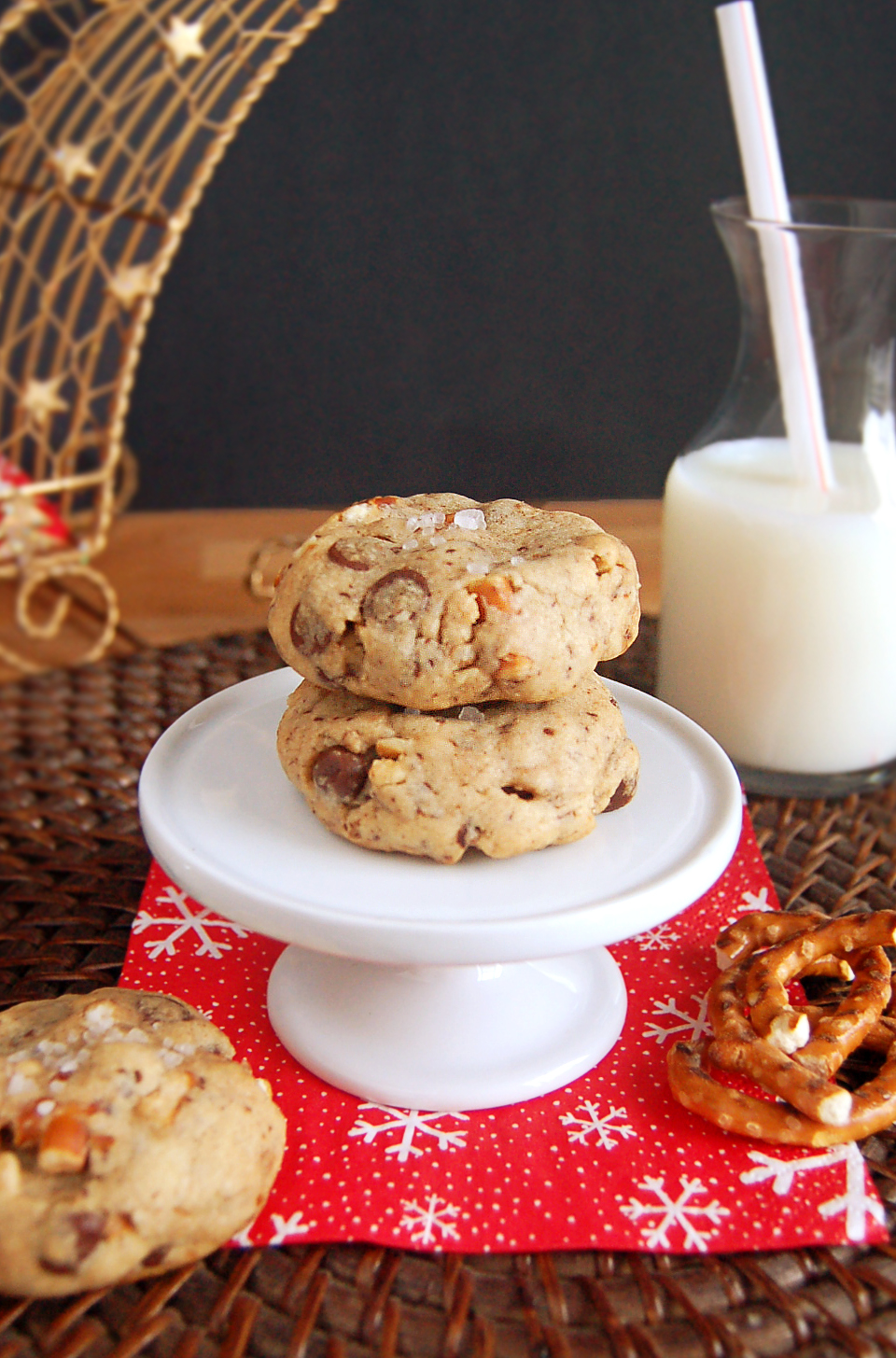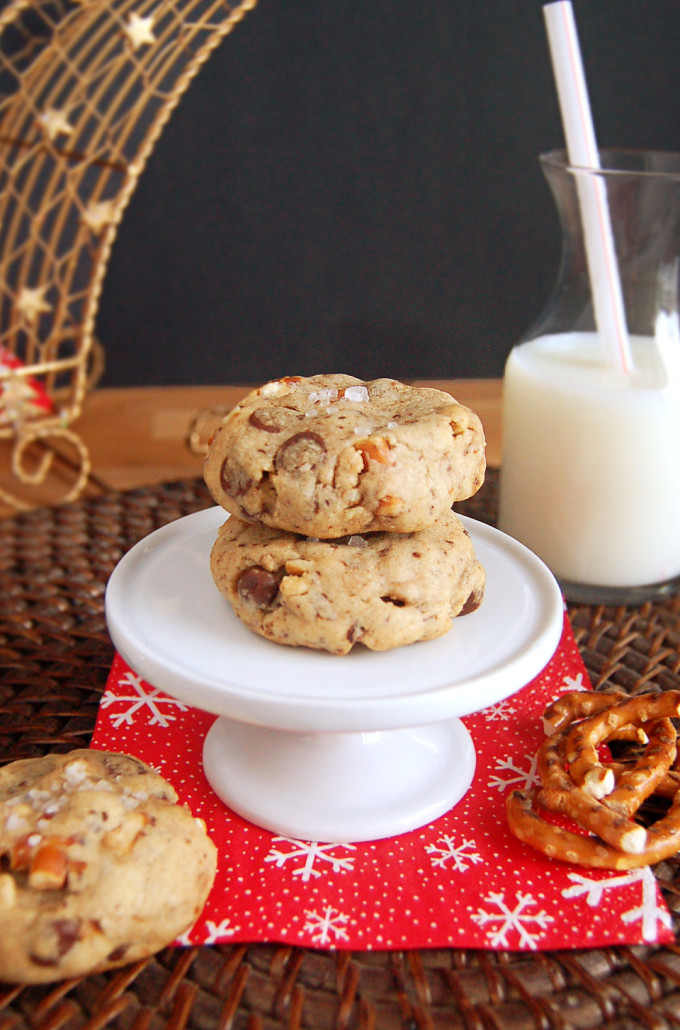 Everyone's grandmother, mother, aunt, sister, babysitter or neighbor has the "Best Chocolate Chip Cookie Recipe" ever. Like ever. And often times, we just stick with what we know when it comes to the good ole basic cookie because honestly, it's pretty hard to get it wrong. Plus, it's comfort food, so we tend to lean towards the same receipt all the time just because it gives us comfort….and it's darn good!
I have some pretty awesome memories baking cookies with my Nana and she always let us lick the beaters.
My dad always let me be adventurous in the kitchen, too. My friend Monica and I made a giant (and I mean GIANT) cookie once and my dad was totally cool with it. Seriously guys, the cookie was a whole recipe's worth of dough…. as one cookie on a cookie sheet. It was pretty epic. Monica and I still reminisce about that day.
But sometimes you just gotta switch it up people! Try something new for a change and you might just like it more than you thought. Variety is the spice of life.
My friend Jill brought this concept to me about two years ago. Mix sweet chocolate with salty pretzels and put it all in a cookie Let me tell you, this is a winning combination. We loved this idea so much, that it has been our tradition for the last two years, to bake these beauties together at Christmastime. Now it's time to change it up. The regular recipe we use yields a dozen cookies so we always had to double it, and it always seemed a little dry and crumbly. This year, I'm wanting a chewier version. I came across this recipe here and knew right away this would be the perfect base for my pretzel cookies.
The result was a delightfully puffy cookie, chock full of chocolate and pretzels, not to mention chewy. This recipe is almost identical to my go-to chocolate chip recipe from Anna Olsen, with the exception of the flour. Normally I use all-purpose flour only, but this recipe uses half all-purpose, half bread flour which helps to increase the chewiness. Honestly, the key ingredient that attributes to the chewiness is the cornstarch. So don't sweat it if you don't have bread flour on hand because the cornstarch is really the secret ingredient. Anna Olsen (one of my favorite Canadian Chef's) also recommends to switch the baking soda to baking powder to increase the chewiness of the cookie.
Now, I've been experimenting with pretzel chocolate chip cookies for two years now and one thing remains the same with all of them – the cookie does not flatten out. It will more than likely keep the same shape coming out of the oven, as it did going in. So, I recommend flattening them out a bit before putting them in the oven if you don't want a perfectly round cookie.
Chocolate Chunk Pretzel Cookies
3/4 cup (1 1/2 sticks) unsalted butter, softened
3/4 cup brown sugar
1/4 cup granulated sugar
1 egg
2 tsp vanilla
1 cup all-purpose flour
1 cup bread flour
2 tsp cornstarch
1 tsp baking soda
1/2 tsp salt
1 cup pretzels, broken into small pieces.
3/4 cup semi-sweet chocolate chips
6 oz bittersweet or dark baking chocolate, chopped into bite sized pieces.
coarse salt for tops
Directions
Preheat oven 350 degree.
In the bowl of a stand mixer fitted with the paddle attachment, beat the butter on low speed until smooth. Add the sugars and beat on medium-high speed until creamed and well combined, about 3-5 minutes.
Add the egg and vanilla and beat on medium-high speed until light and fluffy. Scrape the sides of the bowl occasionally.
Combine flours, cornstarch, baking soda and salt in separate bowl and whisk to combine.
Add the dry ingredients to the wet ingredients and mix until just combined.
Add the pretzels, chocolate chips and chunks and either fold in by hand or beat for a few seconds on low speed.
Line cookie sheet with parchment or Silpat.
Form dough into balls, using a cookie scoop (approx 2 tbsps worth of dough for one cookie). Flatten cookies slightly in the palms of your hands. Place about 2 inches apart. Sprinkle with coarse salt.
Bake for 8-10 minutes, until barely golden brown around the edges (cookies will still be pale) even if its slightly under cooked in the center.
Allow cookies to cool on the sheet for 5 minutes before transferring to cooling rack. Store cookies in an airtight container at room temperature for up to 5 days.