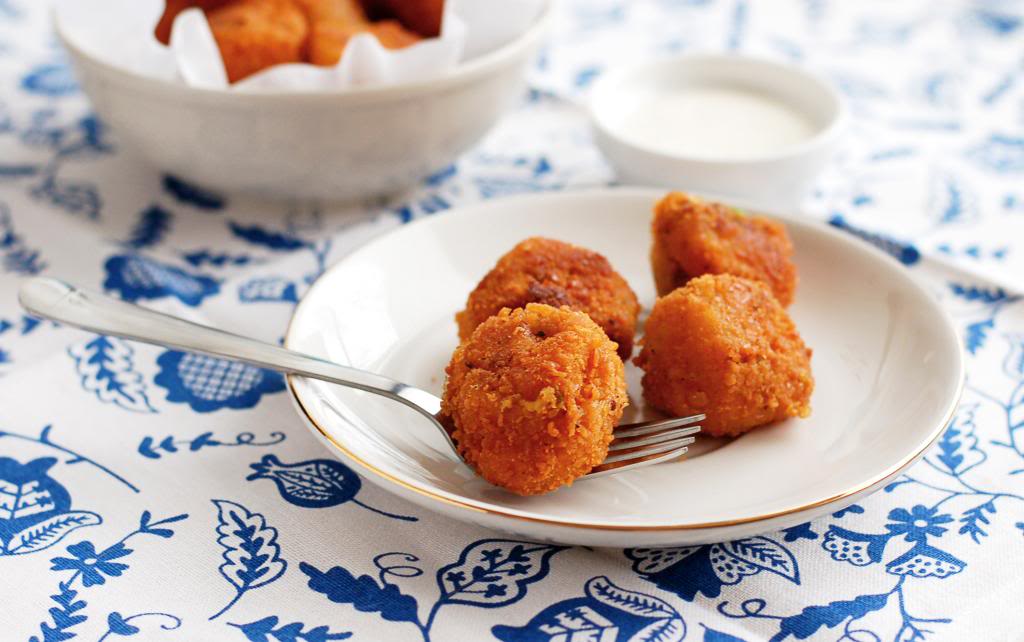 I bought a small bag of those super cute little potatoes the other day. You know the kind; grossly overpriced because they are super cute and little (and maybe because they pre-wash them and package them in a bag). Regardless, I bought them. I don't usually eat potatoes unless it's summer time and they are fresh from my mother-in-law's garden and she cooked them, or if I'm making perogies. But I had this unrelenting craving to make breakfast potatoes with onions and peppers and once that need was filled, I was left with half a bag of baby potatoes. Now let me tell you, I certainly put them to good use.
I apologize to any of you who are on a strict healthy eating kick for the new year. This is pretty much the exact opposite of healthy but it's heaven in each little bite. I've been choosing healthier options lately, but I still believe in cheating once in awhile and this was my little indulgence this week. Let me sum it up for you – mashed potatoes with beer-cheese, bacon and green onions, rolled into bite sized balls, breaded with Ritz crackers and deep fried. The perfect little appetizer or snack…. or meal ;).
Incorporating beer lends a more complex depth of flavor that I'm sure you will love. Beer and cheese are a great combo and I love exploring different ways to use it.
Ingredients
2

cups

mashed potatoes

chilled

1

and 1/2 cup grated cheddar cheese

1/2

cup

Pale Ale - I used Alexander Keith's

2

green onions

chopped

6-8

strips of crispy bacon

1

tsp

salt

pepper to taste

3/4

cup

crushed Ritz Cracker's

1

egg

Vegetable shortening or oil for frying
Instructions
Place mashed potatoes in a bowl and bring to room temperature. The potatoes are easier to work with this way.

In a food processor, combine potatoes, cheese and beer and wiz until it is well combined and smooth.

Transfer the potatoes and cheese back to the original bowl and add green onions, bacon, salt and pepper. mix until well combined. Set aside to allow the flavors to combine, 30 mins to an hour, or overnight. **Allowing the mixture to sit for an hour or so will allow the flavors to heighten and the end result is a far more flavorful potato bite.

Add the Ritz crackers to the food processor and wiz until you have a fine crumb. (Or place crackers in a bag and smash with rolling pin). Transfer to a bowl.

Crack and whisk egg in a separate bowl.

Using a cookie scoop, form balls and set them aside until all the mixture has been scooped into balls. Roll each ball first in the egg, then roll in the crackers until completely coated.

In a skillet, melt the shortening or heat the oil to about 375 degrees. There should be enough shortening or oil to cover about half the height of the balls.

Fry a few balls at a time, for about 2 and 1/2 to 3 minutes, until golden brown. You will need to flip them to fry the other side.

Remove from skillet and place on a plate lined with paper towel to absorb excess oil.

Serve immediately with Ranch dressing (or your choice of sauce) or serve on their own
Nutritional calculation was provided by WP Recipe Maker and is an estimation only. For special diets or medical issues please use your preferred calculator
Notes
Culinary Cool Original Recipe