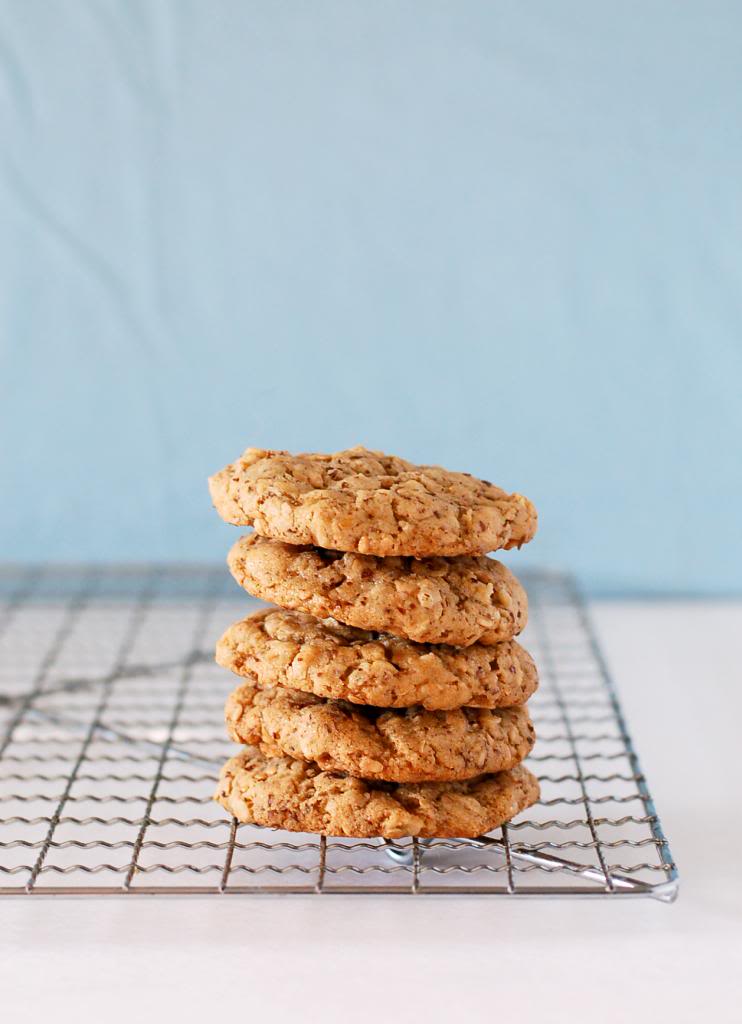 In Saskatchewan, agriculture is huge. In late summer, you can't drive down a highway without seeing canola, wheat, sunflower or flax in the fields. One of the grains I use a lot at home to add fiber to my diet is flax. Canada is the world's largest producer and exporter of flax with Saskatchewan producing four times more flax than any other flax growing province. Crazy, right?! That amounts to about 25% of the world's flax production.
Flax is also considered to be a super-food because of its high levels of omega-3's and fiber content. Plus, it's easier to fit into your diet than you might think. I use flaxseed oil in my morning smoothies and I often sprinkle ground flaxseed on my yogurt and oatmeal. But my favorite thing to do with flaxseed is using it to make cookies! As a general rule, I use ground flaxseed because it's easier for your body to get the nutrients and to digestion compared to the whole seed. Also, these cookies are pretty easy to add any kind of mix-in's your craving such as chocolate chips, coconut, or raisins.
Ingredients
1/2

cup

butter

at room temperature

1/2

cup

packed brown sugar

1/3

cup

granulated sugar

1

egg

1/2

tsp

vanilla

1

cup

all-purpose flour

3/4

cup

quick-cooking rolled oats

not instant oats

1/3

cup

ground flaxseed

1/3

cup

whole flaxseed

1

tsp

baking soda

1/2

tsp

cinnamon

1/2

tsp

salt
Instructions
Preheat oven to 350 degrees.

In a large bowl, beat together butter and sugars until light and fluffy. Beat in egg and vanilla.

In a separate bowl, combine flour, oats, flaxseeds, baking soda, cinnamon and salt. Stir into butter mixture until it forms soft dough.

Drop cookies by the tablespoon onto baking sheet lined with parchment or silpat, about 2 inches apart.

Bake for 10-12 minutes. Let cool on rack for 2 minutes before moving them to cooling racks.

Store in an airtight container at room temperature for up to 5 days, or freeze for up to 1 month.
Nutritional calculation was provided by WP Recipe Maker and is an estimation only. For special diets or medical issues please use your preferred calculator
This blog entry is part of The Canadian Food Experience Project which began June 7, 2013. As we (participants) share our collective stories across the vastness of our Canadian landscape, through our regional food experiences, we hope to bring global clarity to our Canadian culinary identity through the cadence of our concerted Canadian voice. I will be writing new entries and posting them on the 7th of each month with a focus on Canadian food, particularly food found in Saskatchewan and the Canadian Prairies. Please join us.