This recipe and post are sponsored by Turkey Farmers of Canada. As always, all opinions are my own.
It's true what they say about maternity leave; the days are long but the weeks are short and months even shorter. It's been 13 months with our little Isla Bug (we call her Bug for short) and I honestly get verklempt thinking back on her first year. It's funny how quickly I forgot how hard it was, and only remember all the lovely, shiny parts like the big belly giggles, the goofy faces when trying new foods and the moments she does something for the first time.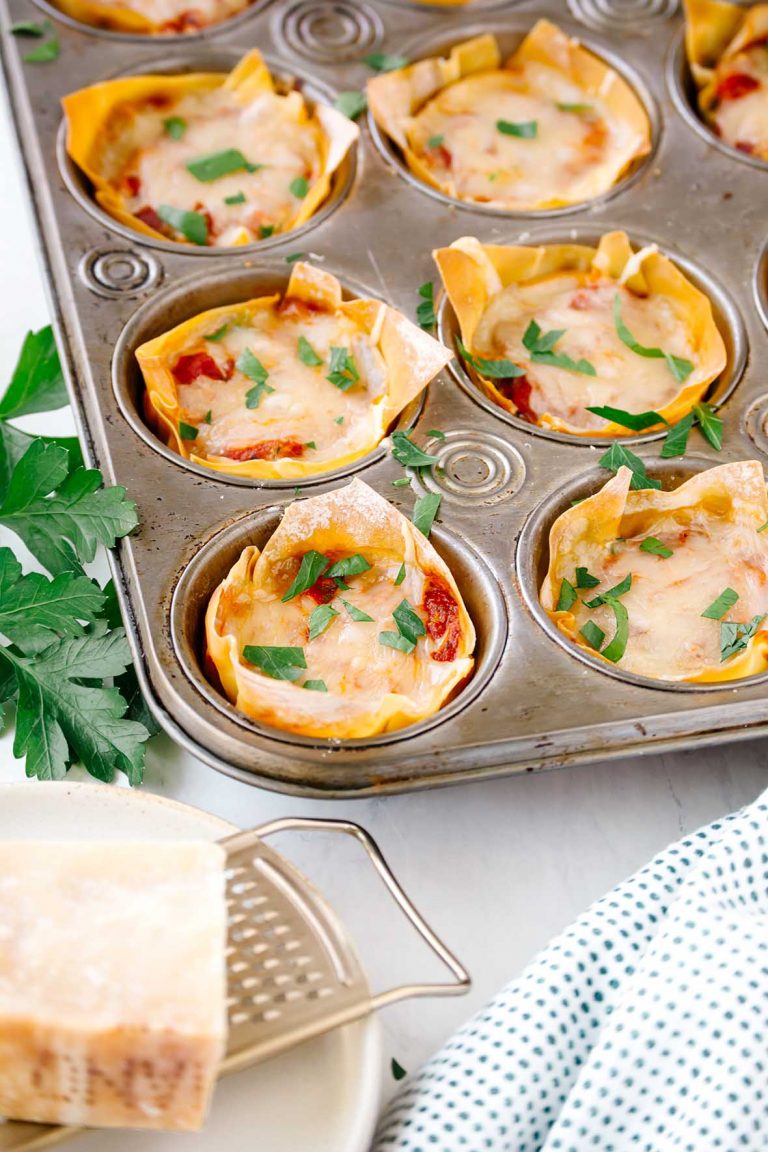 A new "first" for us is creeping up fast – going to daycare. I head back to work in September after 14 glorious (again, forgetting about all the bad, tough, messy parts) months at home. I know she's going to be in good hands, but it still makes me anxious. I'm sure Isla will adjust just fine – it's me who's going to take a while to acclimate. So, I've been trying to wrap my head around what life will look like working from home, sans toddler.
Here's what I've come up with:
I've grown quite fond of (and sometimes dependent on) afternoon naps, so I predict my caffeine intake will spike. Time to dust off the 'ole French press and start making coffee at home again.
I won't have CoComelon on repeat in the background anymore, but the songs will definitely be playing in my head. I will need to find a good adult playlist to listen to instead.
I'll be able to go to the bathroom, leave a room, open the fridge, without a tiny human in tow, trying to unravel the toilet paper, cry hysterically, or close the fridge door while I'm still in it.
Perhaps most important, I'll be able to make a proper meal without a toddler swinging between my knees, or sitting on the counter beside me, pulling at everything in sight. This, my friends, is what I'm looking forward to most.
Isla is such a busy kiddo, that right now, it almost feels impossible to get a decent breakfast/lunch/snack on the table during the week. With her gone at daycare, this will definitely become easier, but I also don't want to be scrounging for junk, or making anything elaborate either. This is where some meal prep will come in handy. Admittedly, meal prep hasn't always been my strong suit; I can be quite impulsive with my food cravings. But come September, meal prep will become a way of life, especially for lunches and snacks for going back to work.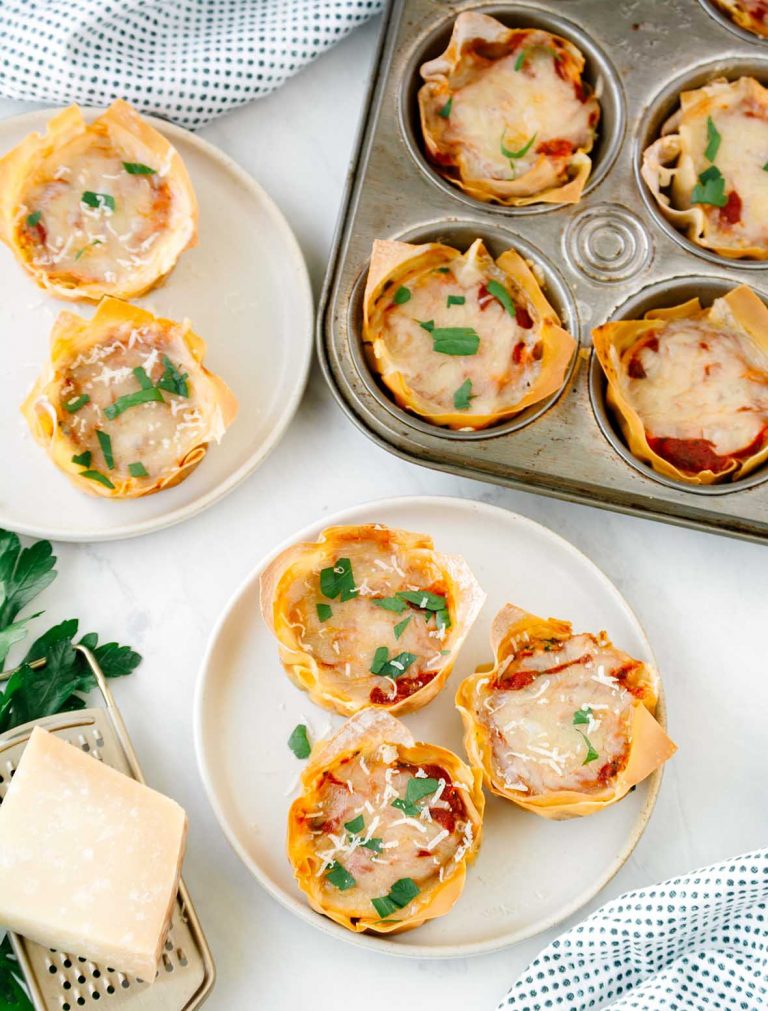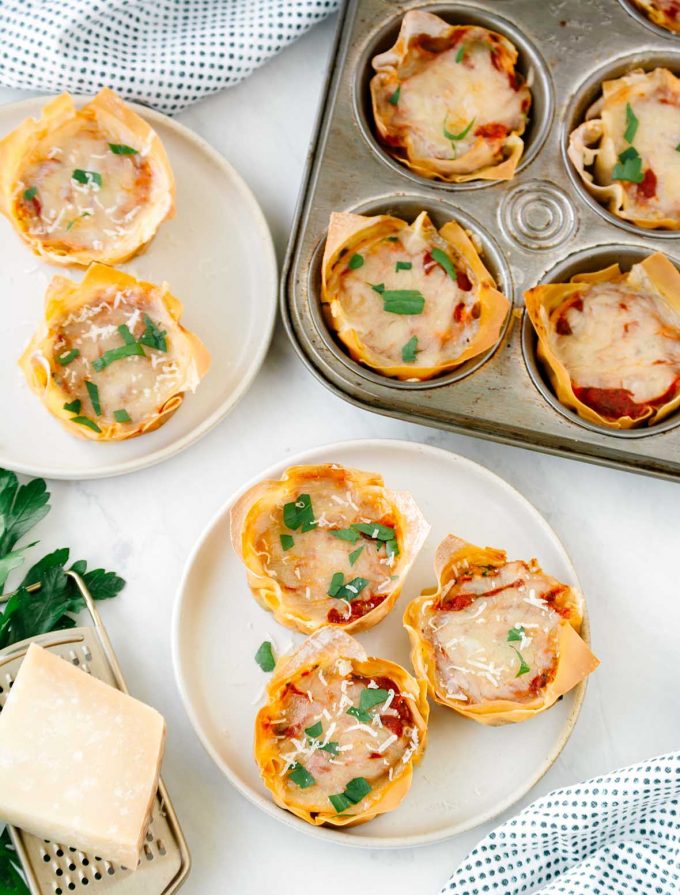 I've already been trying to plan out meals and snacks for back to work, and this is one of the recipes I plan to keep stocked often. I love pasta, but it can be heavy for a weekday lunch, and an unusual choice of snack. So, instead of labouring over one giant lasagna, I like to make mini versions in muffin tins. In place of traditional noodles, I use wonton wrappers because they're far more convenient (no need to pre-cook them – just unwrap and go). I load them full of some of my favourite veggies, such as spinach, red peppers and zucchini, a respectable dose of ricotta, and one ingredient that may surprise you – deli turkey!
Meal prep should be easy too, so instead of having to worry about cooking up meat in addition to everything else with these mini lasagnas, you simply use your favourite sliced deli turkey. I opted for an oven-roasted turkey breast, but there are so many incredible flavour options for turkey at the deli counter. It's the most convenient option, since it cuts back on prep and cleaning time, and using turkey is a fabulous way to incorporate a different protein into your weekly menu. It's lean, versatile, and you know your family already loves it! It's a no-brainer as a go-to option for switching things up.
With a fridge full of Turkey and Vegetable Lasagna Cups, it will take the guesswork out of lunch and snack times. It's perfect for me going back to work and works equally great for school lunches and snacks, too. If you have mini cupcake tins, you can make these lasagnas even smaller, which would be ideal for kids for snacks.
I've still got a month left of hanging out with Isla all day, and while I'm trying desperately not to think about going back to work, I have no problem thinking about the delicious lunches and snacks I can make in her absence. These Turkey and Vegetable Lasagna Cups will definitely be on regular rotation!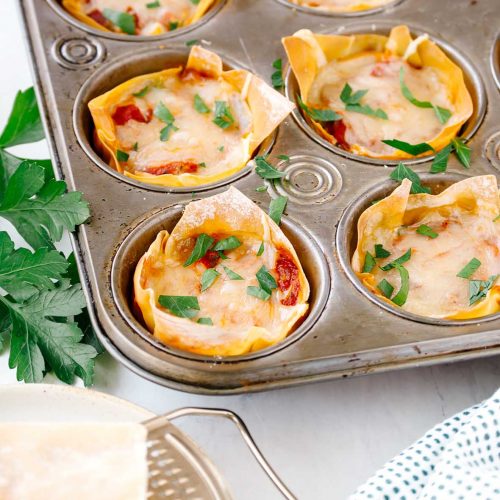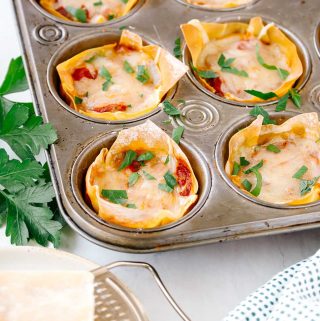 Turkey and Vegetable Lasagna Cups
Mini lasagnas make a perfect school lunch or snack
Print
Pin
Rate
Ingredients
2

Tbsp

+ 1 tsp canola oil

1/2

cup

diced red pepper

1/2

cup

diced carrot

1/2

cup

diced zucchini

1/2

cup

diced yellow onion

1/4

tsp

salt

2

oz

baby spinach

1/2

cup

ricotta

24

wonton wrappers

100

grams

deli turkey

oven roasted, nitrite free

1/4

cup

tomato sauce

1

cup

grated mozzarella cheese
Instructions
In a medium skillet, heat 2 Tbsp canola oil over medium heat. Add red pepper, carrots, zucchini, yellow onion and salt and sauté until soft, about 6-8 minutes.

Add in the spinach, and continue to sauté until the spinach has wilted, about 3-4 minutes. Remove the skillet from the heat and set aside to allow the vegetables to cool completely.

Once the vegetables have cooled, transfer them to a food processor, and pulse 10-12 times. You want the vegetables to still have a little texture, but you don't want large, chunky pieces.

Add the ricotta cheese into the food processor, and pulse until just combined. You can also mix it in by hand, just remove the blade first.

Preheat oven to 350 degrees F.

With the remaining 1 tsp canola oil, lightly brush each cup of the muffin tin (alternatively, you can use a cooking spray).

Place 2 wonton wrappers in each cup of a muffin tin. You will need to overlap them slightly to ensure sufficient coverage on the bottom and up the sides. The wontons won't stick up over the edges all that much.

Evenly distribute the deli turkey amongst the cups, about 8 grams per cup.

Fill each cup with 1 heaping Tbsp of the vegetable/ricotta filling.

Top the vegetable/ricotta filling with 2 tsp of tomato sauce

Top the cups with grated mozzarella

Bake for 12-14 minutes, or until heated through, bubbling and cheese is melty.

Serve immediately, or allow to cool completely and package them up for weekday snacks. Reheat in the microwave before serving.
Nutritional calculation was provided by WP Recipe Maker and is an estimation only. For special diets or medical issues please use your preferred calculator
Notes
these are made in a traditional sized muffin tin, but you can also make them using a mini muffin tin for smaller, bite-sized snacks.