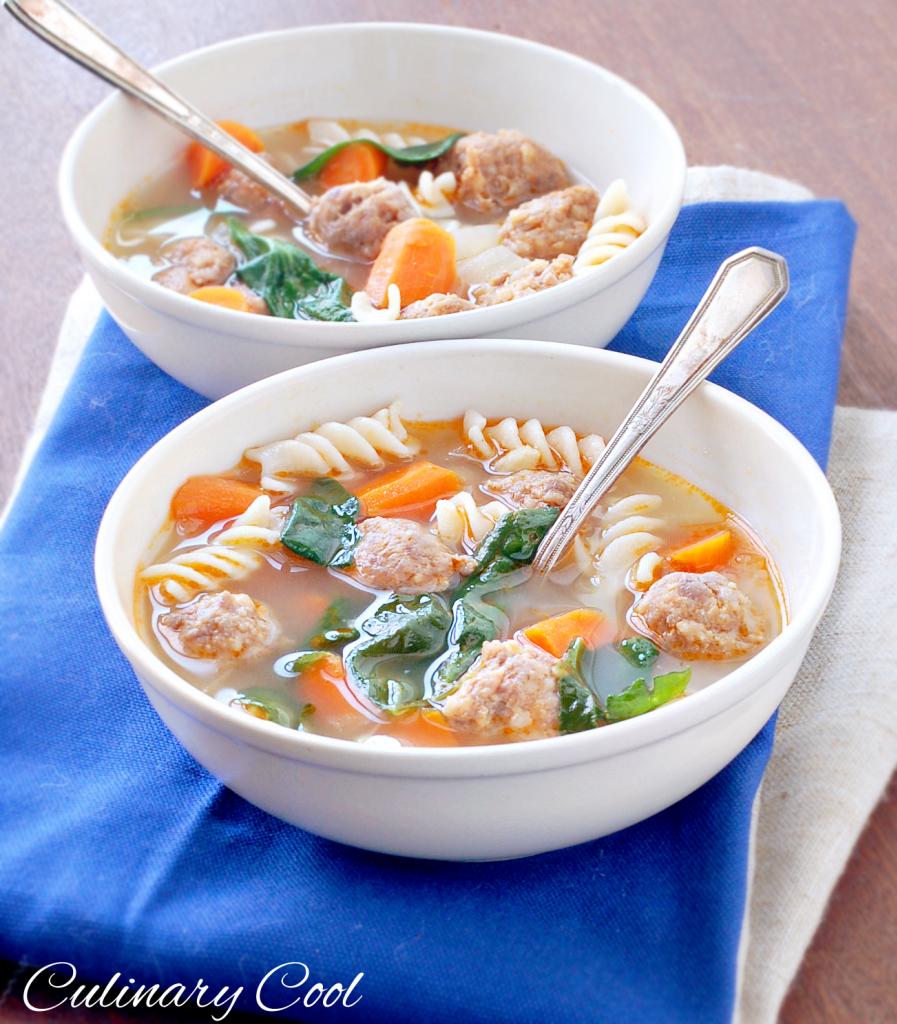 I'm not too sure what the weather this winter has been like in your neck of the woods, but up here, we've had it rough. I'm talkin' two weeks straight at -40 degrees Celsius (which also happens to be -40 degrees Fahrenheit). Damn you Polar Vortex. The only good thing about that temperature, is that it's too cold to snow.
Now, this kind of cold really chills you to the bone and it's hard to shake. In my opinion, nothing warms you up better than a big bowl of soup, which is why I've been making at least one pot of homemade soup a week. This recipe has made an appearance three times so far this month – I love it so much. It's super easy and quick and we always have leftovers for lunch the next day. The spicy Italian sausage lends a lot of flavor to the soup. You can use any sausage you like, but I prefer the flavor from a good quality spicy sausage. To make the little meatballs, you simply pinch the sausage at about 1/2 inch intervals, twist and then squeeze the sausage out of the casing, into little balls and into your simmer broth.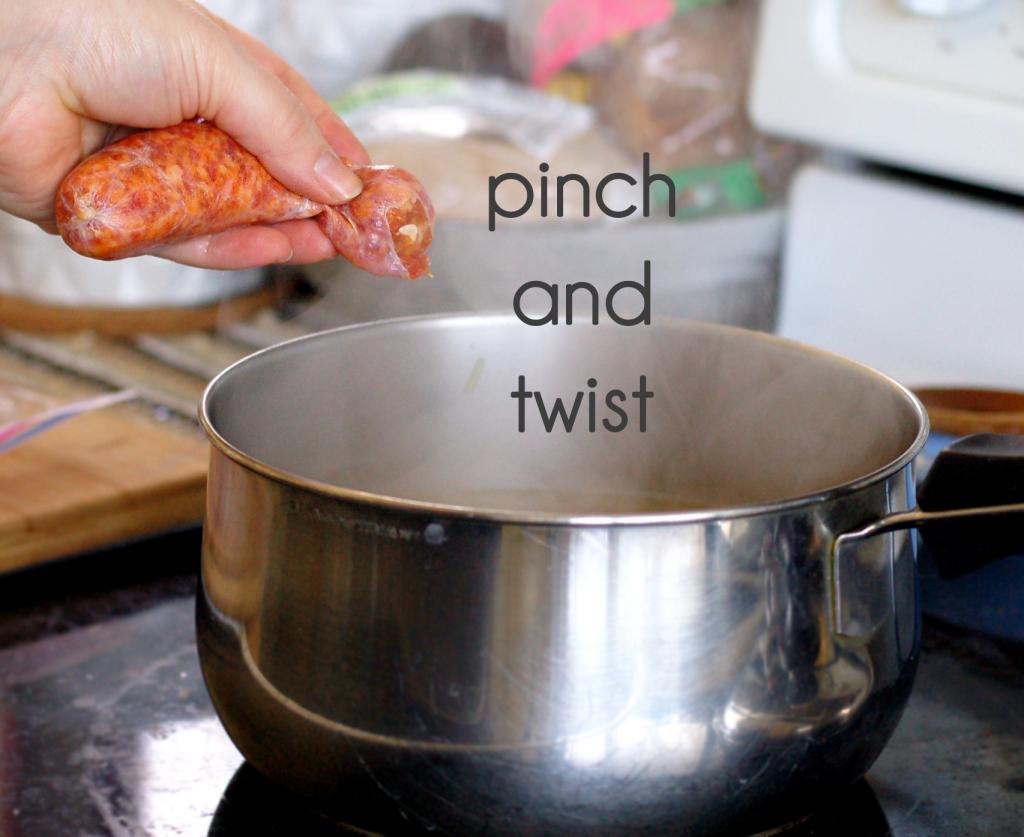 One of the goals I've set for myself is to try new techniques in the kitchen. I've made good on that goal so far, by chopping my carrots in a fancier way than normal. I've become pretty fond of the oblique cut.
I truly can't get enough of this soup. It has quickly become a favorite of mine and I'm sure you and your family will love it too!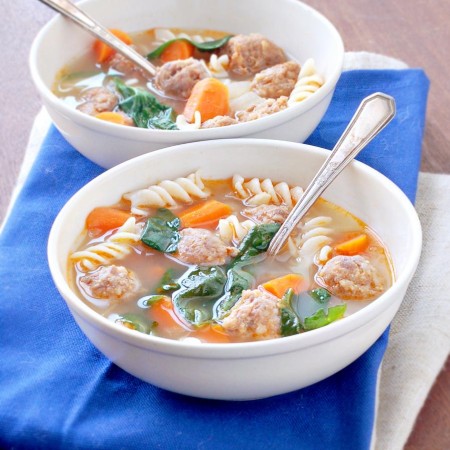 Ingredients
2

tbsp

olive oil

half of one medium yellow onion

chopped

2

cloves

garlic

minced

2

carrots

chopped *I did an oblique cut

6

cups

chicken stock

2

tbsp

red wine vinegar

1

lb

spicy Italian sausage

salt and pepper to taste

2

cups

fresh spinach

roughly chopped

1

cup

uncooked pasta

such as shells or rotini
Instructions
In a large pot, or Dutch oven, heat the olive oil over medium heat. Add the onions to the pan and cook until beginning to soften, about 3-4 minutes. Add in the garlic and carrots and cook, stirring frequently, just until fragrant, about 1-2 minutes.

Add chicken stock and red wine vinegar and bring to a simmer over medium heat.

In a separate pot, cook the pasta according to the directions on the package. Set aside.

Once the broth is simmering, squeeze the sausages out of their casings by pinching and twisting at 1/2 half intervals, creating little balls of meat and squeezing them into the simmering broth. Let the balls cook in the broth for approximately 5 minutes, or until firm and fully cooked. Add salt and pepper to taste.

Once the sausage balls are fully cooked, add in spinach and cook for a minute or two, until it wilts.

Add in pasta, or you can add the pasta to the bowls separately so that the pasta wont absorb all the broth if you have leftovers. The latter is the method I favor.
Nutritional calculation was provided by WP Recipe Maker and is an estimation only. For special diets or medical issues please use your preferred calculator
Sausage ball idea from Alice Eats. Recipe is my own.