Finally, part 2 of my San Diego trip from May. You can find
part 1 here.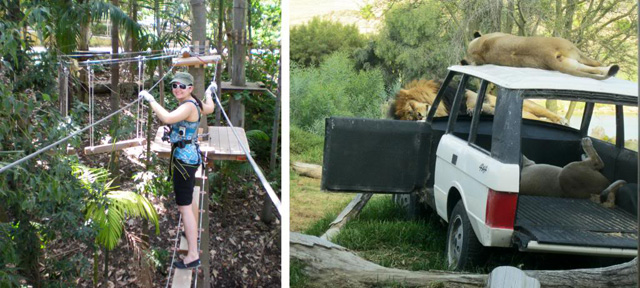 Edith and I rented a car for the last two days of our trip so we could save on cab fare and be a bit more mobile and adventurous. For Edith's birthday, I took her to
San Diego Zoo Safari Park
! The original plan was to do the zip lining adventure, but the timing didn't work in our favor, so we did the Jungle Rope Safari. You're basically 35 feet in the air, climbing through an obstacle course in the trees. It was super fun and I would recommend the adventure to anyone. We then had time to wander around and check out the animals.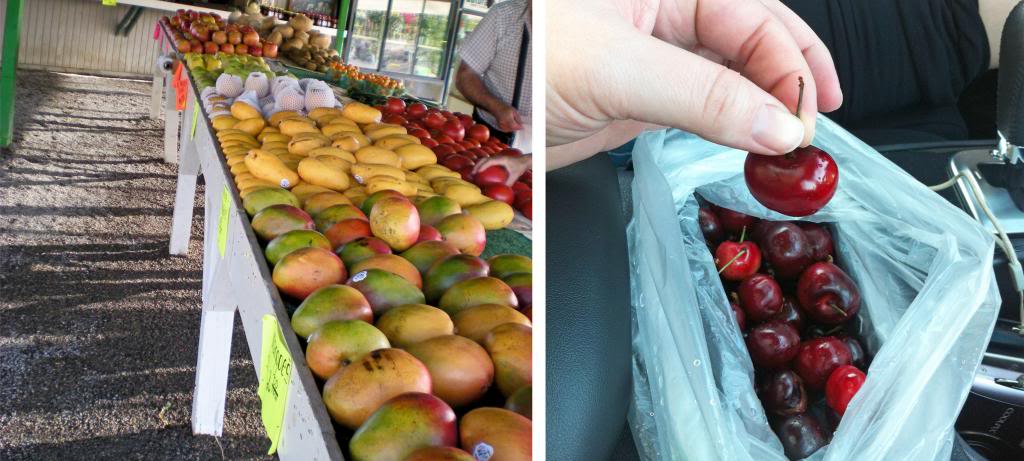 On our way back to the hotel, we stopped at a fruit stand about 5 minutes away from the Safari Park. They had plenty of fresh fruits and veggies and we walked away some apples, oranges, cherries and pears.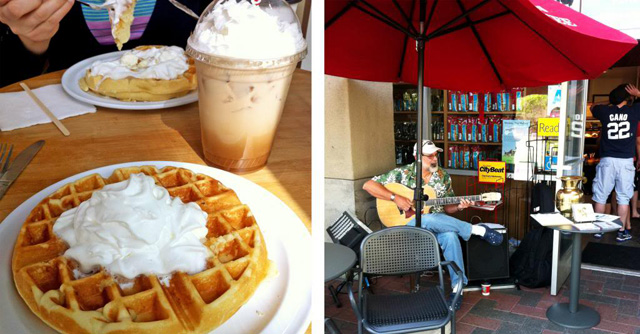 On Saturday morning, our last full day in San Diego, Edith and I tried to go back to Cafe 222 but the wait was too long so we decided to stop in at a coffee shop and grab a quick breakfast. Instead of going to Starbucks, we chose a cute local Hawaiian coffee joint called LION Coffee and to our complete amazement, they served waffles! We each ordered the Macadamia Nut Waffle with coconut syrup and they were absolutely amazing!! The coconut syrup really took it to another level. I also ordered an iced Aloha White Mocha and it was hands down, the best white mocha I have ever had! As a special added benefit, they have live music just outside their front door and it can be heard inside as well.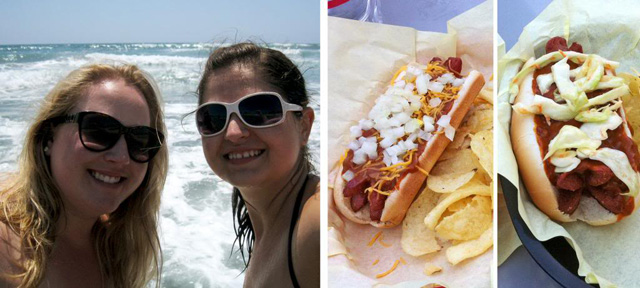 There wasn't a cloud in the sky after breakfast, and we packed up our swag and headed to Pacific Beach for some fun in the sun. We jumped around in the waves for a while and did lots of sunbathing. Despite going through a whole bottle of sunscreen, we both managed to get some pretty bad sun burns which followed us home and caused problems for about a week.
By 3 o'clock, we were hungry and tired so we stopped in at a place just off the boardwalk called Diego's which was voted best hot dog in Pacific Beach and they certainly didn't disappoint. Edith ordered the Tex Dog (chili, cheese and onions) and I ordered the PB Fried dog (bacon wrapped dog, deep fried and topped with chili, coleslaw and jalapenos). Edith said it was the best hot dog she had ever eaten and that's saying something cause she's not the biggest hot dog fan out there.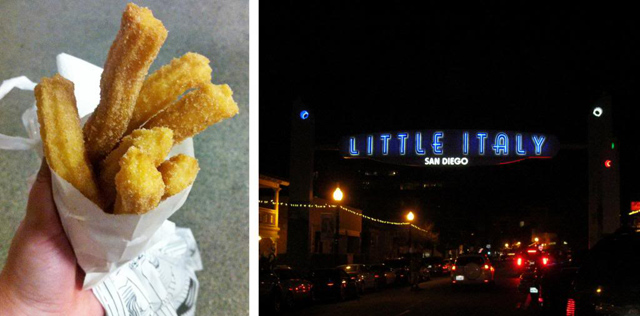 We headed back to the hotel to freshen up and pick up our friend Jaclyn (who was in a conference all day) and headed down to the outlet mall for some shopping. The only good thing about this outlet mall was the churro stand and I got a bag of 7 little churros to munch on while the girls did their shopping.
After the mall, we headed to San Diego's Little Italy for a late supper. Most of the restaurants had stopped serving but we managed to find a place to eat at. I honestly cannot remember the name of the place, but after some Google Maps street view stalking, I think I found the place, Zia's Bistro.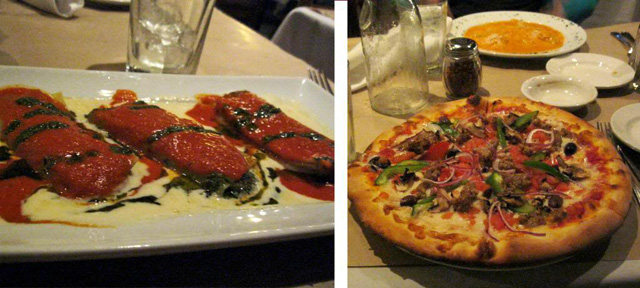 I ordered the spinach cannelloni, Jaclyn ordered the lobster raviolli and Edith ordered the Salsiccia Pizza which was so huge it hung over the sides of the plate!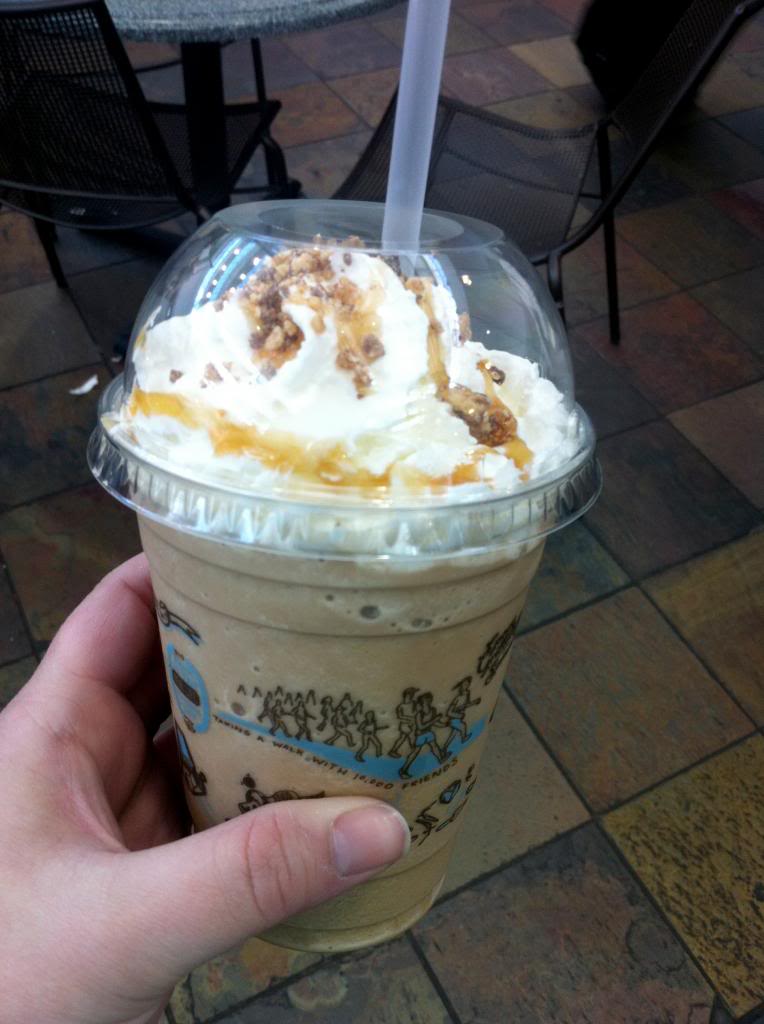 We had about 4 hours of sleep that night and were out of the hotel by 4:45 am to catch the shuttle to the airport. When we landed in Denver I headed right for Caribou Coffee for a Turtle Mocha Cooler! In my opinion, the Turtle Mocha Cooler is better than any frapp on the Starbucks menu.
I loved being in San Diego and to have spent all my time with my best friends was the cherry on top! I think we might need to make it an annual tradition to take a trip to California.