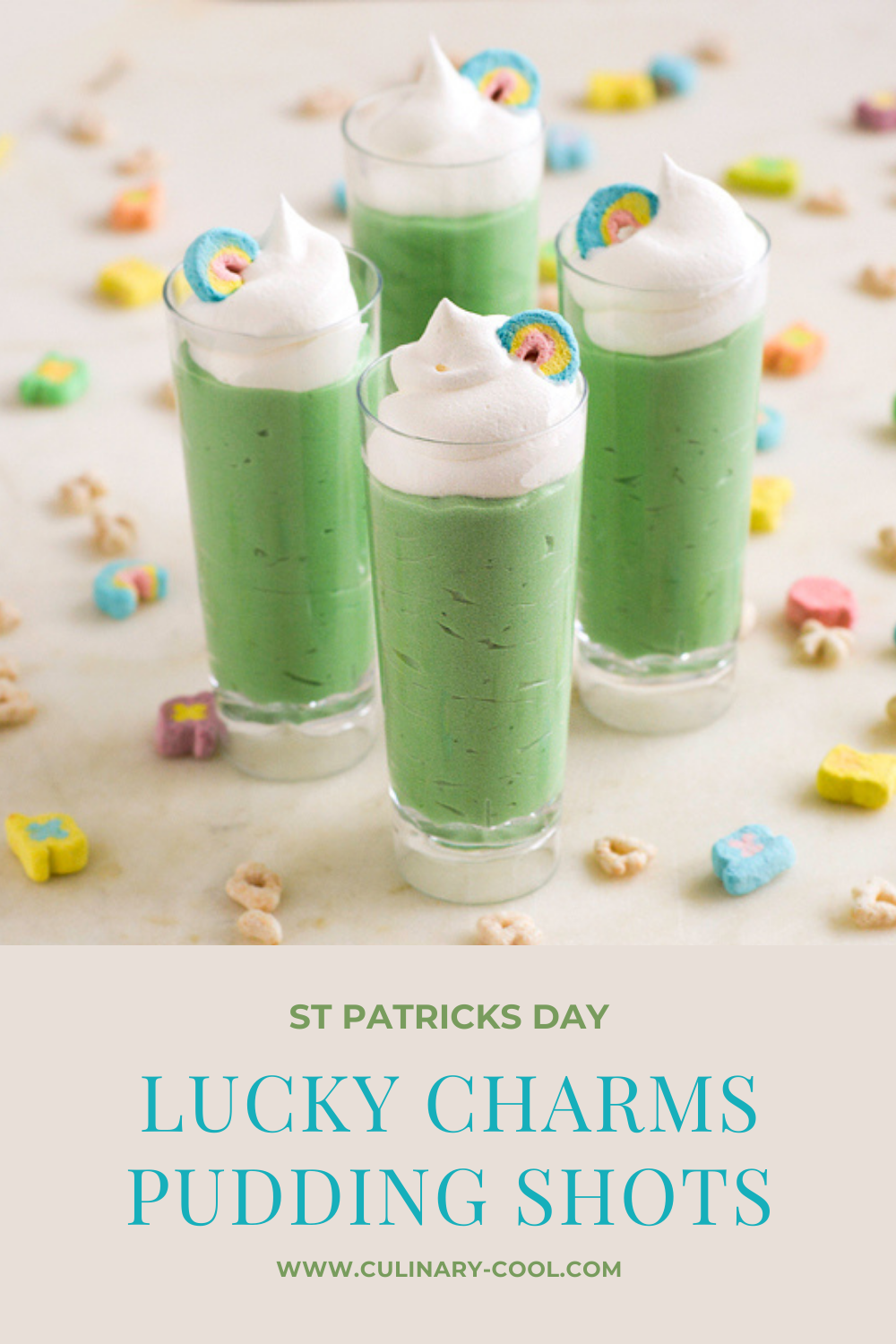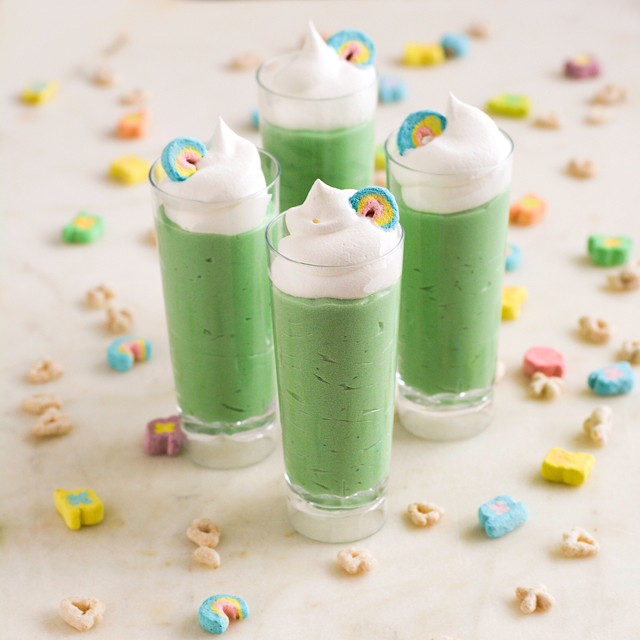 So it's that time of year again when people pretend to be Irish, and drink green beer. Green beer, really? Why do people line up at pubs just to drink the same 'ole beer but with food dye in it? I'll never understand the hubbub of green beer, it's overrated. You know what's not overrated? Lucky Charms, that's what!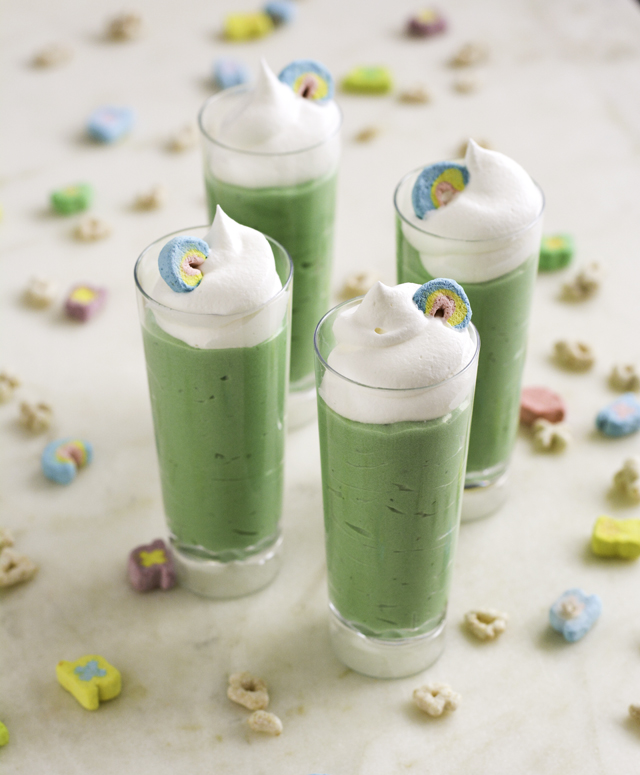 Ah yes, Lucky Charms – the most Irish of all breakfast cereals. They're Magically Delicious, and the marshmallows (if you can call them that) are pretty much the best part. So I pulverized the marshmallows, mixed them with pudding, Irish Cream, and Cool Whip, and made a delicious St Patty's Day Pudding Shot. 100% non-traditional, and 200% delicious.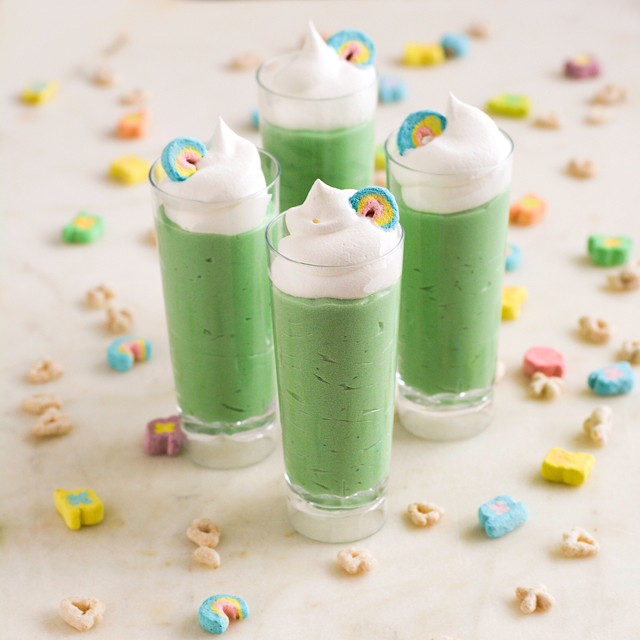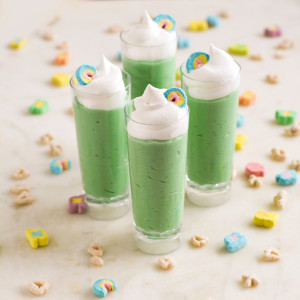 Ingredients
1

4 serving

pkg white chocolate instant pudding

1

cup

cold milk

1/2

cup

Irish Cream Liqueur*

1

cup

marshmallows from Lucky Charms Cereal

plus more for serving

1

cup

Cool Whip

Green Food Dye
Instructions
Using a food processor, pulverize the Lucky Charms marshmallows into a fine powder. Set aside.

In a medium bowl, combine pudding powder, milk, and Irish Cream and whisk for 2 minutes, or until thickened.

Whisk in the pulverized Lucky Charms Marshmallows. Stir until fully combined.

Whisk in the Cool Whip.

Fill shot glasses, or mini plastic containers with the pudding, and refrigerate until ready to use.

Top with more Cool Whip, and garnish with Lucky Charms
Nutritional calculation was provided by WP Recipe Maker and is an estimation only. For special diets or medical issues please use your preferred calculator
Notes
The pudding shots can also be made into a parfait. Simply layer the pudding with Lucky Charms cereal in a parfait cup instead of shot glass.
*Completely omit the Irish Cream, and replace with milk for an alcohol-free version.
**Or you can add 1 cup Irish Cream and 1/2 milk for a boozier option.
Culinary Cool Original Recipe