I'm a travel junkie. I especially love travelling and eating locally. The best food is always local, amiright?! The most memorable food I've ever had has always been from hole-in-the-wall, off the beaten path restaurants. Or in the case of Cozumel Mexico, way outside the normal tourist zone, and basically, inside the garage of locals.
We booked a super last minute cruise at the end of February, and Cozumel was our first port of call. I reviewed the list of excursions the ship offered but nothing really appealed to me. In my search for adventures, I stumbled upon this website which offers a plethora of food related adventures in Cozumel. The food tour was calling my name and I was not going to pass up the opportunity to eat where the locals eat. I had to get my chubby little fingers on authentic Mexican grub.
I met the group and our guide, Jerry, at the Mega, which is akin to Wal-Mart, only better. We were loaded into a van with a slogan on the back that said, "Don't get drunk, get awesome!" Ha, these were my kind of people.
Our first stop was Los Antojitos, for quite simply, the best empanadas I've ever eaten.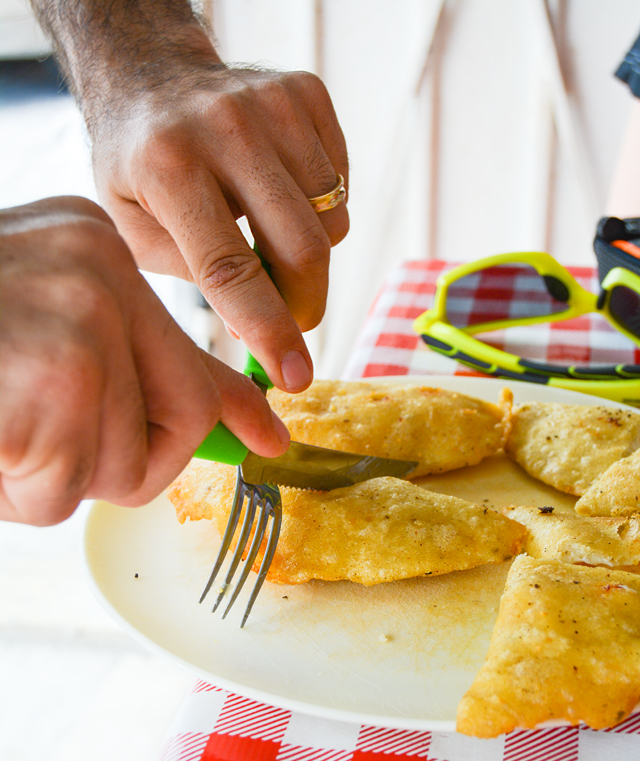 Oh baby, the empanadas. We sampled three kinds of empanadas at Los Antojitos. The pastry was made with corn flour, and the fillings varied, but the cheese of choice was always Edam. All three were piping hot, and delightfully light and crispy. The first was Shrimp and Edam (pictured above), and the second was Tinga (beef) and Edam. Both outstanding in their own right, but the shrimp was a front runner.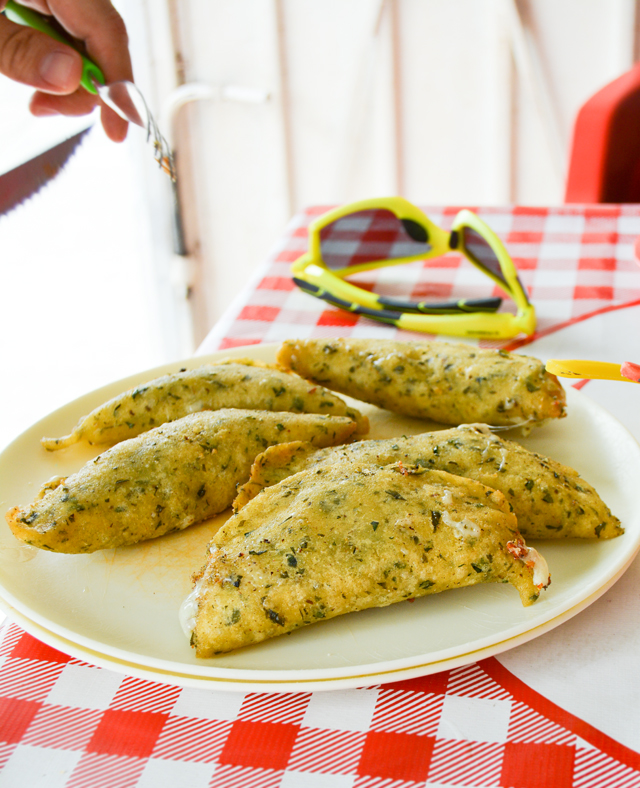 The third empanada was a bit different than the first two. The pastry included Chaya Leaf, which is similar to spinach and is believed to have originated in the Yucatan. The filling consisted of Poblano peppers and they had a little bit of kick to them. Now, I've eaten my fair share of empanada's, all handmade by the way, and none of them can compare to the empanada's at Los Antojitos. I still have dreams about the Shrimp and Edam empanada.
The second stop was what appeared to be a convenience store that also doubled as a restaurant. There were no signs outside, just lawn chairs and a table. Don't be fooled by the rather sleepy exterior, they served up an outstanding pork dish.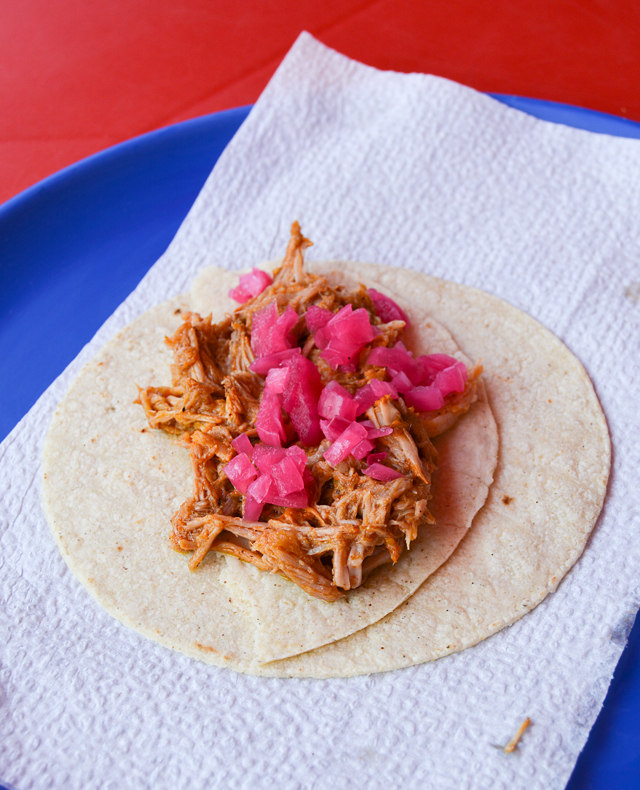 They specialized in Cochinita Pibil, which is pork, mixed with a bitter orange known as Seville, wrapped in banana leaves, and slow roasted. The pork was incredibly tender, carefully pulled by hand, topped with onion, and it had the most enticing aroma. Our Cochinita Pibil was served on handmade tortillas with a little extra "sauce" from the roasting pan.
As much as I love food, grocery stores hold a special place in my heart. So when we strolled through a local marketplace, my heart skipped a beat.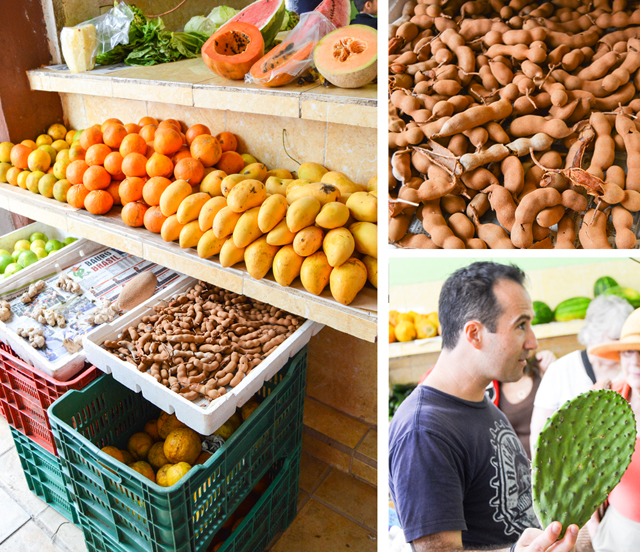 I loved looking through all the little bags of herbs and spices; I was in my element. I almost bought myself hibiscus flowers and other spices to bring home, but never had the chance. Major bummer!
Next, we were off to a restaurant dubbed, Cocina Economico, which means, inexpensive kitchen.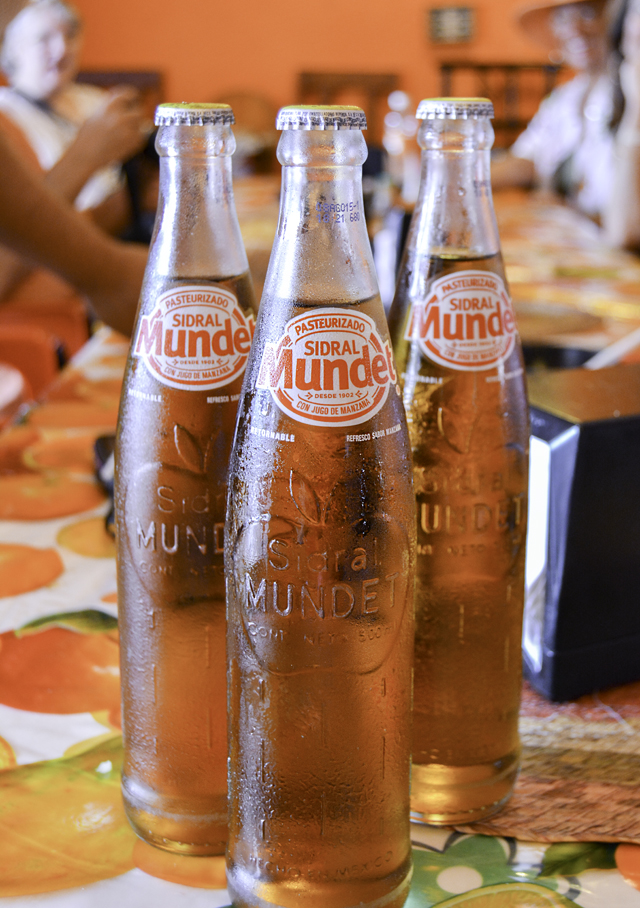 Now, we were offered drinks at every stop. Beer, horchata, hibiscus water, we could have whatever we wanted. My favourite, hands down, was the apple soda.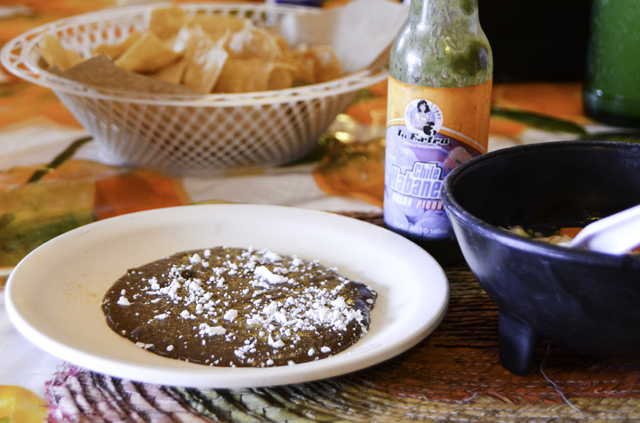 We snacked on tortilla chips, refried beans with queso fresco, and homemade salsa.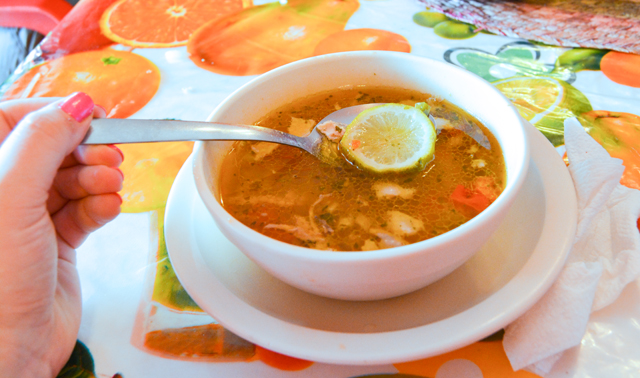 And then the main course arrived, and it was a bit of a surprise. Sopa de Lima (Lime Soup), is a Mexican comfort food and according to Jerry, it's a hangover remedy. As I said, the soup was a bit of a surprise. First, it was hotter than hell outside, who wants to eat soup? And second, the flavour profile was totally unexpected. You get two hits of flavour. The first isn't so much of a hit, as it is a warm hug. It's grandmas chicken noodle soup, with tomatoes, onions, chicken, and that comforting broth. Then, out of nowhere, you get a wave of citrus, thanks to small pieces of lime in the broth. It was absolutely delicious. Not only was it comforting, but oddly enough, it was kind of refreshing.
What would a trip to Mexico be without a taco? Our next stop took us to El Sazon del Camaron where we had Shrimp Tacos, and I tried a sauce that was so spicy, it made my ears burn. Word of advice, do not try the green sauce (habanero and oil) unless you can really handle heat.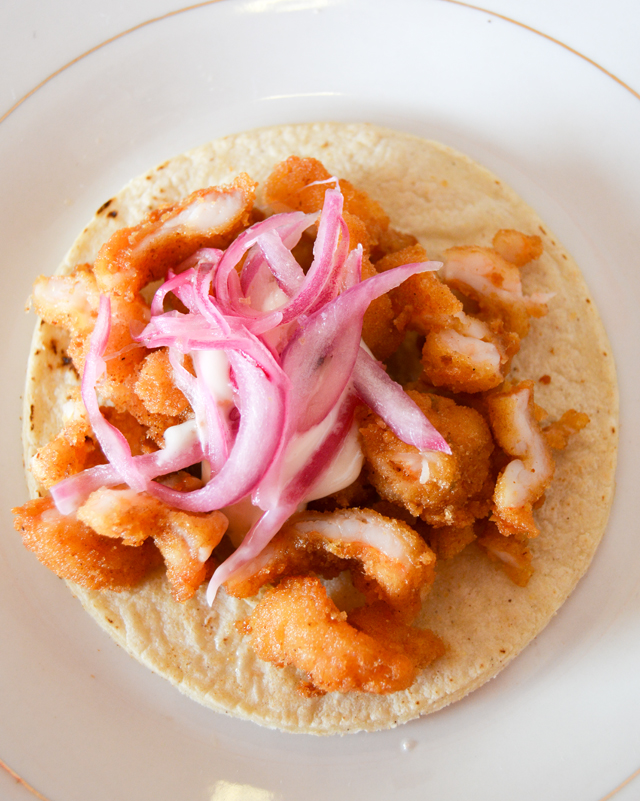 Oddly enough, this was my first shrimp taco…ever. Why have I waited so long?! These tacos were made of breaded shrimp which were deep-fried, and placed on a homemade tortilla with mayo and onions. They were so good, I had a second one, and made a valiant effort to finish, but alas, I was not successful.
And just when I thought I couldn't possibly eat another bite, we rolled up to a bakery called Panaderia la Cozumelena.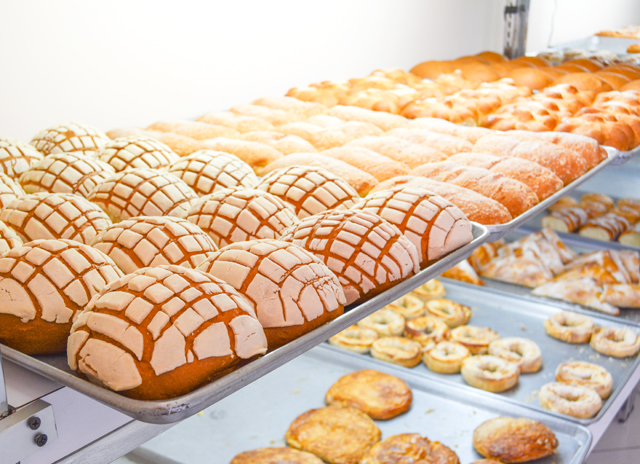 It smelled devine, as all bakeries do, and the walls were lined with trays of baked goods. I wanted one of everything but was forced to chose one. I chose the Coconut Empanada, and like a good girlfriend, I took it back to the ship and shared it.
The Cozumel Food Tour lasts about 3 hours and is the perfect excursion for food-loving folk. It's a great way to see the non-touristy parts of Cozumel and sample real Mexican food. If I'm ever in Cozumel again, I would surely take another food tour.
You can get more info at Cozumel Chef