This Post is sponsored by Jollibee. I was invited to attend the grand opening and was compensated for my time. As always, all opinions are my own.
I'm also hosting a Giveaway on Instagram for 5 $50 gift certificates to Jollibee. If you are a resident of Saskatchewan, head over to my Instagram (@culinarycool) to enter.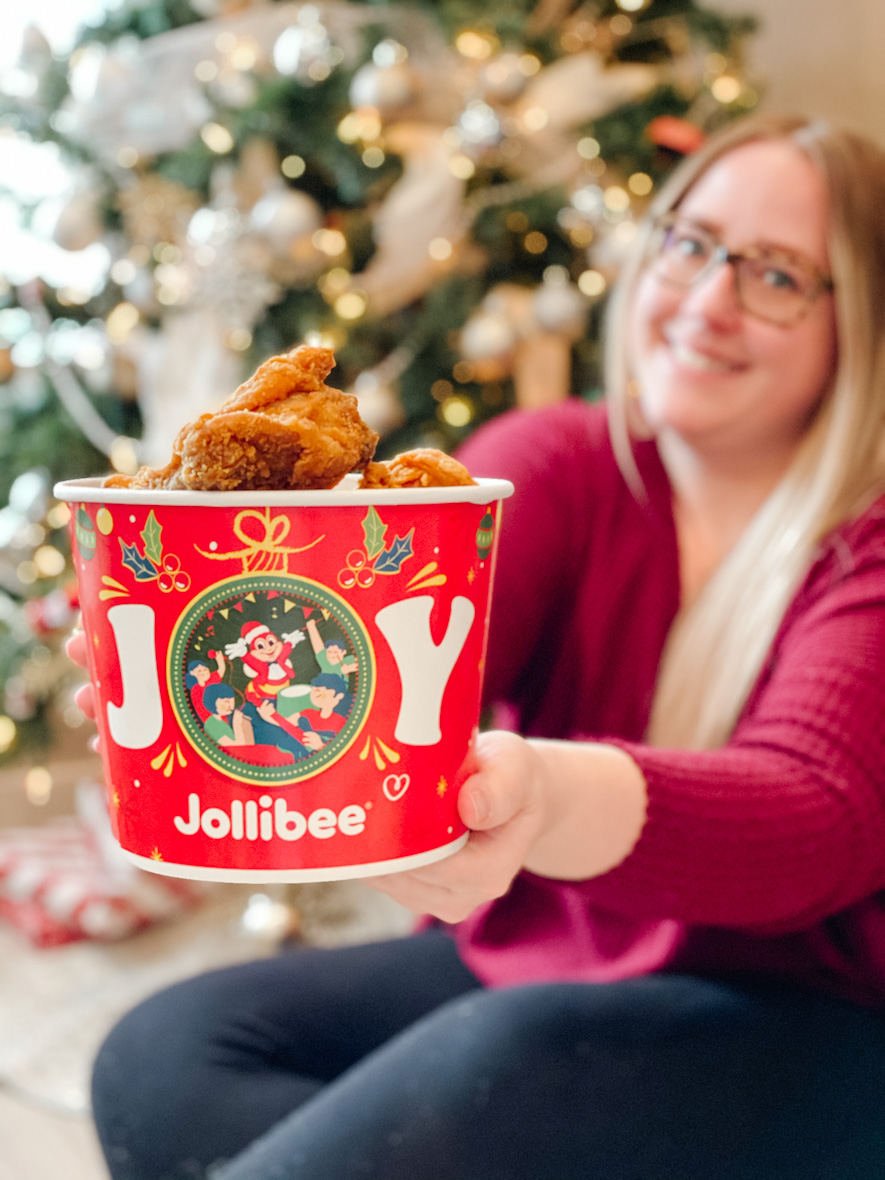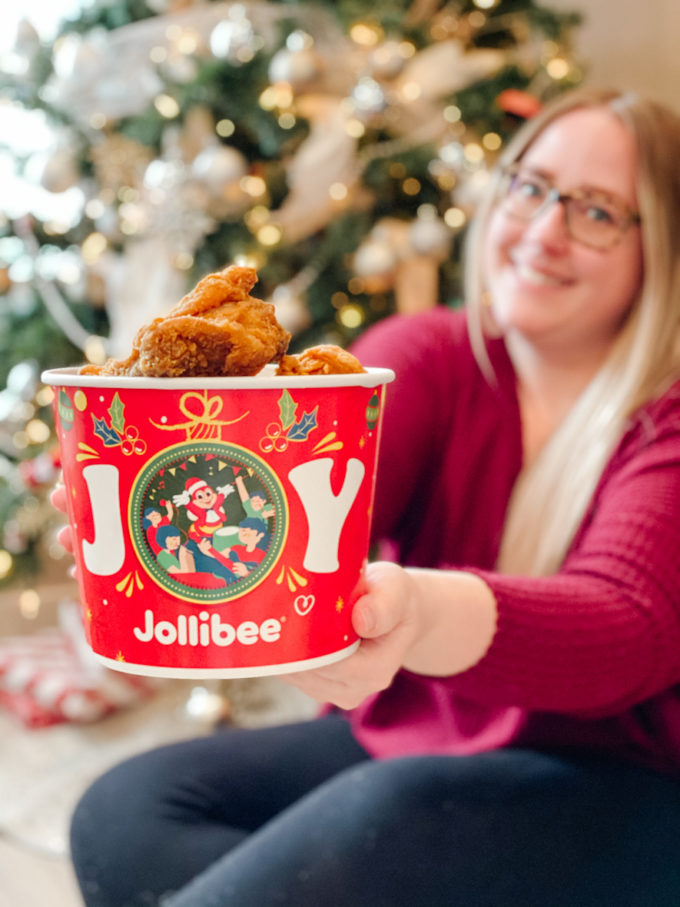 On a warmer than normal (but still cold) Sunday morning in December, just before 7am, I made my way towards a DJ blasting party music, balloon arches and hundreds of people being kept warm under giant white tents.
It was three days before Christmas, and we weren't there to get our shopping done. No, we were braving the cold prairie temps for the chance to be one of the first in Regina to get our hands on the Filipino fast food sensation known as Jollibee.
I didn't quite know what to expect at the grand opening of Jollibee in Regina. I was told the opening was going to be big, that they expected folks to start lining up well in advance (the first guy in line was there 19 hrs early and earned himself a year of free chicken), and that the atmosphere would be full of excitement and very welcoming. It was that and then some.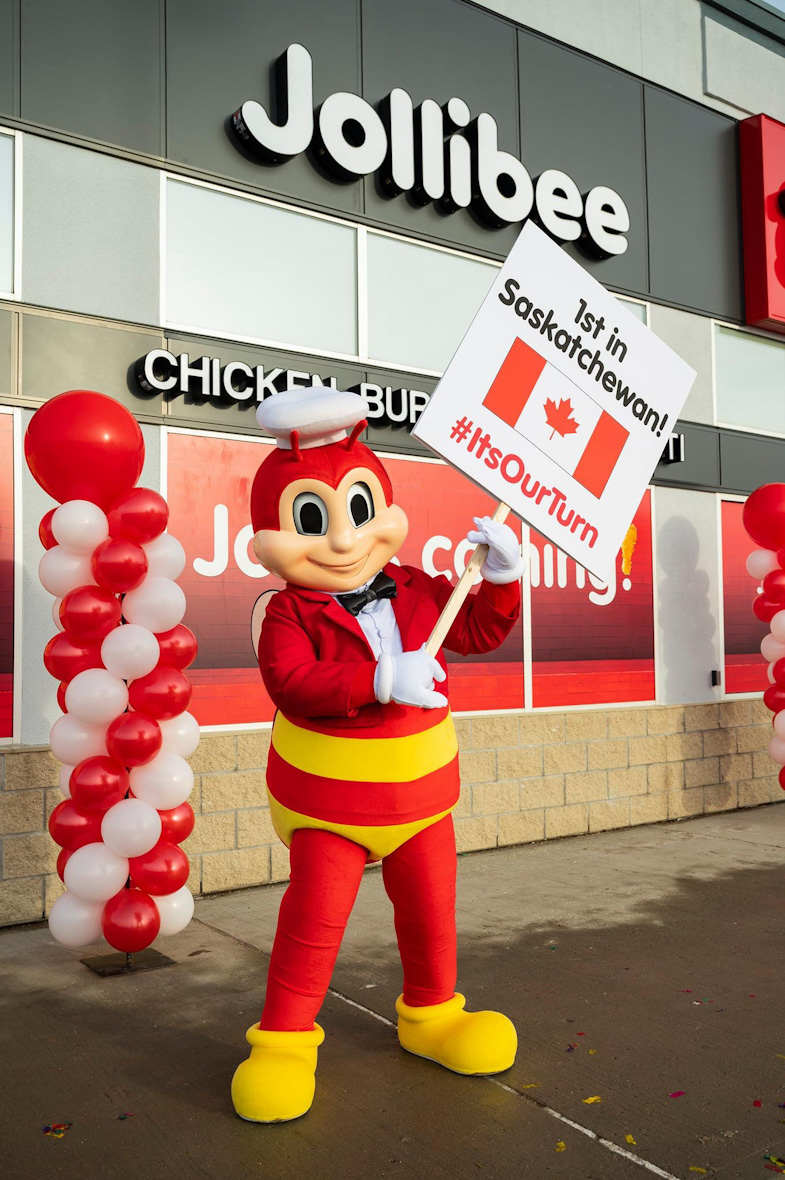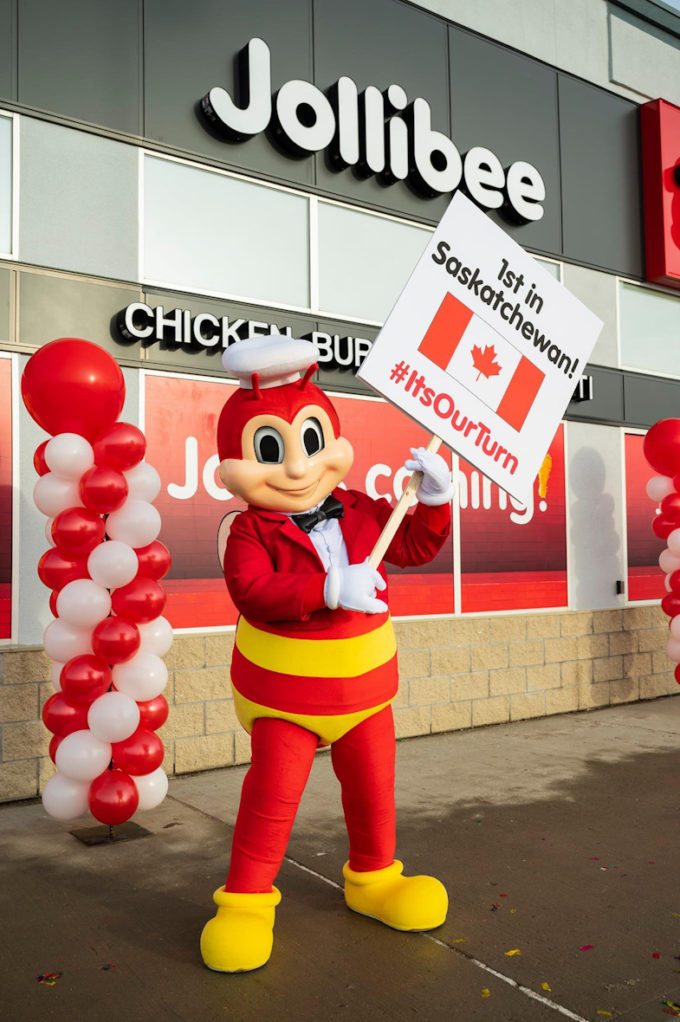 What is Jollibee, you ask? Jollibee is a fast food restaurant that originated in the Philippines. They're known for their fried chicken, but what really sets them apart is that the flavour profile of their menu caters to Filipino tastes. Not only do they offer fried chicken, but you'll find spaghetti, a noodle bowl, pies, and burgers on the menu.
I've been to the Jollibee in Regina twice now. Once as a media guest to experience the grand opening, and another time with my husband so we could try a few new things together.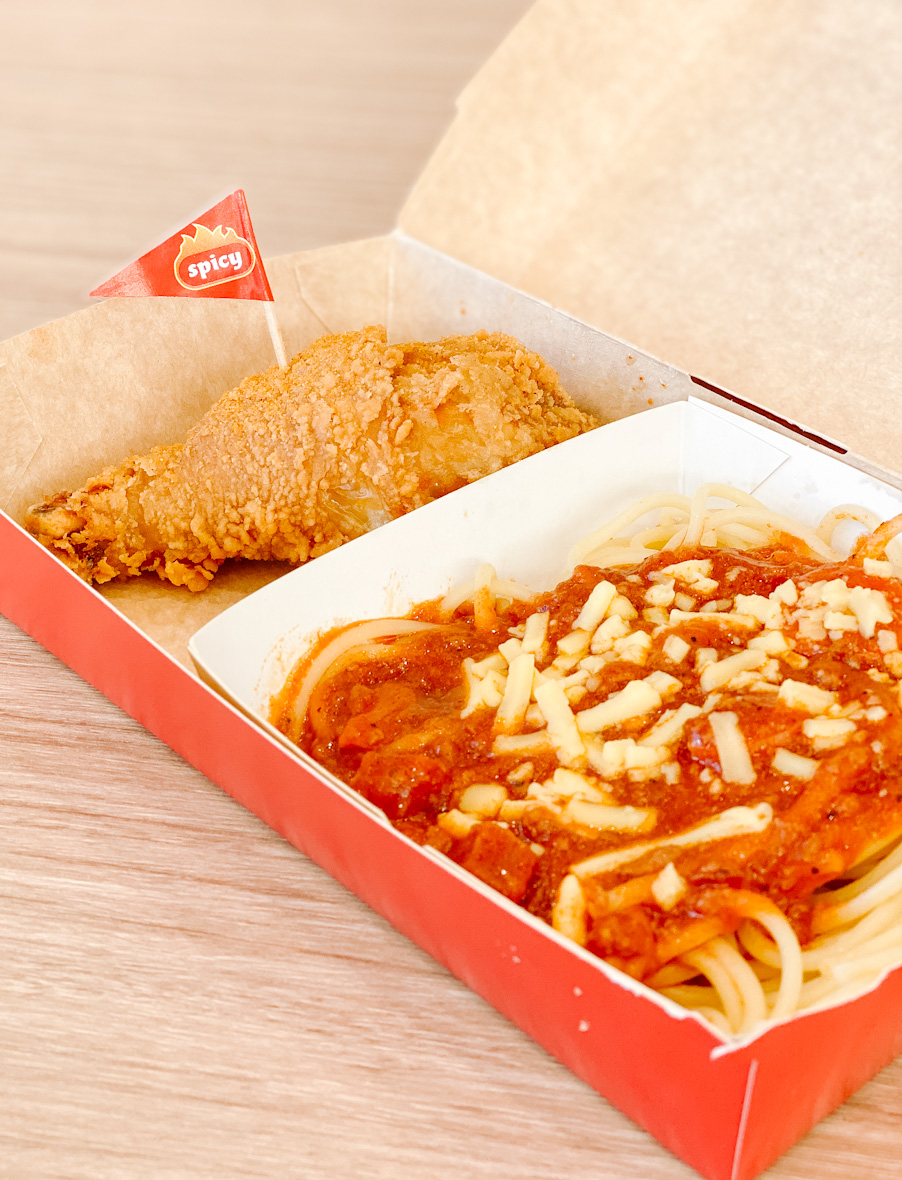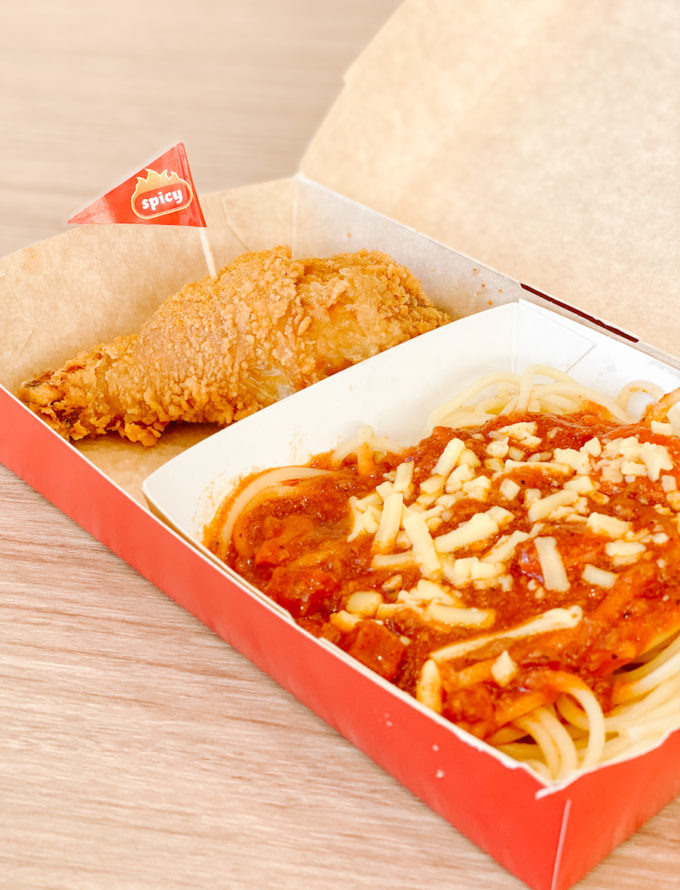 The Jolly Crispy Chicken is both crispy and juicy. We've had the regular and spicy and can tell you the spicy has incredible flavour and is way spicier than other friend chicken fast food places we've tried. My husband made a good point that sometimes spicy foods are only spicy and have no flavour. This chicken was full of flavour and spice- a great balance of both. If you're a gravy fan, then you're going to love their gravy! It goes great with their fried chicken and it's definitely a must-try. In the name of full-transparency, I'm not the biggest fan of friend chicken (I like it, but it's rarely my first choice), but I quite enjoyed the Jollibee chicken. It has got to be the juiciest chicken I've ever had.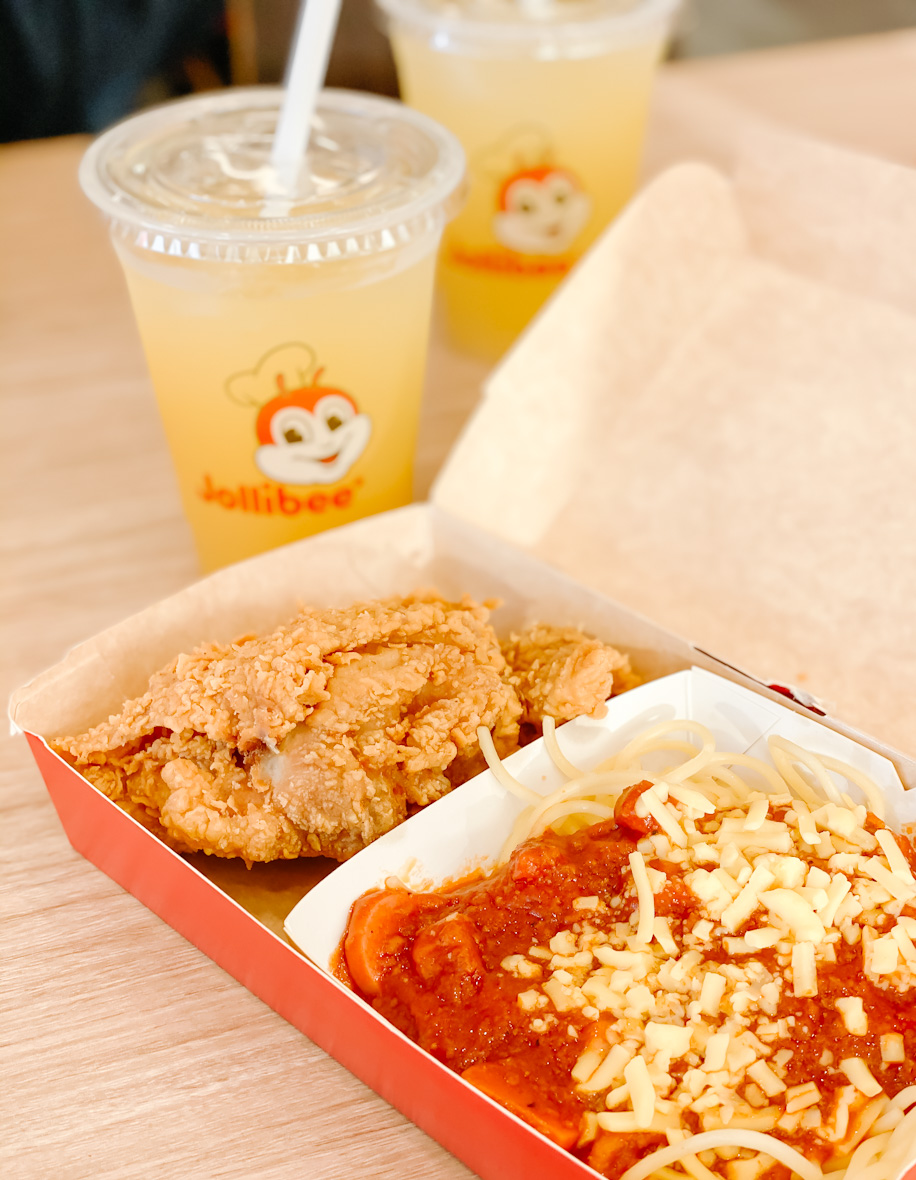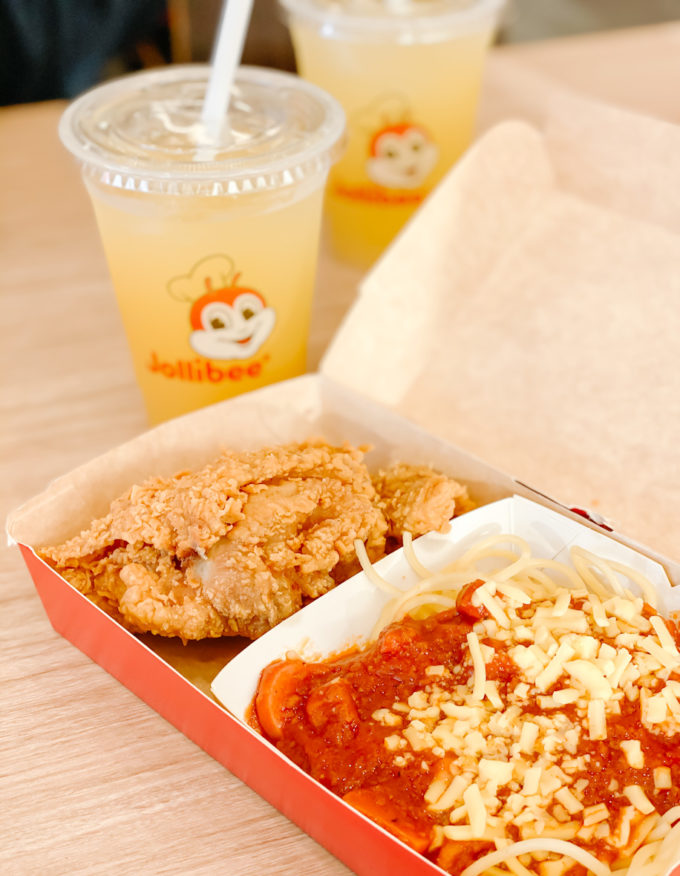 One of my personal favourites, and perhaps one of the more unusual items on the menu is the Jolly Spaghetti. It's a Filipino take on an Italian classic. The noodles are a classic spaghetti style noodle, topped with a slightly sweet Filipino-style tomato sauce (not as sweet as I was expecting), sliced hotdogs, ground meat and topped with cheese. It might sound a little weird if you've never tired it, but ya'll, I couldn't get enough. It's definitely a hit with the kids, too!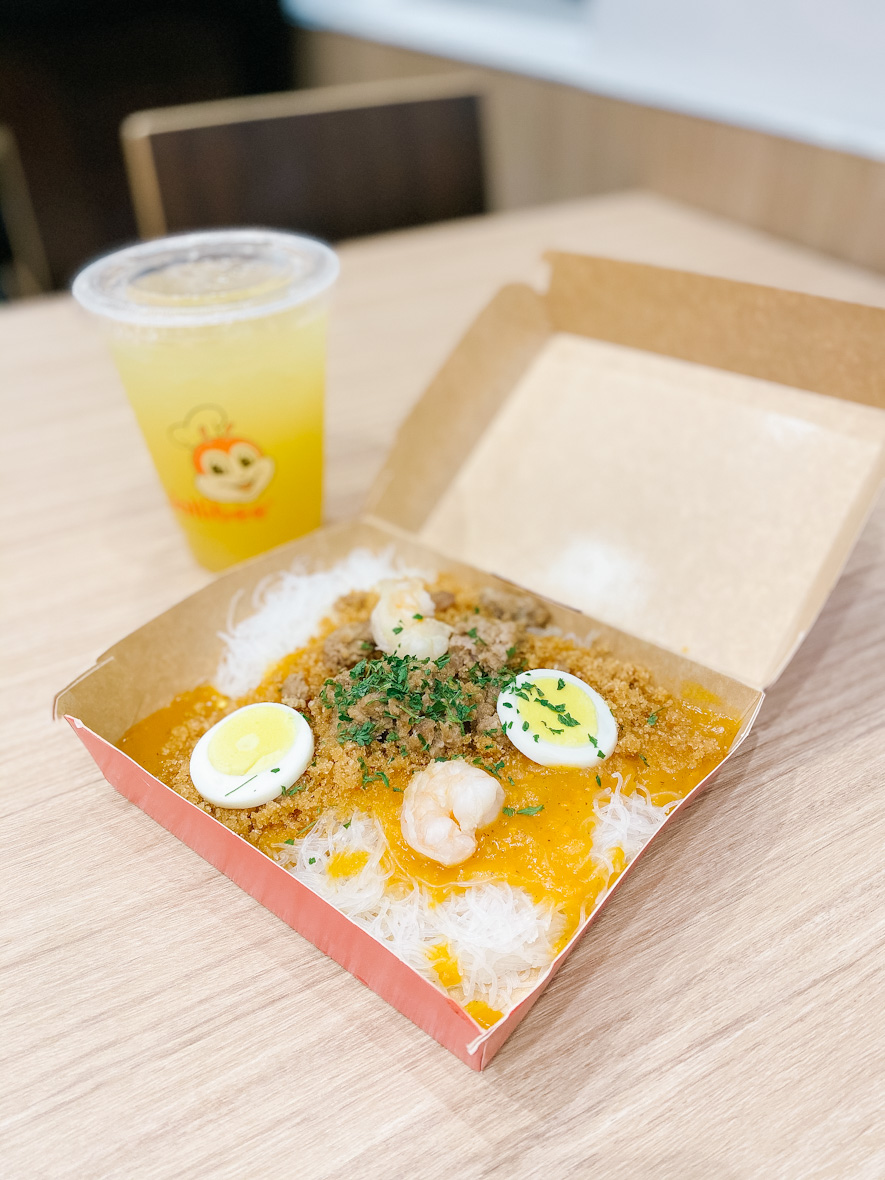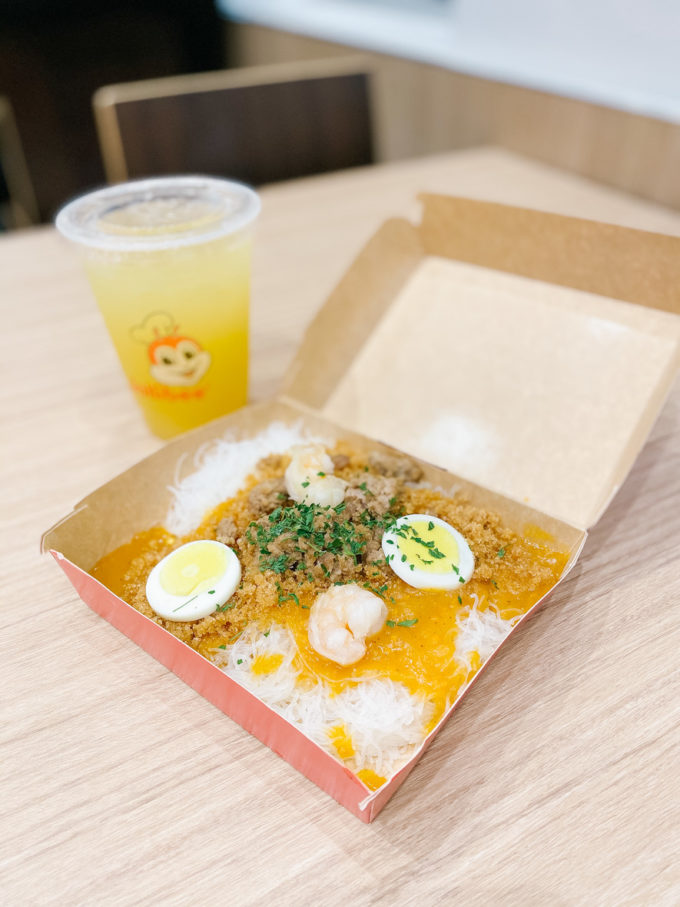 I also had the pleasure of trying the Palabok Fiesta, which is the most Filipino item on the menu. It features noodles topped with a garlic sauce, ground pork, shrimp, boiled egg and pork cracklings. You top it all off with some lemon juice, give it a good mix, and you're good to go. I've never had anything like this dish before and quite enjoyed it. The garlic sauce was savoury and delicious, and I was a huge fan of crispy pork cracklings. I would definitely order this again. I liked mine with lots of lemon!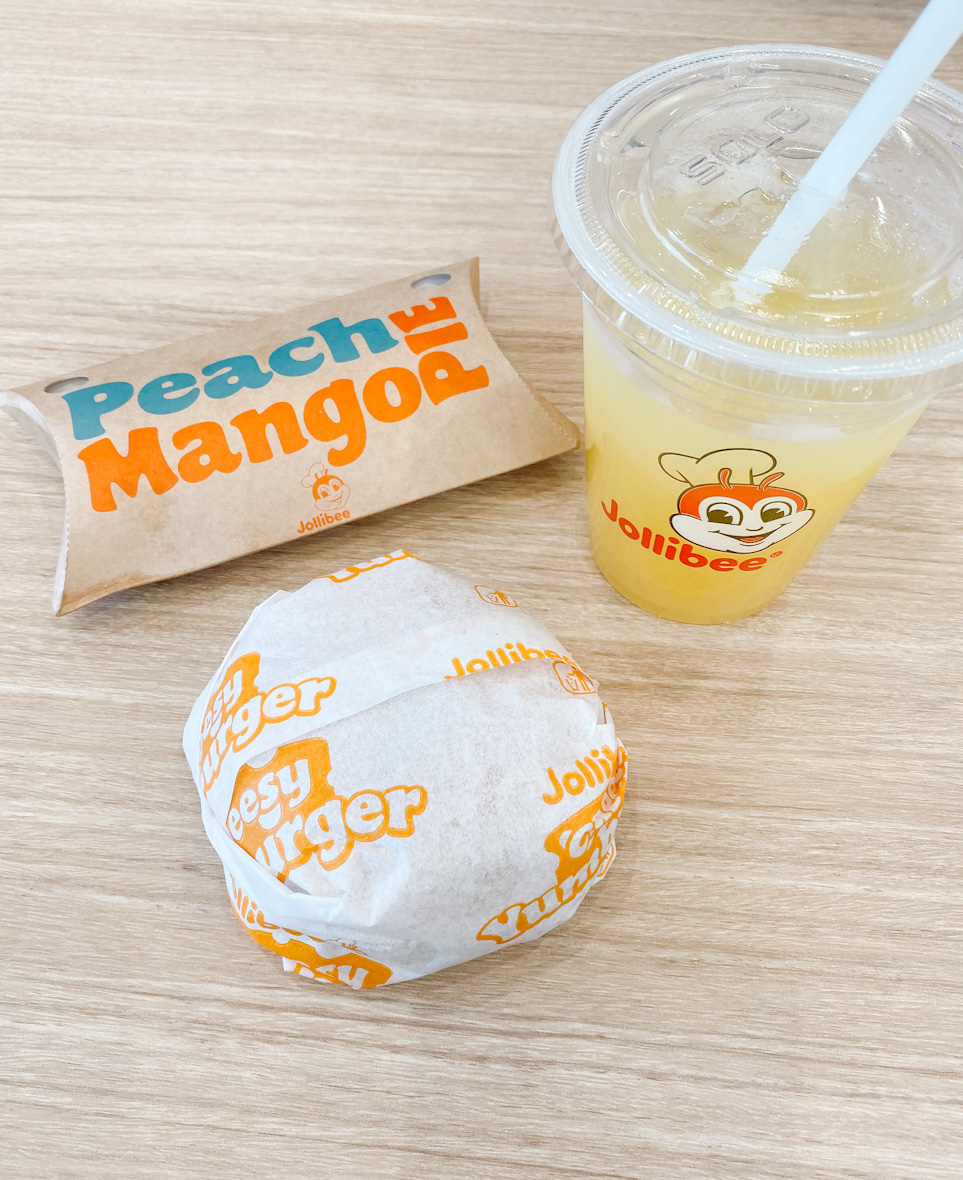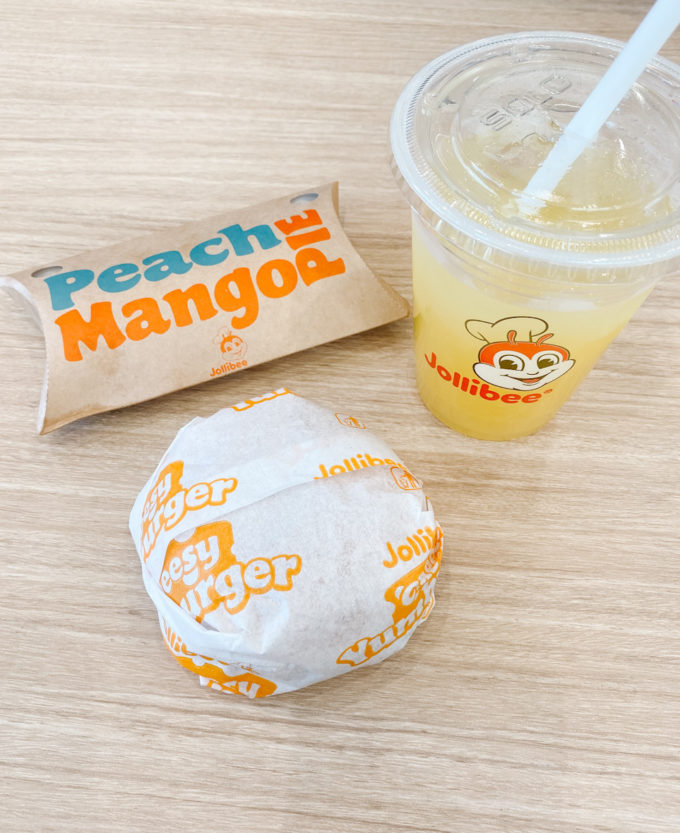 I enjoy a good fast food burger, so my husband and I ordered the Yumburger with cheese. The patty was thicker than I expected it to be, and it had a good flavour and seasoning. It was topped with a special mayo-based sauce (creamy and slightly tart) and had a super soft bun. It's a basic burger, no other special toppings, but it still hit the spot for me, and I'm sure the kids would approve of this one, too.
I would highly recommend filling your cup with the Pineapple Quencher instead of soda. It's a refreshing and sweet pineapple juice beverage and it compliments the chicken and spaghetti well.
And no trip to Jollibee is complete without a Peach Mango Pie….or two. These pies put all other fast food pies to shame. They even fly in mangoes from the Philippines to keep it authentic. The pastry is crispy and flaky and they don't skimp on the filling, which is sweet and decadent. I like to order 4 and take some home. They reheat in the oven very well, but are still excellent cold when you're in a pinch.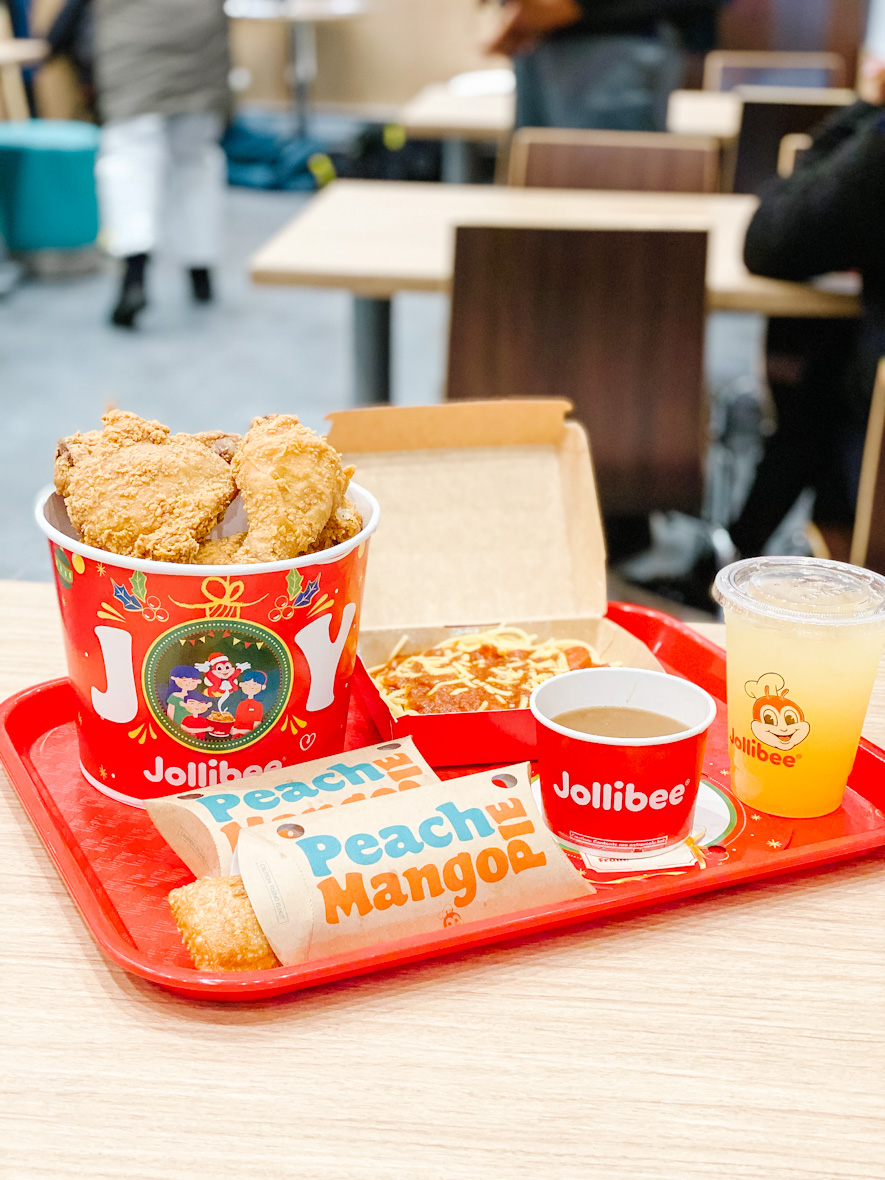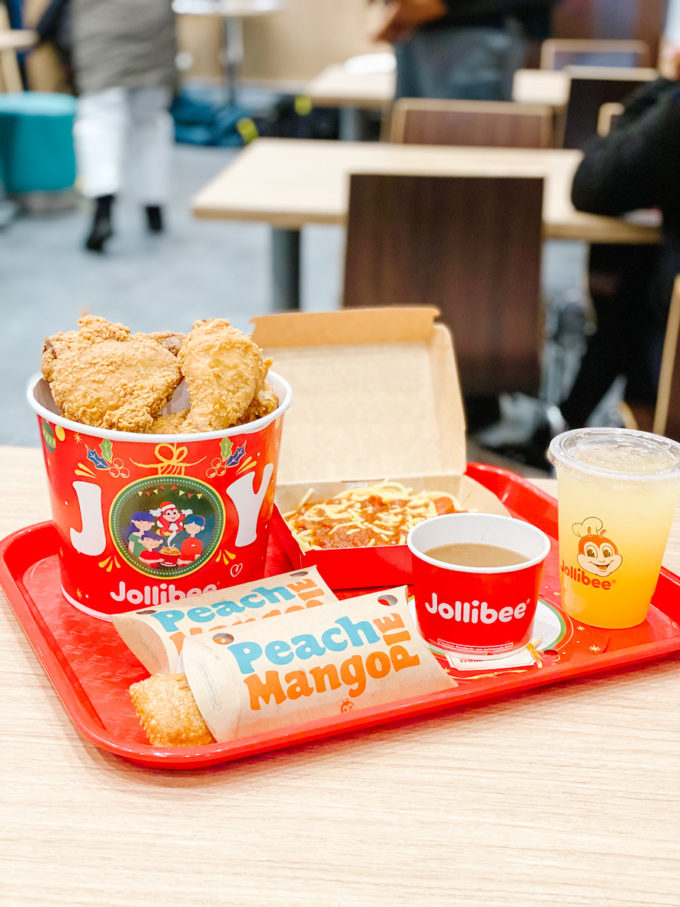 Not only is the food great, but the atmosphere is very welcoming. I had several conversations with complete strangers about the food – they take great pride in Jollibee and consider it "a taste of home" and will gladly make recommendations if you're not sure what to order. The folks that pulled me aside and asked how I liked it made me feel like we had been friends for years! It was a great first impression.
I would definitely recommend giving Jollibee a try for yourself if you haven't already. The menu features familiar ingredients, but with a Filipino spin, and if you need a recommendation, hit me up and I can help you out. Or, get in line, and spark up a conversation with someone there and I guarantee they can help you out, too!