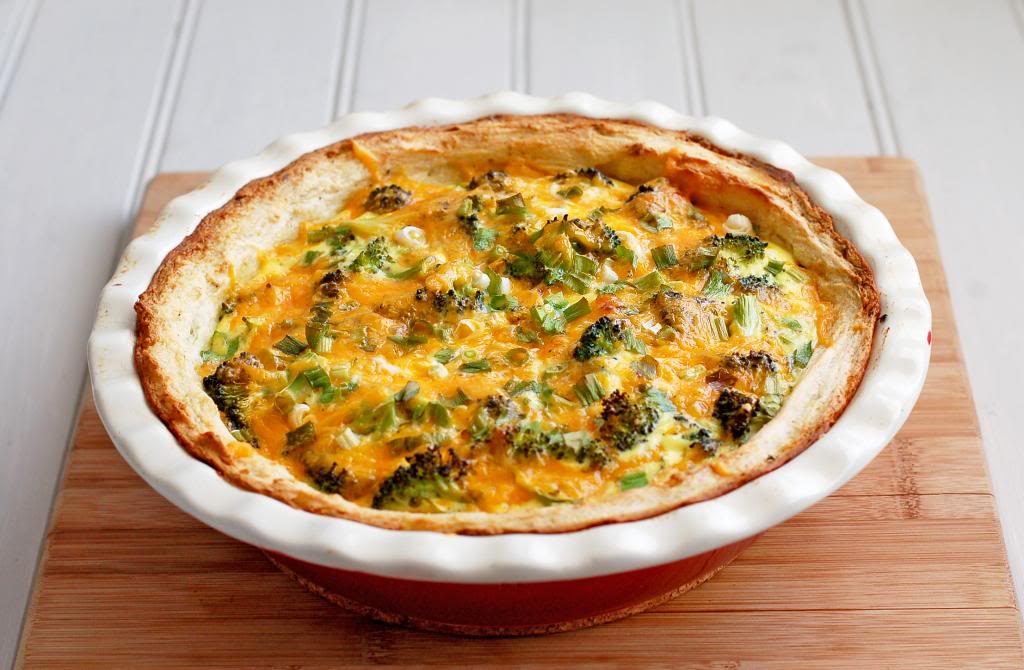 Eggs usually make an appearance at breakfast in our house during the weekend. It's pretty much the only time of week I have time to make them, so I like to do it up right! Regular 'ole scrambled eggs will not suffice. This past weekend, quiche made a special appearance. It wasn't your regular quiche with a pastry crust. Instead it was composed of mashed potatoes! Because really, not everyone wants to whip up a fancy pants pastry crust on Sunday morning. And sometimes it's nice to skip the extra calories and fat associated with a buttery, pastry crust, too.
This quiche is a great way to use up left-over mashed potatoes from supper the night before. If you don't have any, it doesn't take much time to boil a couple. While you're boiling your potatoes, you might as well steam your broccoli. The potatoes brown up and get flaky, just like your typical pastry crust, but healthier. I think I'm probably going to be using potato crusts a bit more often. The filling is a classic broccoli and cheddar combo that's perfect for a weekend brunch and sure to please!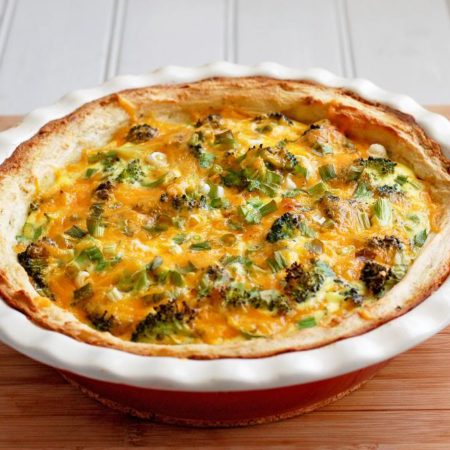 Ingredients
Crust
1

lb

Yukon Gold or baking potatoes

about 2, peeled and cut into 1 inch chunks

1/4

cup

milk

1/2

tsp

salt

1

tbsp

olive oil
Filling
2

cups

coarsely chopped

cooked broccoli *I steamed mine

1

cup

grated cheddar cheese

3

eggs

3/4

cup

milk

1/2

tsp

salt

1/2

tsp

pepper

pinch

ground nutmeg

2

green onions

chopped
Instructions
Cook potatoes in a large pot of boiling water for about 20 minutes, or until tender. Drain well. Mash with milk and salt. Taste and adjust seasonings if necessary. You should have about 2 cups of mashed potatoes.

Preheat oven to 375 degrees F.

Brush a deep 9-inch pie plate with half the oil. Press in mashed potatoes. Brush with remaining oil.

Bake crust for 25-35 minutes or until potatoes are lightly browned and crusty. Remove from oven, and reduce oven temperature to 350 degrees F.

Arrange broccoli and then cheese over bottom of crust.

Whisk together eggs, milk, salt, pepper and nutmeg. Pour over broccoli and cheese. Sprinkle with green onions.

Bake quiche for 25-35 minutes, or until slightly puffed, browned and just set. Allow to cool for 10 minutes before serving.
Nutritional calculation was provided by WP Recipe Maker and is an estimation only. For special diets or medical issues please use your preferred calculator