Hey #YQR, Renée is coming our way on May 2nd. She will be selling and signing her new book, All The Sweet Things at Tangerine (2234 – 14th Avenue) from 3-6PM. Not only that, but she will have goodies from her book for you to enjoy! Be sure to stop in and say Hi!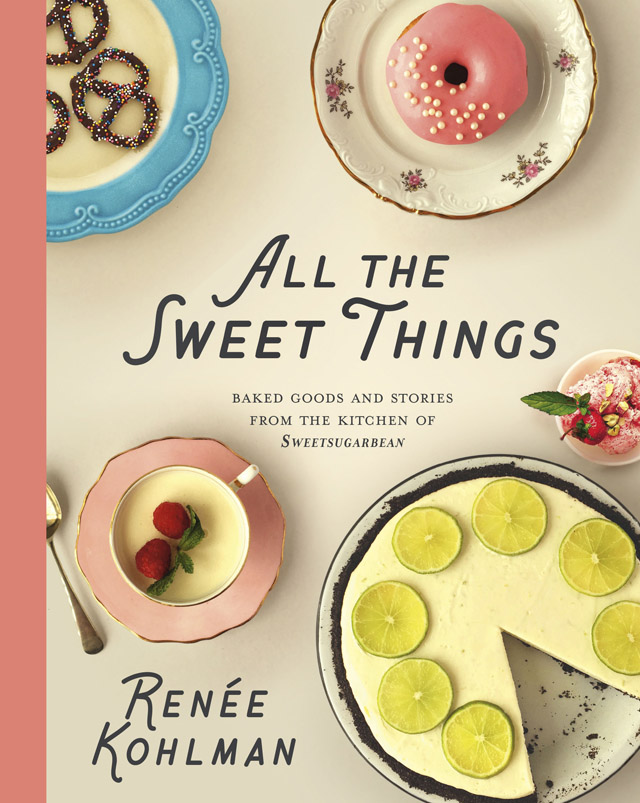 Friends, do yourself a favour, and get your hands on All the Sweet Things by Renée Kohlman. This beautiful book contains over 100 recipes from the kitchen of one of my fave Canadian bloggers, SweetSugarBean.
I was lucky enough to get my chubby hands on a copy early at McNally Robinson in Saskatoon about three weeks ago. I bought the second last copy on the shelf and read it cover to cover on my drive back to Regina (don't worry folks, I wasn't driving).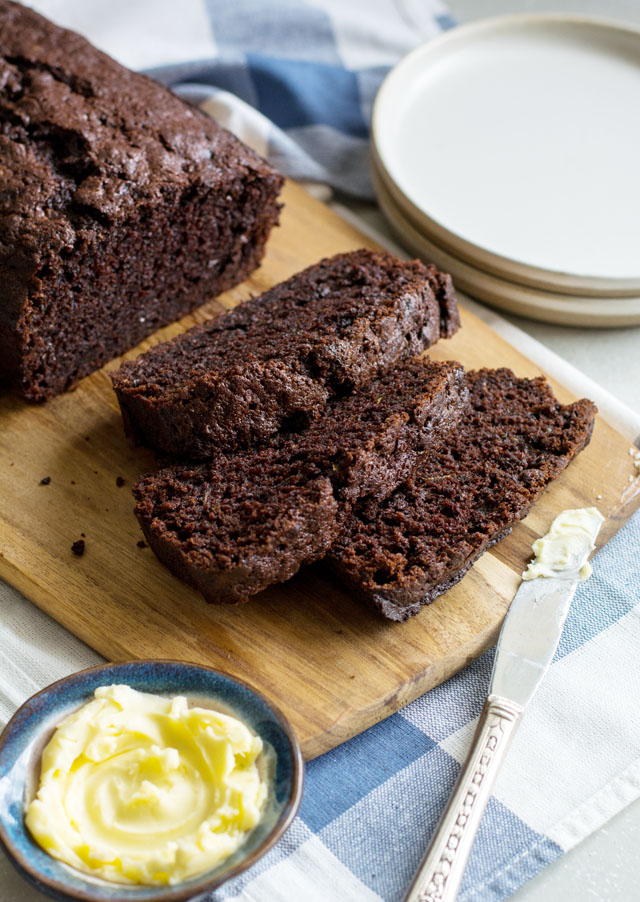 All the Sweet Things is 300+ pages of irresistible recipes (gluten-free options, too) and impressive photography – she photographed more than 80% of this book using her iPhone! Her recipes are approachable, use pantry staples and she touches on all topics from breakfast to cakes, puddings to pastry, even foodie gifts to give away.
I love that she features family favourite recipes, such as Puffed Wheat Cake, Jam Jams, and Aunt Helen's Big Batch Buttermilk Bran Muffins. You will also find classic Canadian recipes such as Matrimonial Cake, Saskatoon Berry Pie and FLAPPER PIE for heaven's sake! We all need Flapper Pie in our lives!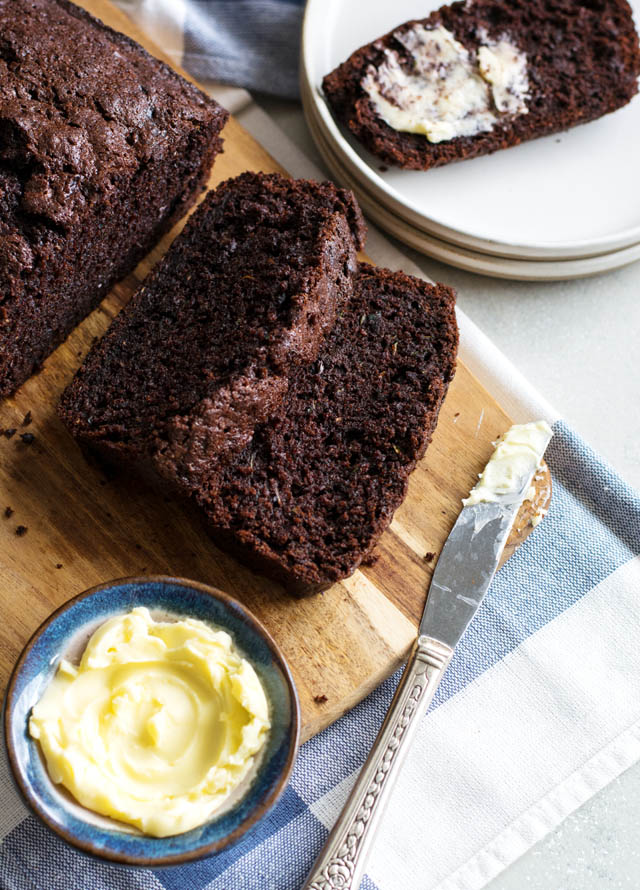 In the last three week's I've made three recipes from this book and they have been a huge hit with my family and friends. First, I made Renée's Classic Vanilla Cake (pg. 150) for a birthday. You simply cannot go wrong with a classic vanilla cake, and this recipe is a keeper!
Second, I whipped up a batch of Double Chocolate Zucchini Olive Oil Bread (pg. 102 & recipe is listed below). Renée quips, "I'm almost certain that zucchini was invented just for the purpose of turning it into delicious baked goods" and I couldn't agree more. We all know the struggle in the fall – more zucchini than we know what to do with. We give half away, and stuff the rest into zucchini bread. This recipe was the perfect amount of chocolate, with random, delightful pockets of chocolate chunks, perfectly tender and has been breakfast for me all week. No complaints here.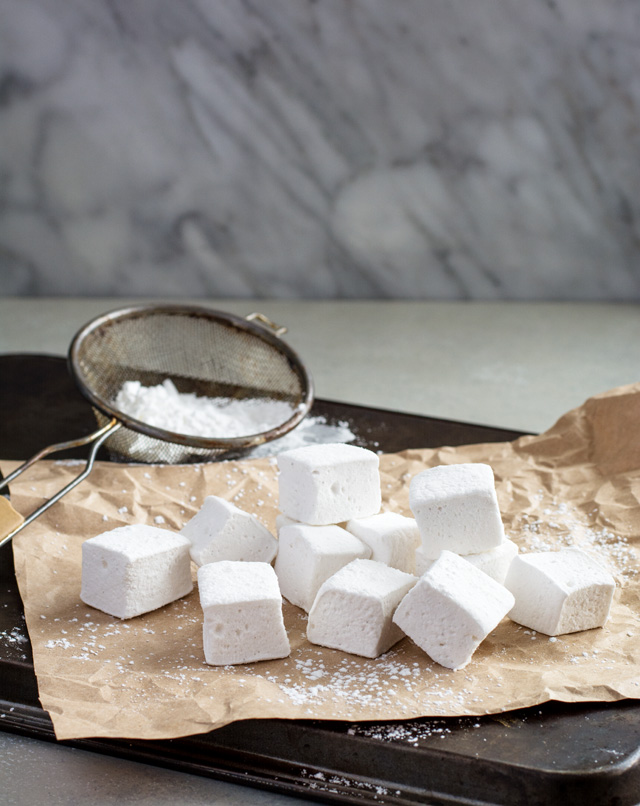 Lastly, I whipped up a batch of fluffy Vanilla Bean Marshmallows (pg. 272). These are a problem – in a good way! Once you make homemade marshmallows for the first time, it's going to be hard to go back to the ones you get at the grocery store. These win in all categories – texture, taste and meltability. They do take some planning ahead, as they need to cure for at least 6 hours at room temperature, but are well worth the wait. I even made half the batch into homemade rice crispy squares and they received rave reviews! In All the Sweet Things, this recipe falls under the category of "To Give Away", so that is exactly what I did. I gave a bag full to my best friend and her daughter gobbled them up!
Of course I kept some for myself 😉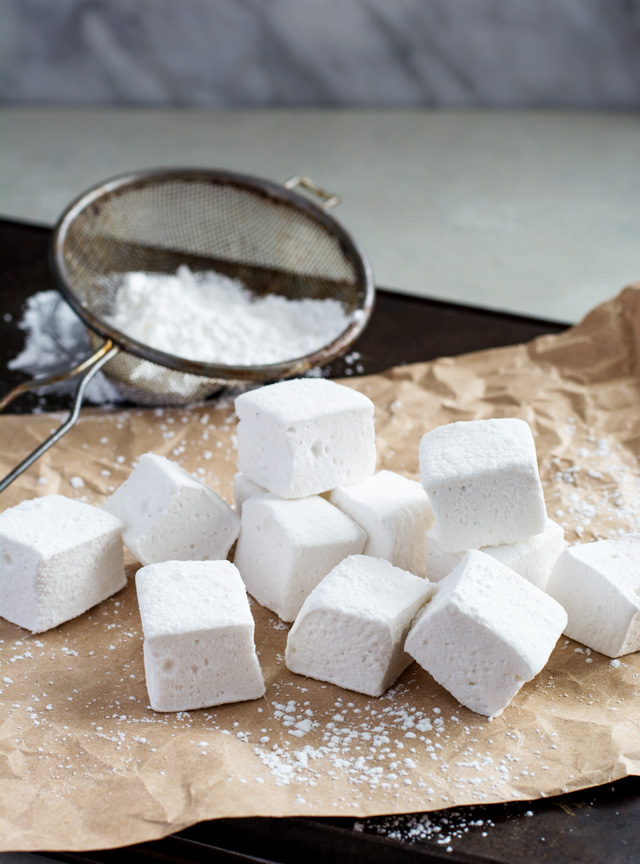 The recipes are delightful, but I also love the stories she tells, and how they weave into the recipes she's sharing. She writes in such a way that makes me feel like I've known her forever. She gets personal and writes about overcoming heartache and her relationships with her family. I can relate to this woman on so many levels! I mean, how could I not? She loves butter and sugary goodness just as much as I do! Seriously, she's got a whole chapter on Dessert for Breakfast – Renée is officially my spirit animal!
All the Sweet Things is a gorgeous book filled with stories and recipes to feed your heart and soul. Whether your looking for something new to bake, such as Raspberry and Rosewater Meringue Jelly Roll (pg. 238), or you just want something familiar and comforting, like Chocolate Chip Cookies (pg.88), there's something for everyone in this book.
Disclosure: This is not a sponsored post. I purchased this book on my own. This recipe is being shared with you with permission from Touchwood Editions.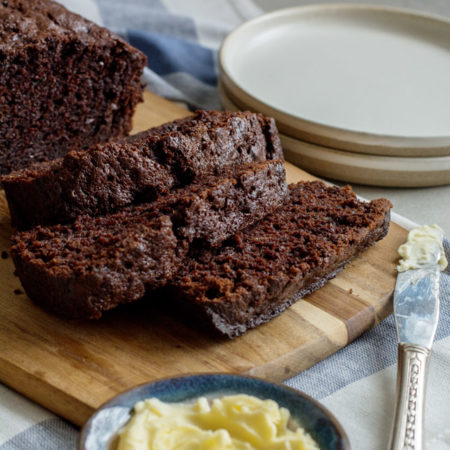 Ingredients
1

cup

all-purpose flour

1/2

cup

unsweetened cocoa powder

3/4

tsp

baking soda

1/4

tsp

baking powder

1/2

tsp

salt

1/2

tsp

ground cinnamon

1/2

tsp

ground cardamom

2

cups

shredded zucchini

skin on

1/2

cup

dark chocolate chunks or chips

2

large eggs

at room temperature

1/2

cup

granulated sugar

1/2

cup

packed brown sugar

1/2

cup

extra virgin olive oil

1/4

cup

buttermilk

at room temperature

2

tsp

pure vanilla extract
Instructions
Preheat the oven to 350°F. Place the rack in the centre of the oven. Line a 9×5×3-inch loaf pan with parchment paper overhanging the sides. Lightly butter the paper.

Sift together the flour, cocoa, baking soda and baking powder into a large bowl with the salt, cinnamon and cardamom. Stir in the zucchini and chocolate chunks. Whisk together the eggs, sugar, brown sugar, olive oil, buttermilk and vanilla in another bowl. Pour this into the zucchini mixture and stir just until combined.

Scrape the batter into the prepared pan and bake for 50–60 minutes, until the bread has risen and a toothpick inserted in the centre comes out clean but with a few crumbs clinging to it. Let the loaf cool in the pan on a wire rack for 20 minutes, then remove the loaf from the pan and let cool completely on the rack.

Store the zucchini bread in an airtight container at room temperature for up to 3 days, or freeze for up to 2 months.
Nutritional calculation was provided by WP Recipe Maker and is an estimation only. For special diets or medical issues please use your preferred calculator
Notes
Note: If the shredded zucchini is full of moisture, squeeze it dry in a clean dishcloth before adding to the batter.