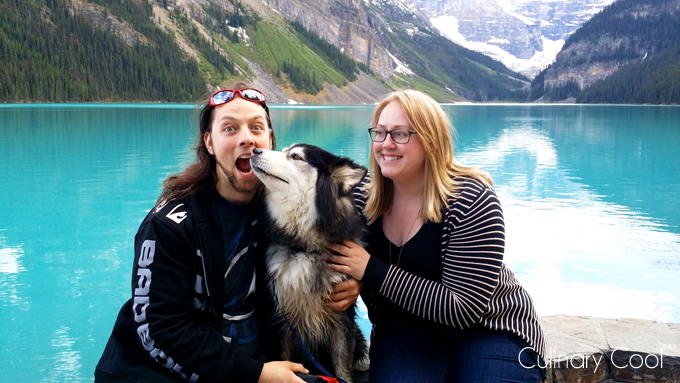 My boyfriend and I took a last minute trip up into the Canadian Rocky Mountains and enjoyed the first official day of summer taking in the fresh air, breathtaking sights and enjoying some quality time together. We brought our dog, Zoe, along with us for the ride and she was very popular with the other tourists. Needless to say, the three of us are in a lot of strangers family photos. Seriously….while this photo was being taken, there were two other ladies taking a picture and recording video of us. Very creepy….
Aside from the sights, we also ate some pretty darn good food! Banff National Park has lots to offer in the food department, especially if you venture off the main roads and stay away from chain restaurants. Travel global, eat local!
Wild Flour – Banff's Artisan Bakery Cafe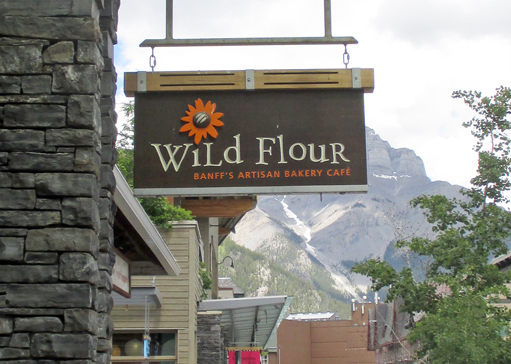 We arrived in Banff just after lunch and we had just eaten some small snacks on the drive up. I had been waiting all day to try Wild Flour, but sadly, we were quite disappointed. Their lunch selection was small, and we both decided on the gourmet grilled cheese which was just cheese and caramelized onions. I'll admit the bread was tasty, but overall, the sandwich was unsatisfying. Not what I would define as gourmet. I'd still be willing to try it again, but definitely order something different. They had shelves of homemade bread, which all looked incredible and I would certainly love to give them all a try.
Banff Candy Store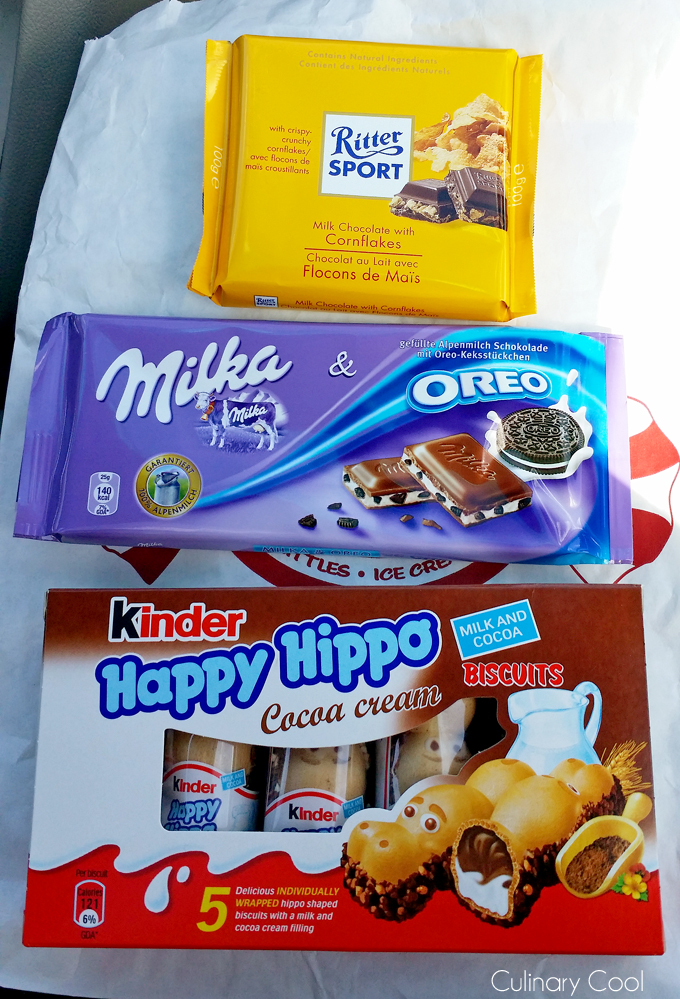 Ever since my first visit to Banff, I've loved stopping in at the Banff Candy Store to see what kind of fun and unique items they have. This time, I picked up a chocolate bar with cornflakes, and one with Oreos from Germany, as well as Kinder Hippos from the UK. They were all awesome, but my favorite was definitely the cornflakes one. It reminded me of the chocolate Easter bunnies that have the rice cereal inside; my favorite!
Bear Street Tavern
For supper, we chose to pick up some pizza. Since we had the dog with us, we couldn't sit down and eat anywhere, so we took everything to go. We picked two pizzas from Bear Street Tavern. While I waited at the bar for the pizza to be ready, (Scott and Zoe took a ride to fill the car with gas) I sipped on something called the Mountain Moose, which is a fabulous cocktail made with lychee liqueur, muddled lychee, lime and ginger. I could have easily ordered another, but on an empty stomach, that would have been a bad idea.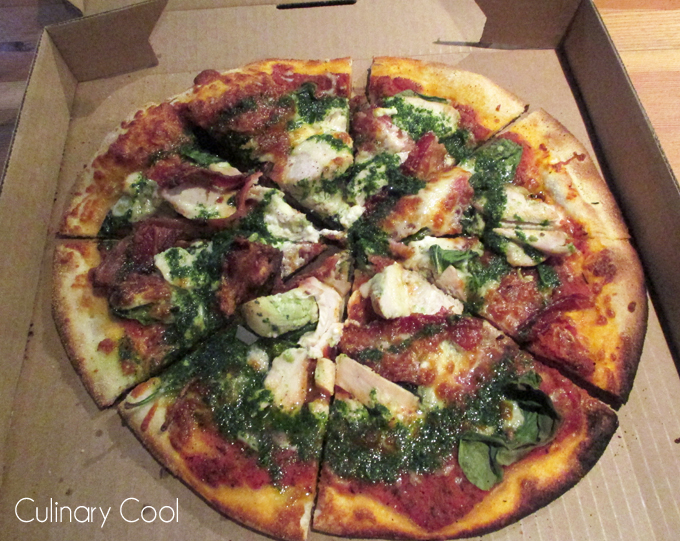 I had the Big Bird which was chicken, bacon, spinach, onions, goat cheese, mozzarella, and pesto. The bacon was perfectly crisp and it was loaded with pesto. I only wish it had more goat cheese.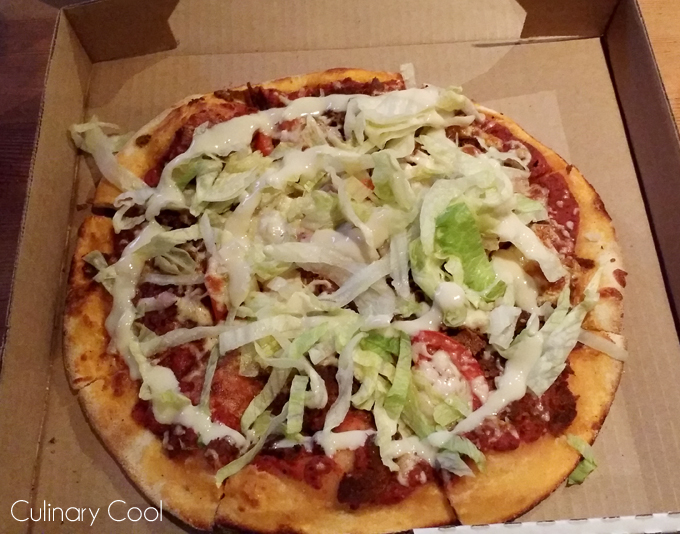 Scott asked our waiter for recommendations and he said the Donair is their best -selling pizza, so obviously, we had to give it a try. The Donair consisted of a house-made bison donair, onions, tomatoes, shredded lettuce, mozzarella, and a garlic sweet sauce. The Donair was by far the winner! It had some heat to it, and the bison donair was tender and full of flavor. We would definitely order this again.
Rocky Mountain Bagel Company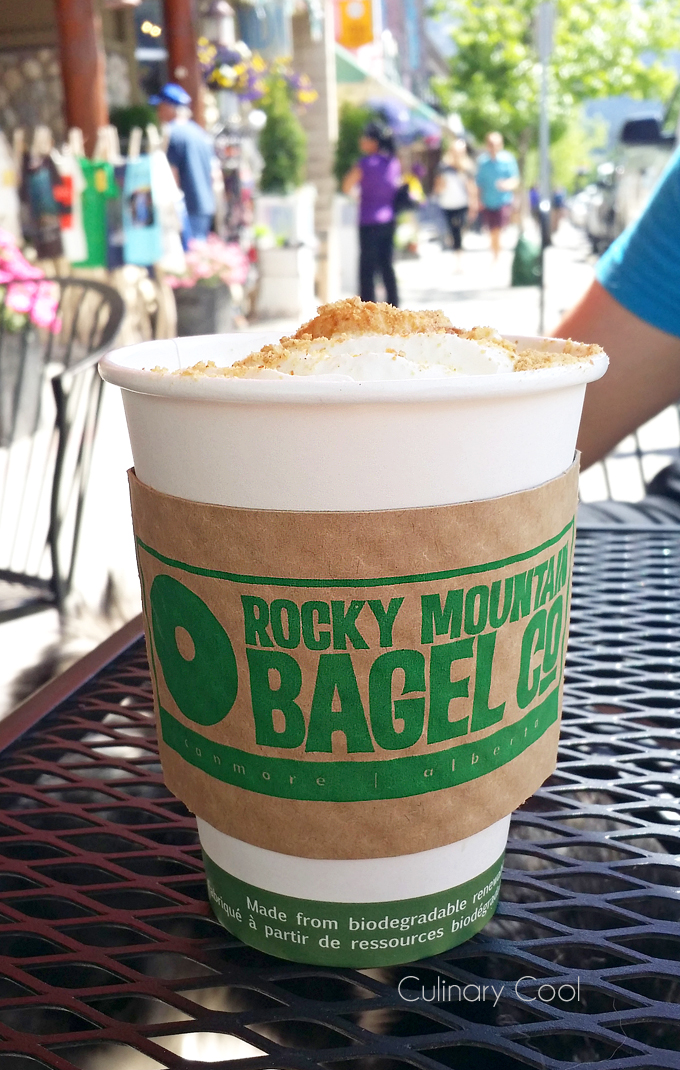 I can't say enough good things about the Rocky Mountain Bagel Company and highly recommend it to everyone. This is the one restaurant that I always stop in at when I'm in Canmore/Banff. They make their bagels and 99% of their menu items all in-house, and everything is fresh. I always grab a bag of day-olds to take home. Even on day 3 or 4 they are fabulously soft and delicious. Even their beverage menu is outstanding. I ordered the S'mores Macchiato with marshmallow whipped cream and graham crackers. It was damn good!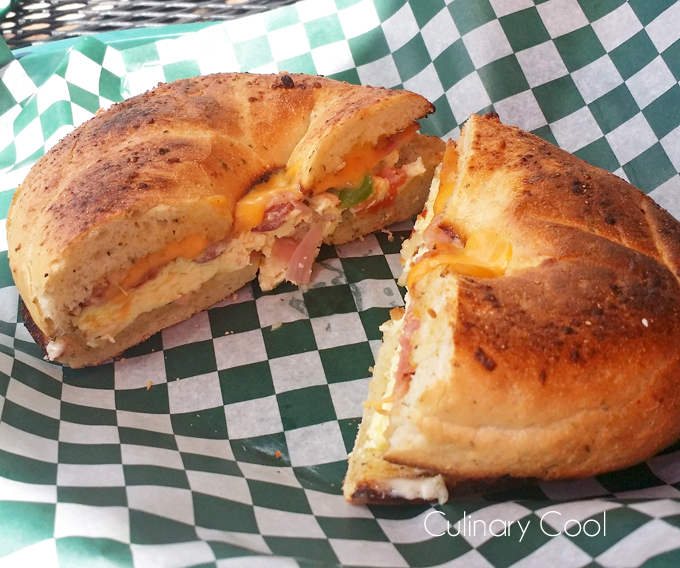 Obviously, their bagels are unbeatable! I ordered The Works on the Parmozza bagel. It included egg, honey ham, tomatoes, green peppers, onions and cheese. The bagel was toasty on the outside and perfectly soft on the inside. I could really taste the Parmesan cheese which I loved (cause I'm a cheese freak). Scott ordered the Amigo on whole wheat and it was bursting at the seams with salsa and it tasty as hell! As a bonus, we could bring Zoe out on their patio and they even had a big bowl of water for her!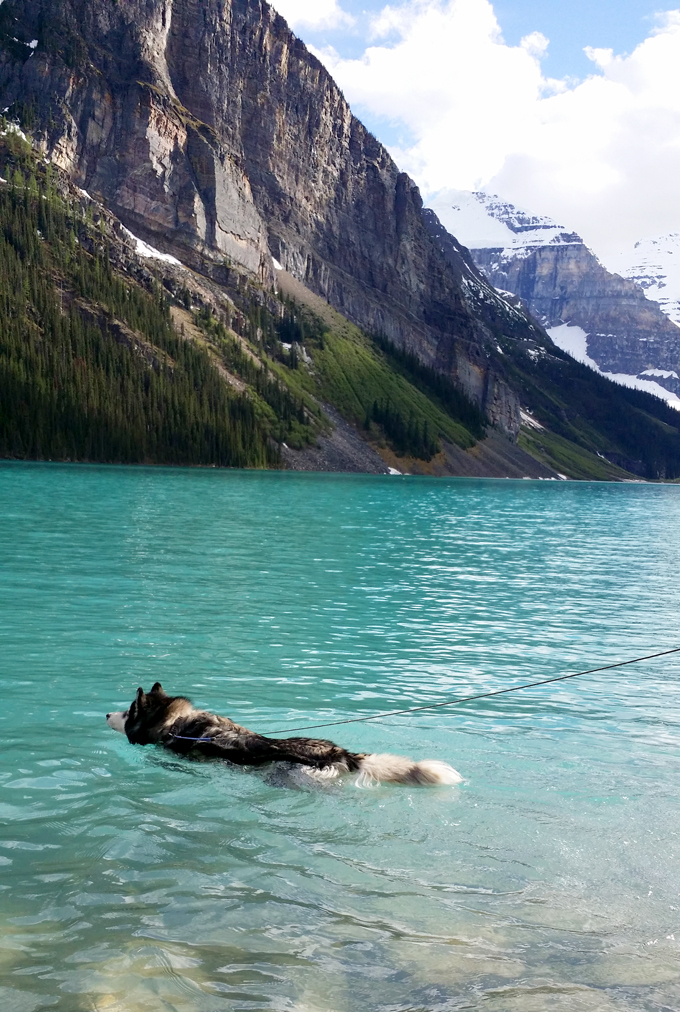 I love being in the mountains and it was great that we could bring Zoe along with us this time. She loved all the attention, the multiple dips in Lake Louise and the food scraps. We are looking forward to next summer to do more hiking in the mountains.