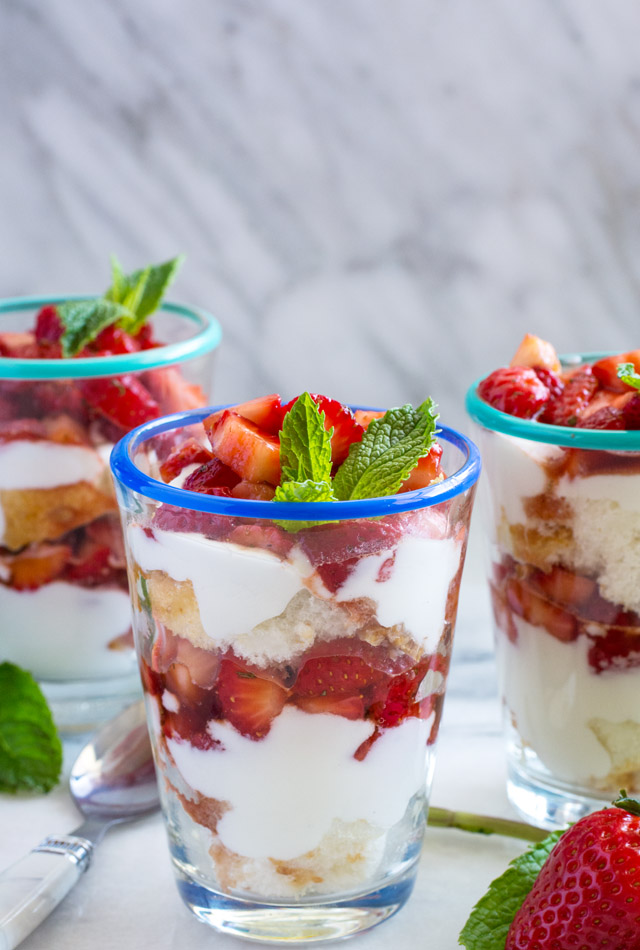 I've never successfully grown strawberries. I bought a plant once and it produced a couple berries over the course of two seasons, and then died and never came back. Typical. I blame the gumbo-eque soil that plagues this part of our city (it's a lake bed after all). I have a bad track record with fruit trees and bushes, so I've given up. I'll just envy all of you who have the ability to keep that shit alive. It's not in the cards for me.
Since I can't grown 'em, I gotta buy 'em. I can't wait until there are fresh, local berries at the farmers market, grown by people who know what the hell they're doing. A local orchard was selling a variety they called "bubblegum strawberries" last year and I'm keeping my fingers crossed I can get more this year. They didn't really taste like bubblegum, but they tasted sweeter and more like candy than any other berries I've tried before.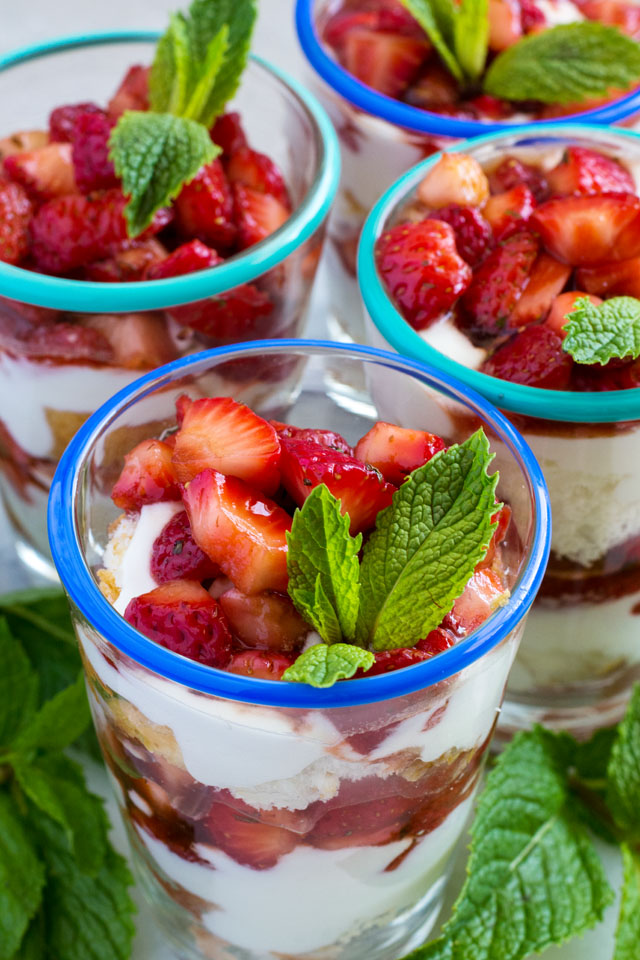 You can do so many wonderful things with strawberries. Currently, I'm macerating them with a simple syrup spiked with balsamic vinegar and mint. From there, you can do pretty much anything. Pair the berries with some sweetened goats cheese and angel food cake, and you have yourself a winning dessert that's perfect for a backyard bbq, potluck, Mother's Day, or you know, a Tuesday night that still feels like a Monday (ugh, aren't those the worst?!)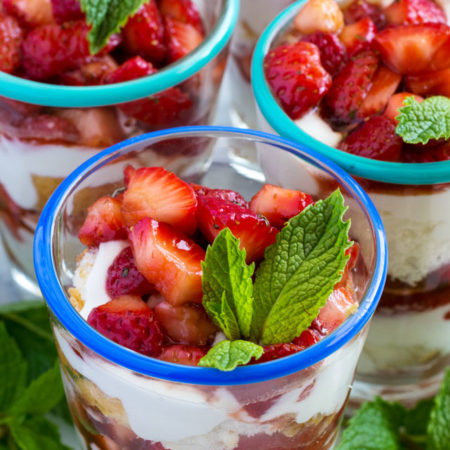 Ingredients
Balsamic and Mint Syrup
1/4

cup

water

1/4

cup

sugar

2

tbsp

balsamic vinegar

1-2

tbsp

finely chopped mint leaves
Whipped Goat Cheese
1/2

cup

whipping cream

1/2

cup

goat cheese

1/4

cup

sugar
Assembly
1

lb

strawberries

hulled and chopped

angel food or shortcake cut into cubes

mint for garnish
Instructions
Syrup
In a small saucepan over medium heat, add water and sugar and stir until sugar has dissolved. Add the mint. Bring to a boil and continue to boil for about 5 minutes, or until the mixture thickens and forms a syrup.

Add the balsamic vinegar and boil for another 3 minutes.

Remove from the heat and allow to cool slightly. If you wait too long, the syrup with thicken too much and get hard.

Pour over chopped strawberries and let sit for about a half hour.
Whipped Goat Cheese
In the bowl of a stand mixer, fitted with the paddle attachment, add whipping cream, goat cheese and sugar. Beat until well combined and thickened. I find it helps to use the whisk attachment once everything is smooth. It helps the cream to thicken up a bit. You can also whip the cream until slightly thickened before adding the goat cheese. Refrigerate until ready.
To Assemble.
In trifle cups (or any small glass of your choosing) layer in the angel food or shortbread, followed by whipped goat cheese, then the berries. Repeat, until the glass is full. Top with extra strawberries and mint.
Nutritional calculation was provided by WP Recipe Maker and is an estimation only. For special diets or medical issues please use your preferred calculator