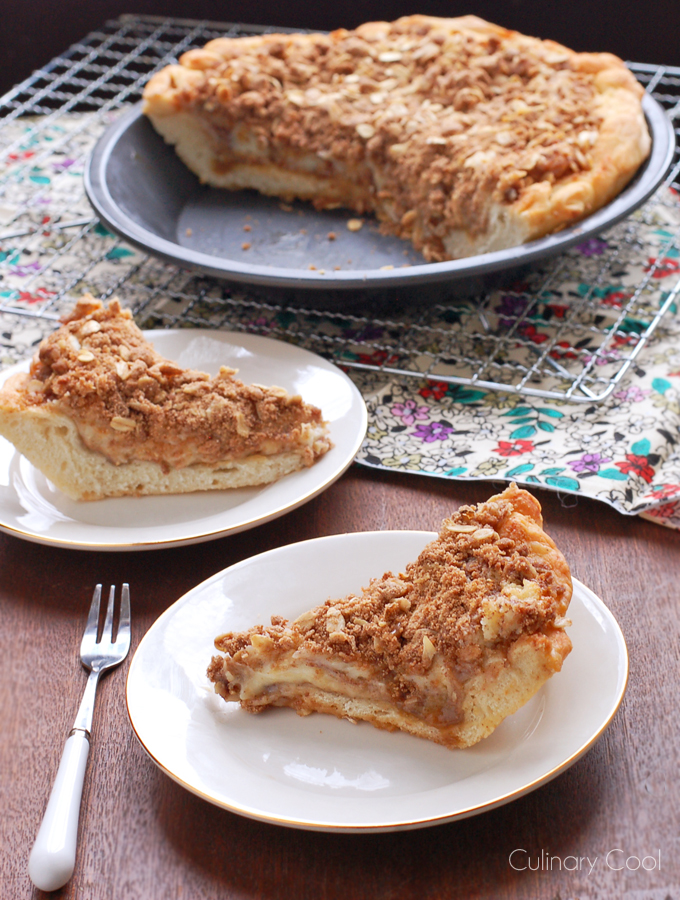 The day has arrived. The day that I've been brainstorming ideas for all month. Its Pi Day. I missed it last year, so I knew I had to concoct something this year. I scoured cookbooks and magazines and kept coming back to this. Cinnamon Bun Pie. It's far from your average pie. It has a dough crust instead of flaky pastry and the filling is a rich and smooth cheesecake, layered with brown butter and cinnamon. To top it off, a crunchy, sweet streusel.
In a way, cinnamon bun pie is a 'lazy' cinnamon roll. There's no rolling and cutting involved. Instead of smearing or drizzling cream cheese frosting over the fresh-from-the-oven rolls, you simply make it into a filling and pop it into the oven.
This recipe is from the Momofuku Milk Bar cookbook and can look intimidating with all the different steps, but I assure you, it's not complicated. It requires some planning ahead, such as making the cheesecake filling and allowing it to cool completely and giving yourself about an hour for the dough to be ready. You also should let the baked pie cool completely which allows the cheesecake filling to set fully. Rest assured, the wait is completely worth it!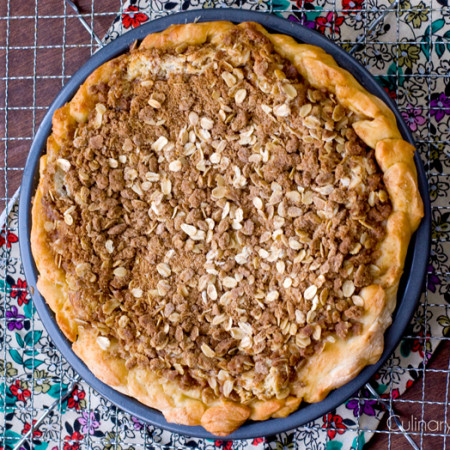 Ingredients
To make the Pie
1

recipe Mother Dough

proofed (recipe follows)

3

tbsp

flour — for dusting

1/4

cup

brown butter

1

recipe liquid cheesecake

recipe follows

1/4

cup

brown sugar

tightly packed

1/4

tsp

kosher salt

1

tsp

cinnamon

1

recipe cinnamon streusel

recipe follows
Mother Dough
275

g

bread flour — you can use all purpose if that's all you have

6

g

1/2 tbsp salt

1/2

tsp

instant dry yeast

190

g

water

at room temperature

grapeseed oil
Liquid Cheesecake
1

– 8 oz block cream cheese

150

g

sugar

1

tbsp

cornstarch

1/2

tsp

kosher salt

2

tbsp

milk

1

egg
Cinnamon Streusel
1/4

cup

flour

1/4

cup

rolled oats

1

tsp

cinnamon

1/4

tsp

kosher salt

2

tbsp

brown sugar

2

tbsp

butter

melted

1/8

tsp

vanilla extract
Instructions
To make the Mother Dough:
In the bowl of a stand mixter, stir together the flour, salt, and yeast. Slowly add the water while you continue to stir. Mix for 1 minute by hand until the mixture has become a shaggy mess.

Engage the bowl and dough hook and have the machine mix the dough on the lowest speed for 3 minutes or until smooth and cohesive.

Knead 4 more minutes or until it looks like a wet ball – it should bounce back when lightly poked.
To make the cheesecake
Heat the oven to 300 degrees F.

In the bowl of a stand mixer, mix the cream cheese on medium speed for 2 minutes, or until fairly smooth. Scrape down the bowl.

Pour in the sugar and mix for an additional 1 to 2 minutes, or until well combined. Scrape down the bowl.

In a smaller separate bowl, whisk together the cornstarch and salt. Then mix in the milk and egg into one uniform mixture.

Pour the egg and cornstarch miture into the cream cheese mixture and combine on medium low speed for 3 to 4 minutes.

Scrape down the sides and pour into a greased 6x6 inch cake pan.

Bake for 15 minutes. It is done when the middle is still jiggly but the outside is slightly set. Keep in the fridge for 1 week.

Brush a large bowl with oil, move the dough into the bowl. Cover the bowl with plastic wrap and proof at room temperature for 45 minutes, or until almost doubled in size.

The dough stays good at this point for 3 days in a well wrapped container. Bring the dough to room temperature before using.
To make the streusel
In a large bowl, combine the flour, oats, cinnamon, salt, and brown sugar until well combined.

Lightly toss the dry mixture with the melted butter and vanilla until almond-size clusters form.
To Make the pie
Heat the oven to 350 degrees F.

Punch down and flatten the proofed dough. Take a pinch of flour and dust your counter and rolling pin.

Stretch your dough (like your making a pizza) and roll it to about 11 inches in diameter and about 1/4 to 1/2 inch thick.

Gently place the dough in your pie pan and press it into place. Place the pie pan on a cookie sheet.

Spread 1/2 the brown butter in an even layer over the dough.

Using a separate spoon, carefully spread 1/2 the liquid cheesecake in an even layer over the brown butter.

Gently spread the remaining brown butter over the cheesecake layer and spread it as evenly as your can.

Scatter the brown sugar over the butter. Tap it down with the back of your hand to keep it in place.

Sprinkle evenly with the salt and cinnamon.

Gently spread the remaining cheesecake over everything.

Sprinkle evenly with the cinnamon streusel.

Bake the pie for 40 minutes. After 40 minutes give it a little shake. The center should be slightly jiggly but set towards the edges. If you feel you need to bake a bit longer, check every 5 minutes until done.

Cool the pie on a wire rack and serve warm.
Nutritional calculation was provided by WP Recipe Maker and is an estimation only. For special diets or medical issues please use your preferred calculator
Notes
To store: wrap in plastic wrap and keep in the fridge for up to 3 days (or freezer for up to 1 month).
To serve: slice and warm in the microwave for 30 seconds on 100% power. Or you can preheat the oven to 250 degrees F and warm the whole pie for 10-20 minutes.
Recipe from Momofuku Milk Bar