Classic and impeccably easy, Corn Fritters are the perfect side dish for any summertime meal. They're crispy, cheesy, and totally delicious!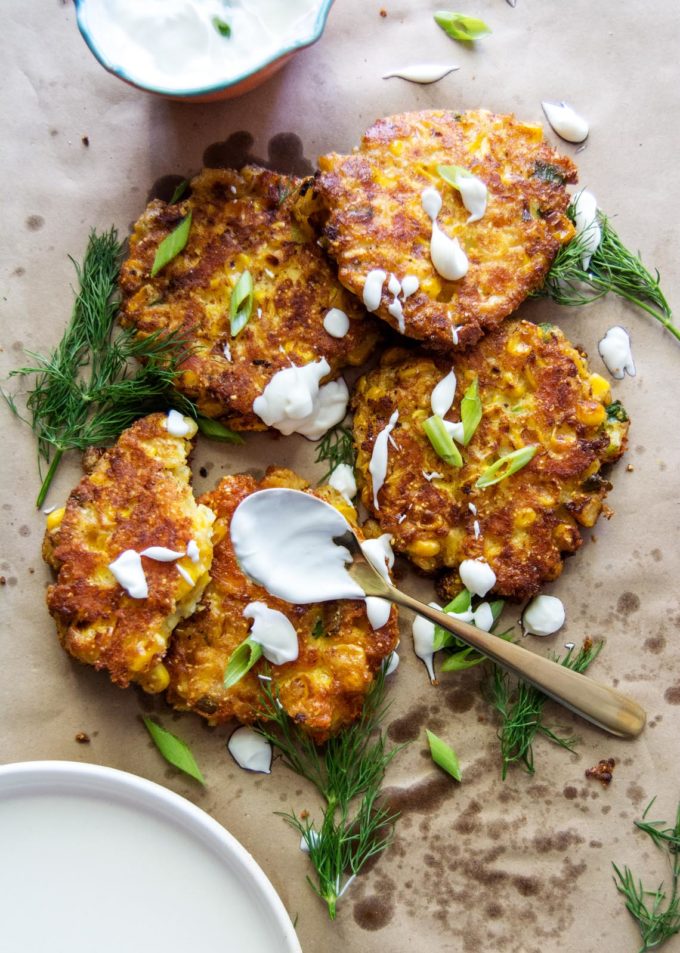 I can't even pretend that I'm not obsessed with corn right now. I legit ate a whole can of corn (by myself) for supper last night.
No shame.
Every once in awhile, it's nice to incorporate corn into a recipe, instead of just eat it off the cob, or straight from the freezer/can.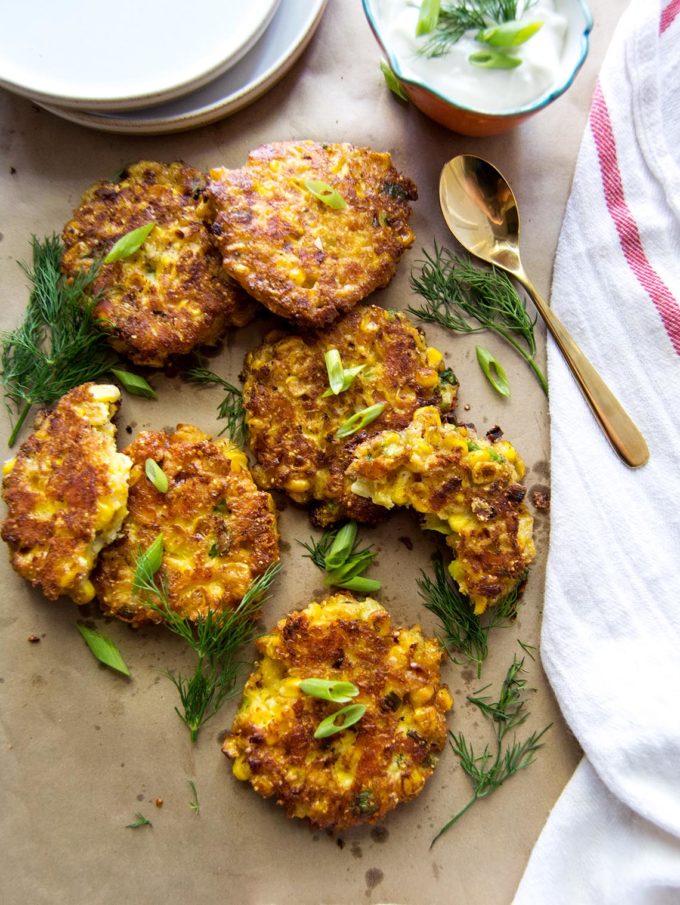 When I first started Culinary Cool, these corn fritters were one of the first things I blogged about. It was an easy choice, since I've been making these golden fritters for about 10 years, and they've stood the test of time. They're the easiest, cheesiest appy, snack, or side dish to just about any meal. They're fabulous with local corn, right off the cob, but I make them with canned or frozen corn when I can't get it fresh.
Stack those golden cakes high and serve them hot. They go great on their own, but I love to dip them in some jazzed-up sour cream (dill, a touch of garlic, and some extra green onions are my go-to options).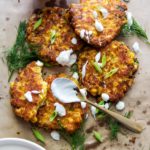 Classic Cheesy Corn Fritters
Crispy and cheesy fritters are a crowd pleasing side dish.
Servings
6
servings as a side dish
Ingredients
2

cups

corn kernels

3

tbsp

all-purpose flour

3

tbsp

cornmeal

2

green onions

thinly sliced

1

cup

shredded cheddar cheese

1/2

tsp

salt

pepper to taste

2

eggs

2

tbsp

milk

canola oil

sour cream

dill, minced garlic, and more green onions for serving (optional).
Instructions
Combine corn, flour, cornmeal, green onions, cheese, salt and pepper. Stir to combine.

Add eggs and milk and stir until well combined.

In a large skillet, add enough canola oil to create a light film across the entire bottom of the pan. Heat oil over medium-high heat.

Once the oil is hot, drop 3-4 tbsp of batter into the pan, and gently press down to form a patty. You can make the fritters any size you wish. Fry for about 3-4 minute per side, or until golden brown. Transfer to a plate lined with paper towel. Serve warm.