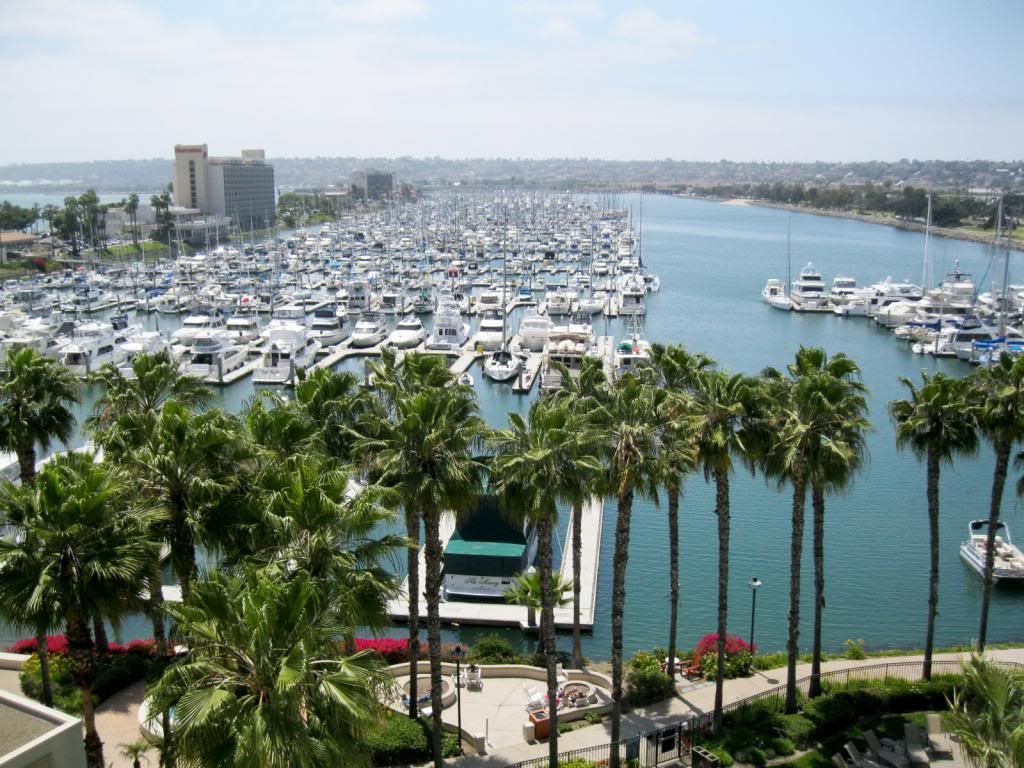 First of all, our hotel was insane!  I would stay there again in a heartbeat.  Perfect location, close to everything we wanted to do and a spectacular view (plus a balcony that we used everyday).  I read some reviews online, and people complained about the room size, but we had no problem with it.  We had three girls in one room and we had no issues with space, so that is really saying something!
Two weeks ago, I took a spontaneous trip to San Diego with a friend of mine, Edith.  Our trip was full of wonderful food, new exciting adventures and sun burns.  Oh man, the sun burns.  I think both of us are still feeling the effects from the burns.
Within an hour of landing, we took a Segway tour around downtown San Diego and the Gaslamp Quarter.  Can you say…"White and Nerdy", sans the blue track suite.  I'll admit, at first, I didn't want to partake in the tour, but ended up enjoying it.  Segways, as it turns out, are pretty fun to drive.  The tour really helped us get a feel for downtown and it was much easier navigating our way around town the rest of the stay.
Queue sun burn #1.
Immediately after our super-cool Segway tour, we were shuttled off to take a speed boat tour of the San Deigo Bay.  I had no idea we would actually be driving the boats!  By far, the best part of our day!  I kind of wished we could do the speed boats again!
The speed boat tour docked right in the marina by our hotel, so we walked back to our room, freshened up and went down to one of the restaurants in our hotel for a bite to eat.   We were starving!  We ordered Buffalo Wings, Potato Wedge Nachos and Spinach and Artichoke dip.  When the food arrived, we scarfed it down; we didn't even talk to each other, just stuffed our faces.  We were that hungry.
Day two started out with grabbing breakfast at the cutest, smallest breakfast restaurant in town, Cafe 222.  Edith and I both ordered the Peanut Butter and Banana Stuffed French Toast and it was uh-maz-ing!  So amazing that this particular dish has been featured not once, but TWICE on the food network.  The service was fast and super friendly and our waiter even offered to take a picture of us together, since we were only taking selfies. We actually tired to go back to this cafe a few days later but there was a long line and we just didn't have time to wait.    We wandered around downtown, did some shopping and headed back to our hotel and sat by the pool and got some sun (in hopes of evening out our farmers tans).
For supper, we decided to head down to Old Town and try out their famous Mexican restaurants.  Our cab driver recommended Cafe Coyote, so we gave it a shot.  They brought out tortillas and salsa and we both ordered Margaritas.  Edith ordered Mango and I ordered Prickly Pear and they came out in huge glasses!  Delicious and refreshing!  We each ordered a combination plate, so we could try a few things at once.  Each plate came with rice and beans and a taco.  Edith ordered combination dos; Rojo beef tamale, enchilada Suiza and a beef taco. I ordered combination uno; Chicken enchilada, traditional chile relleno and a chicken taco.  Edith loved hers but mine left something to be desired.  The chicken was very plain and most of the items on my plate seemed flavorless.  I was kind of disappointed.
After supper, we walked around Old Town, checked out the cute (and mostly sketchy) shops along the way.   We also took a late night tour of the historic haunted Whaley House.  We sat out of the front step of the house waiting for our tour to being and it was kind of spooky.
We were really hoping for some kind of ghostly encounter, but alas, it didn't happen. We learned about the Whaley family and the ghosts that haunt the house and grounds (because apparently, the house was built on top of San Diego's old hanging grounds…kinds of creepy and morbid)  and we sat out in the yard for awhile after the tour, still hoping to see or feel something out of the ordinary, but still no luck.  I guess ghosts need a break from haunting once in awhile 😉
More to come later this week.  Hopefully I'll have an actual recipe to share, and part 2 of my trip as well!